Being a remastered game, the first worry I had about Destroy All Humans!, at least personally, is whether the source material holds up after 15 years. This was heightened somewhat given today's sensitivities around certain topics, especially considering that developer Black Forest Games stayed as true as possible to the original.
Unfortunately, I wasn't acquainted with the original game when it launched all those years back, so playing through Destroy All Humans! for the first time would give me a good perspective of how well the game has held up over the years, without being biased somewhat by nostalgia.
To my surprise, the humour scattered throughout Destroy All Humans! stood up pretty well, for the most part. There were one or two cringe moments, but nothing upsetting that would cause a stir on social media. Having said that, I'm fairly certain the team would've taken every effort to rid it from the game had that been the case.
More than just holding up well, there were the odd occasions where I was genuinely amused by the dry wit, laughing to myself as I played through the story.
Speaking of which, Destroy All Humans!'s story is just about average. It gets away with doing what it needs to, providing some kind of backstory for a game highly reliant on causing quite a bit of chaos more than anything.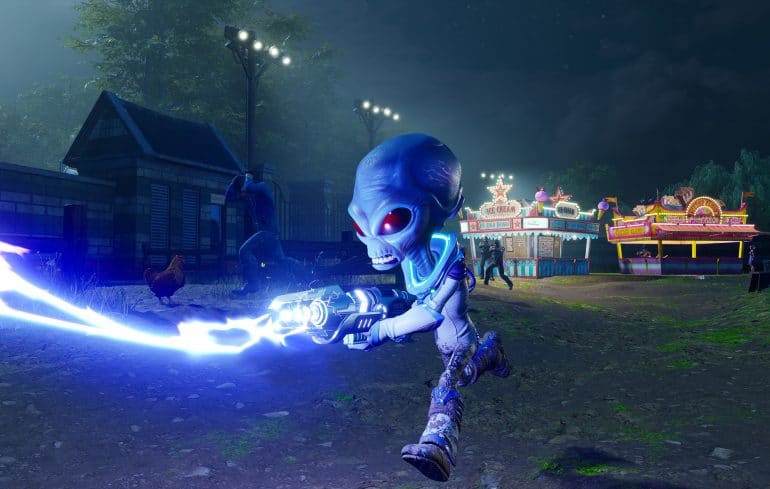 The way the story is presented is quite outdated, playing missions to move from level to level in a very stop-start nature. If you're following the story mode, accepting mission after mission, you're left with anything from 5-10 minutes before heading back to the mission screen. This becomes quite annoying as the start of each mission has a bit of a dialogue between
To summarise the story, you assume the role of Furon alien Cryptosporidium, otherwise known as Crypto-137, who is the 137th clone. Crypto-137 was created after Crypto-136 went missing on a mission to Earth. The mission to save the Furon Empire from cloning itself to death after each new clone becomes more and more degraded.
Crypto-137 is sent to Earth to gather human DNA, which has been mixed with Furon DNA quite some time ago, as well as find Crypto-136 and seek revenge.
All of this takes place in the 1950s, where there is a stereotypical hatred of the Soviet Union, referred to throughout the game as the Reds or the likes.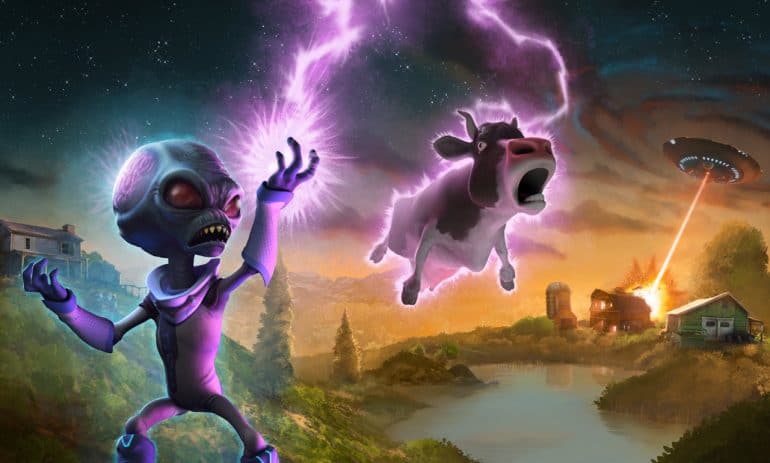 As you play through each of the missions, you're constantly reminded of the dislike of the "Commies" as many of the destruction caused in the various towns are explained away as an attack by the Soviets. Other stereotypes include womanising politicians and have a resemblance to JFK, scientists are all German, plenty of women are bimbos and farmers are buck-toothed Southerners.
I imagine even 15 years ago this may have been a tired cliche. That said, there is a disclaimer at the start of Destroy All Humans! that's pretty much on the nose:
"Humans of planet Earth, be advised: while the experience has been upgraded, the content and historical record of the original invasion of the Furons remains a near-identical clone! The story, words, and images contained within may be shocking to the modern human brain!"
But, we're not here for that.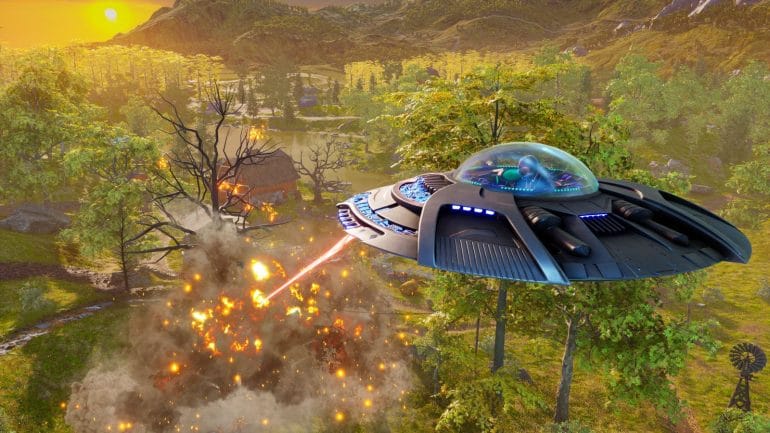 Destory All Humans! is a fun game where you don't have to pay too much attention to the story or missions if all you want to do is blow up some buildings, explode some brains, or perform some alien probing on some unsuspecting victim.
In all honesty, there's a lot more fun to be had exploring previous towns you visit compared to the story mode. Exploring also provides some decent side quests, such as rampage (pretty self-explanatory), race, abduct and annihilation. You can also spend some time searching for the hidden collectables, another aspect of gaming that was prevalent in the 2000s, and yet still enjoyable today.
Playing through the missions, one after the other, won't do you much good in any case. Players have the option to upgrade Crypto's capabilities or that of his spaceship.
As it turns out, playing the side quests allows you to gain more DNA (used as currency) to purchase the necessary upgrades to make future missions a lot easier to manage. Having reached the final mission and spending most of the currency upgrading the spaceship – it may seem like a silly choice to make, but when blowing up buildings provides a lot more entertainment than blasting from your handgun, you'd understand – Crypto was left a little underdeveloped when it came time to take on the final boss.
After dying a few times too many, I took more time to play through each of the previous town's challenges, upgrading significantly after an additional hour or two. And it helped.
What's very notable about Destroy All Humans! is the significant upgrades to the graphics over the original. Looking through some comparison videos, one included below, the original looked very PS2-like, with its jaggered edges and stick-like movements. In fact, the graphics has improved to more than just par when you consider the countless games on Steam that don't look nearly as good.
Destroy All Humans! is not your AAA standard, but there's still a lot to love. What's really great about the game is that almost everything in sight can be interacted with or just simply blown up for the fun of it. There aren't that many games that have this capability, however insignificant it may seem.
The premise of Destroy All Humans! is simple. It says so in the title itself. The launch of this remastered classic has proven that there is still an appetite for the mindless mash-and-grab genre in modern gaming, as long as the destruction is on an epic scale – which it is here – and the graphics look good – another tick.
Destroy All Humans! also proves that there may still be a market for weird, off the cuff games from big developers, if done right.
The Review
Destroy All Humans!
The game won't be winning any titles, but there's actually a lot of replay value, with fun to be had in finding new ways to create the most chaos possible.
PROS
Graphics remaster is great
Don't need to follow the story
Blow up everything in sight
CONS
Outdate humour at times
Story mode too short between missions - stop-start
Review Breakdown
Gameplay

0%

Graphics

0%

Replay Value

0%

Sound and Music

0%