I've always been a fan of RPG board games. The problem is that most of these games have rulebooks heavy enough to kill an Orc and tend to cost more than the price of a whole kingdom. Destinies from Lucky Duck Games tries to use technology to solve both of these issues.
But does the game feel more like playing an app or does the integration of technology actually complement the gameplay in Destinies?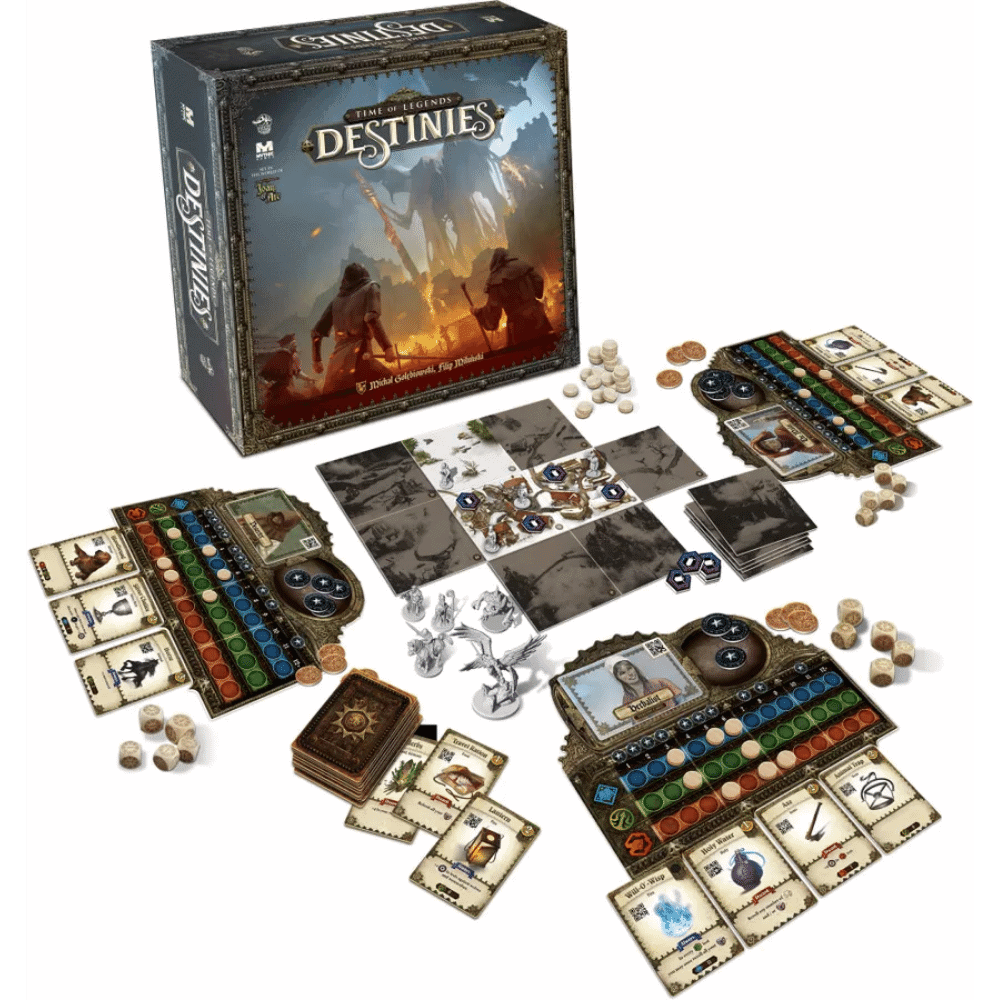 What's in the box?
The first thing I noticed upon receiving Destinies is how small the box is compared to other RPG board games out there. There is no hefty, oversized box that won't fit on your shelf. Instead, Destinies comes neatly packed into, what seems like a standard-sized board game box. It's once you open it that you discover all the wonders it holds.
How did Lucky Duck Games manage to pack so much into such a small box?
First off, the multitude of components that greet you once you open the box is all neatly packed, each into its own little space. This is a godsend for a neat freak like myself as you don't end up with components rolling around in the box when you move it around.
What is an RPG board game without miniatures?
As you expect, Destinies comes with quite a few highly detailed ones. What makes them special is that these miniatures are a lot smaller than usual. There are those that might not like this as it does mean you can sometimes end up mistaking your fellow board gamer's miniature for your own. Unfortunately, this is one of the sacrifices you have to make so that the game, firstly, does not cost an arm and a leg and, secondly, fits nicely into a regular-sized box.
There are also 150 item cards, 67 map tiles and the aforementioned 31 miniatures. All the components are of the highest quality and are adorned with some great art.
My only complaint is that the map tiles are made of a much thinner cardboard stock than I am used to. Again, this helps keep costs down.
The most surprising thing is that there is no oversized instruction manual to be found anywhere. There is only a small player guide to help you get started.
Why is this?
Well, because the game uses an app to do all the heavy lifting which helps players get going without having to slog through a manual filled with text.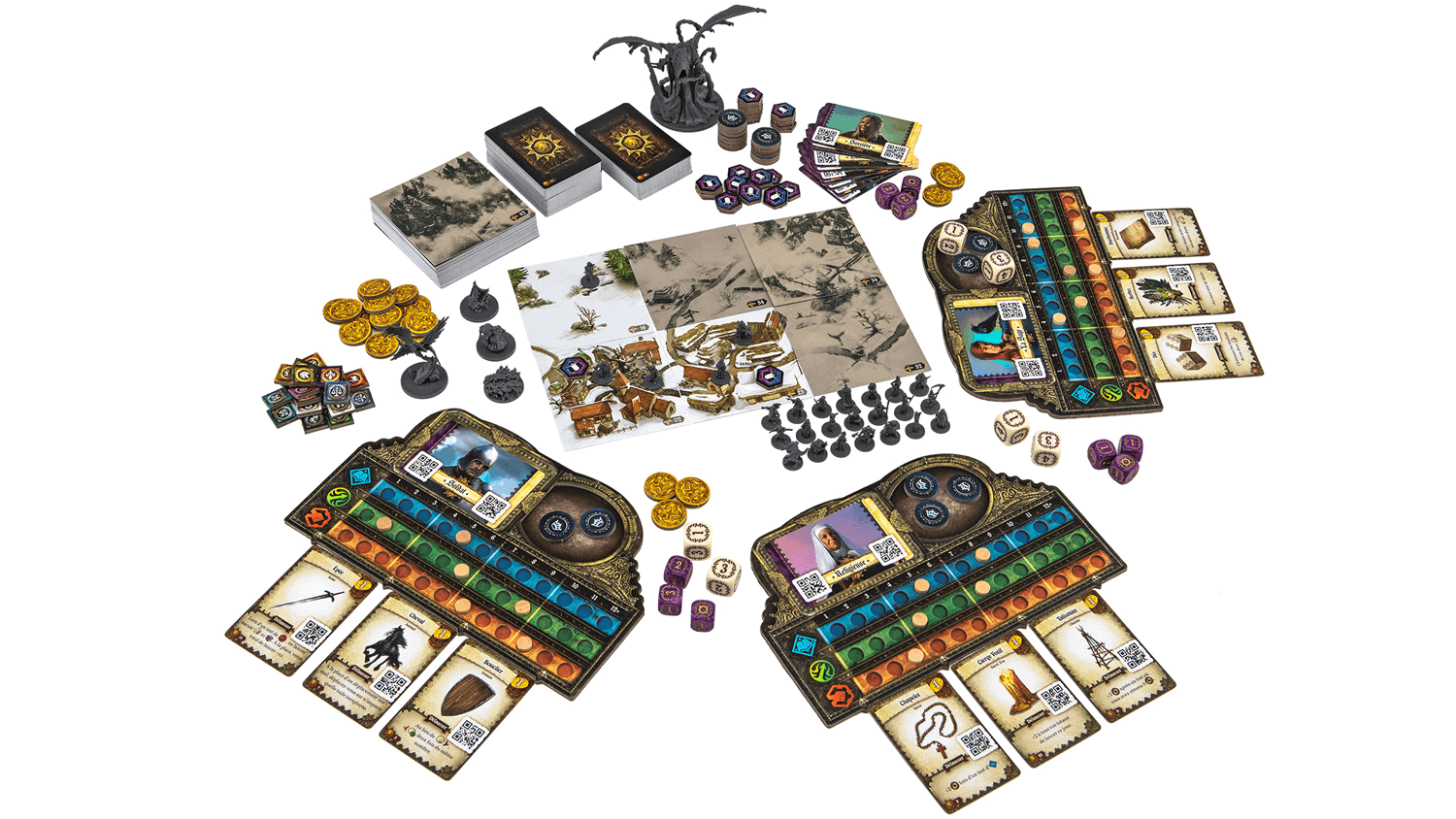 How do you play it?
Those familiar with RPG board games will know what to expect from Destinies. You and your fellow board gamers will be going on quests, defeating monsters, and figuring out how to achieve your specific destiny.
Unlike other board games, the first thing you need to do is download the game's app.
The app will act as your guide and, in some respects, the dungeon master. The game consists of an introductory scenario and four linked campaigns. The introductory scenario does a great job of slowly explaining the game's mechanics to players without it feeling like hand-holding.
At the beginning of each scenario, players will be tasked with choosing their character from a pool of existing ones. Each player then gets that specific character's card which has two hidden destinies printed on the back. These destinies/objectives are kept hidden from the other players. It's up to you to decide which of the two destinies you want to complete.
If a player completes one of their destinies before the other players they win. Unlike most board games RPG's Destinies is a competitive game. You won't be slashing your fellow player's throat but you will be competing against them to achieve your destiny.
During your play session, the digital app will tell players where to place tiles, what choices are available to them and whether they have failed or passed the game's various skill checks. As mentioned, this just makes the experience a lot more accessible to newcomers.
Each turn plays out in three phases.
First off, players can refresh one of their effort dice. These dice help you to complete skill checks and are quite valuable.
Secondly, players can then move up to two tiles. Should they venture into an unexplored tile they are immediately required to stop even if they have one more move left. When exploring a new tile the app will indicate points of interest such as a person you can talk to or even a foe standing in your way.
Lastly, a player can choose to interact with one of these points of interest. This could mean getting a new weapon from a blacksmith, having to complete a specific skill test (to, for instance, pickpocket someone).
Once a player has fulfilled the requirements to achieve their chosen destiny, they will begin their final journey to completing their chosen path. This usually means that you'll be making some very hard choices.
One of the best parts of Destinies is how it handles skill checks. As your character levels up skills players can move markers on their skill track. In doing so they can customise how easy it is to pass one of these checks.
What did we think of Welcome Back to the Dungeon?
Initially, I was worried that the app integration would take away from the experience of playing Destinies. When app integration is done badly a game can end up feeling more like playing the app than the actual game. Luckily, this is not the case when it comes to Destinies. The app takes away all the slog of having to learn rules and figure out what to do next and allows players to get playing almost immediately. This makes Destinies the perfect game to introduce new players to board game RPG's without scaring them off.
The innovative way in which the skill track works is also a great plus point and I wish more games would use this system. It gives the player more control and options when it comes to customising their character's skills.
Lucky Duck Games also have to be commended for keeping the game box fairly small and the costs down. It is rare to get a game that offers so much in this price bracket.
Everything isn't rosy though. Although I absolutely love Destinies (as you can tell), there are a few things that might bug some players. There is little doubt that the detailed miniatures can be hard to differentiate between due to their small size. This wasn't a big issue for us but it is something to take note of. It also would've been great if the game was cooperative rather than competitive. This is just due to personal taste but I love teaming up with friends and working together to reach a single goal.
Other than these two minor gripes, I think Destinies is a game that shows just what can be achieved with clever mechanics, great app integration and of course creative cost savings.
There was not one player in our gaming group that did not enjoy the journey the game took us on, and we thought and discussed some of our choices long after we finished playing.
If you love board game RPG's but don't want to learn a bunch of new rules and terminology then Destinies is the perfect game for you.
For more information on Destinies, visit solarpop.co.za.
The Review
Destinies
Destinies perfectly incorporates its app into the game's mechanics, offering a unique streamlined RPG experience.
PROS
The app makes playing the game a breeze
The board game's price point
High quality components
CONS
The miniatures might be a tad small
Review Breakdown
Gameplay

0%

Components

0%

Complexity vs. Depth

0%

Theme

0%