I'm not even going to hide it: I'm a total Assassin's Creed groupie. I love the scale of it, the historical settings, the way they have the kookiest ever Ancient Aliens-level conspiracy theories going on at the same time as real historical events. I love the Forrest Gumpian way that you end up meeting every famous person of the time period, and either kill them or end up becoming best buds with them. As one does.
What makes the experience of Assassin's Creed Odyssey even better this time around for me is, firstly, that I did all of my university studying on the topic of Ancient Greece, so I had a massive nerd-out every few seconds of play.
Secondly, what is great for every player is how personal your journey can end up becoming. I had an experience that I feel was fairly unique to me, and there were so many little moments outside of main questing that made me stop and just enjoy the experience I had crafted for myself, and I'm sure the same is true for everyone else.
So, strap yourself in with the hunky Alexios and me, as we show you some of the highlights of what we got up during our 75-hour journey to Ancient Greece…
1. That Time I Went Sightseeing
Greece is a massive and gorgeous setting to explore in Assassin's Creed Odyssey, and what's great to see is how distinct and diverse the various ecosystems are.
The north is more forest-y and colder, whereas the south is more barren and hot, and it all makes logical sense while still seeming cohesive as a setting.
It's great to have landed on a new island, and start exploring, and as you round a cliff and reach the peak and gaze over, you see a whole huge city nestled in the ground below.
Here we can see Alexios perched atop the mighty Parthenon of Athens, gazing down at the polis below.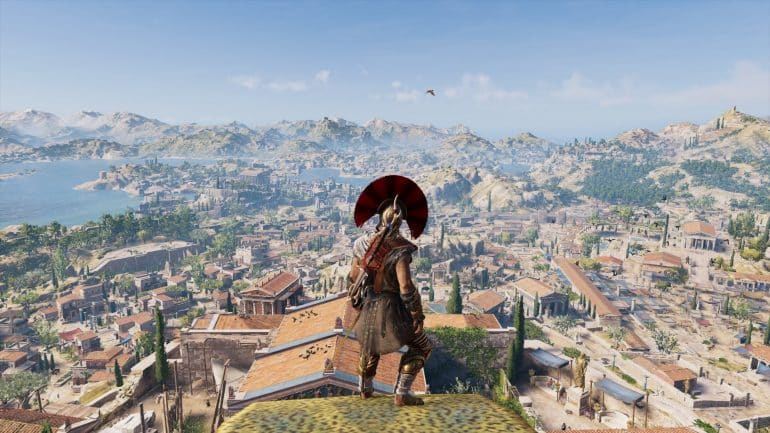 And later in the game, on the snowy peaks of the rough land of Lakonia surrounding the city of Sparta.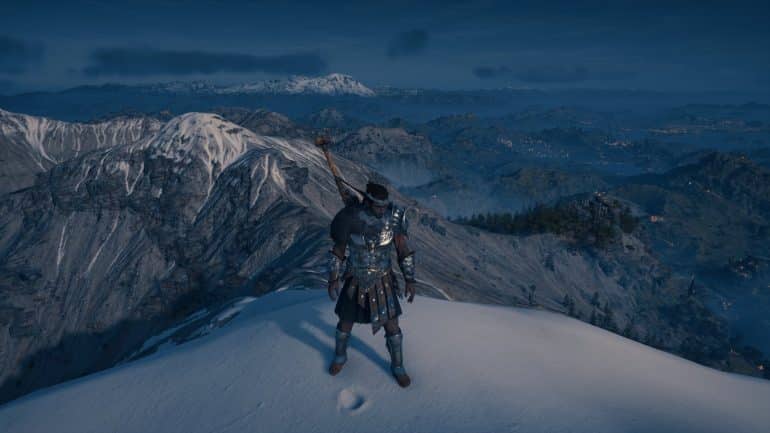 2. That Time I Met Celebrities
Here I am hanging out with Aspasia of Athens, Hippokrates the Healer, and Sokrates the Philosopher.
Squee! Even though we were fleeing some terrible <spoiler events> in Assassin's Creed Odyssey, I still had to stop the gang for a quick selfie. You can see in their eyes that none of them really think this is a great idea, but at the same time, I just couldn't help myself.
From early on in the game you also have Herodotus the Historian on your ship as a companion to provide commentary on where you go. He's a pretty cool guy, and I'll never forget the time he clipped through the level geometry and drowned in the ocean below me, only to respawn from the heavens a few moments later and continue his conversation as if nothing had happened.
3. That Time I had Adventures with the Wildlife
The animals of Greece are something else. Here a few of my most interesting adventures with them: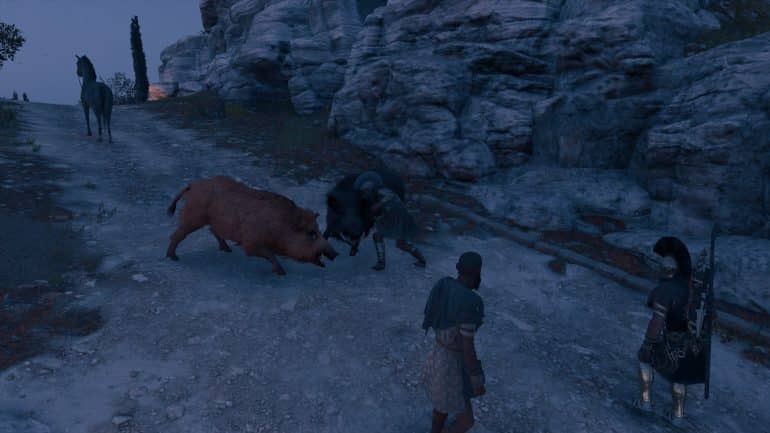 During my quest, I engaged a mercenary who was hunting me. Unfortunately, he was several levels higher than me, and my death was almost assured. Then, he made the grave mistake of wandering too close to a wild boar. Out of nowhere, the wild boar and his hitherto unseen mate stormed out of the bushes, and provided me with the distraction I needed as they slew the mercenary. Good piggos.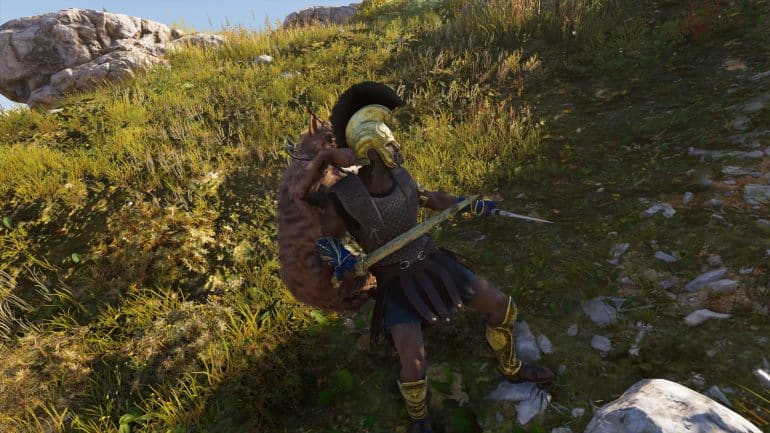 I was exploring the beautiful fields of Attika when I came across a Lynx. This was not my first encounter with a Lynx, but it was the first time I learnt that they can jump on your back and mount you.
This was somewhat of a shock to me, and I died before I realised you had to roll to get them off of you. Bad kitto!
You do a lot of sailing in Assassin's Creed Odyssey, and as long as the ocean is reasonably clear and you're not under attack, your sailors will pick up a jaunty tune, and dolphins will begin to surf on either side of your ship as you cruise along.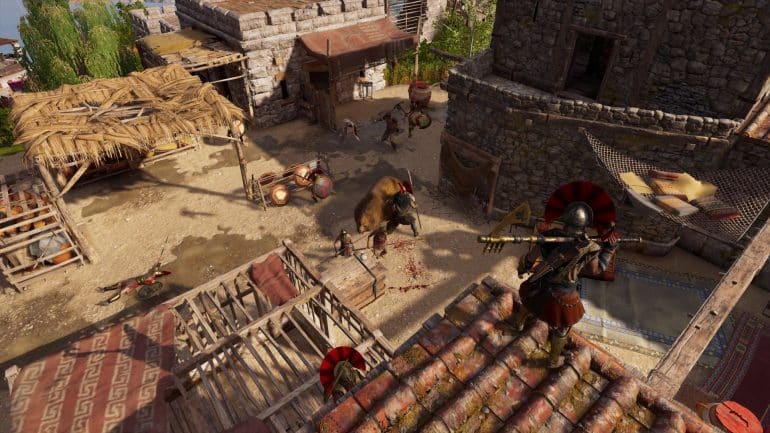 Even though AC contains a lot of sneaking as a series, I am not yet terribly good at stealth. My usual modus operandi are to attract all the attention of every guard, and then kill them all. After all, technically speaking, if everyone is dead, no-one can report on your crimes, right? During one such escapade, I found a cage with a bear and set him loose. Here Alexios is pictured on the bottom right, enjoying the fruits of his labours that day.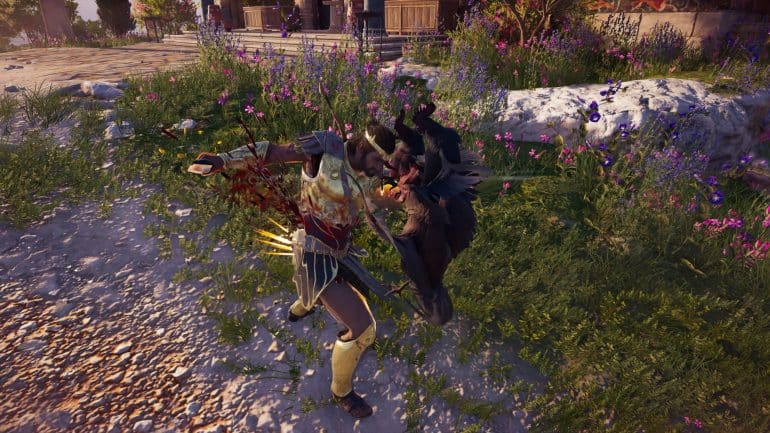 The most chilling and vicious enemies in Assassin's Creed Odyssey, by far, are the chickens. They are loyal to their cause, and any attack on a single chicken is treated as an attack on chicken-dom as a whole. I accidently bumped a chicken with my horse, and when I got off, I was immediately swarmed and killed by four of the fowl before I realised what had aggroed me. Naturally, when I respawned I had to get my own back, but the legend of the Great Chicken Battle will live in infamy forever. In this picture, 3 are clawing at me in the face at the same time.
4. That Time I Fought in The Lion War
Greater than the Peloponnesian and Trojan Wars combined was The Lion War that Alexios fought in during the time I controlled him.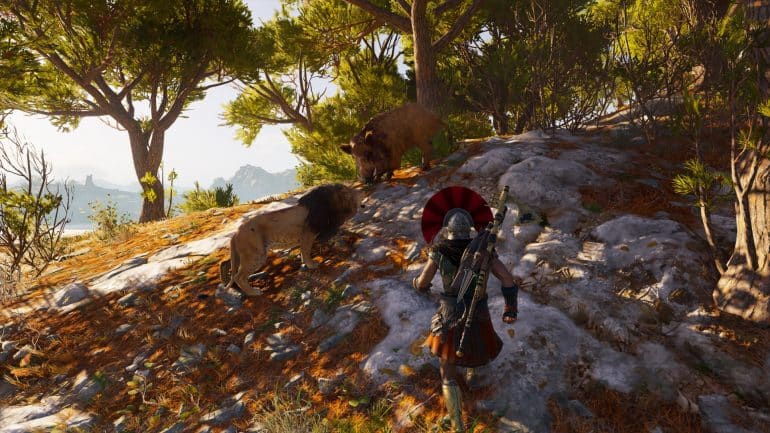 It started innocently enough: I came across a lion, and being an enterprising sort of chap, I killed it.
After that, however, misery started – wherever I went and whatever I tried to do, it felt like the lions were out to get me. I would be busy stealthily exploring an area, or about to assassinate an enemy, and all of a sudden, three lions would appear out of nowhere and drive me forth.
Clearly, they were speaking to each other.
It got to the stage where I felt the only way to stop them would be with a show of force, and so, I set out to challenge their leader, the Nemean Lion.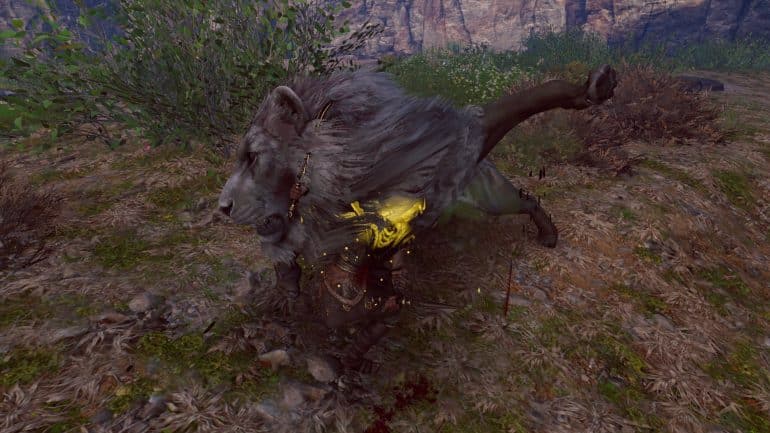 After slaying the beast, peace of a sort did descend, but it was an uneasy truce. True reconciliation would only come later, after I gained a skill to befriend my former foes.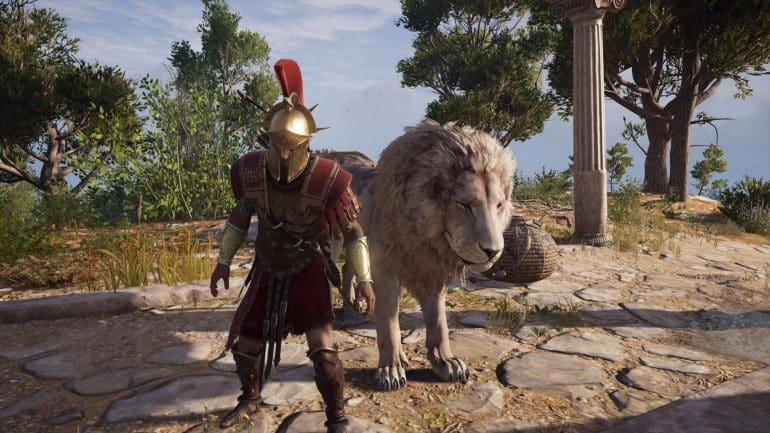 Here I am with Simba, my perfectly trained attack cat. With our union as allies, the Lion War was officially over. I will remember him forever, as we went into battle together all over Macedonia. He met his end when he fell into the ocean and drowned by accident, but I will never forget the good times we had.
RIP Simba.
5. That Time I LARP'ed as a Minotaur
During my journey, I met a man pretending to be the Minotaur of legend. Through different quests, I ended up with his fake Minotaur head, and felt quite stylish wearing it.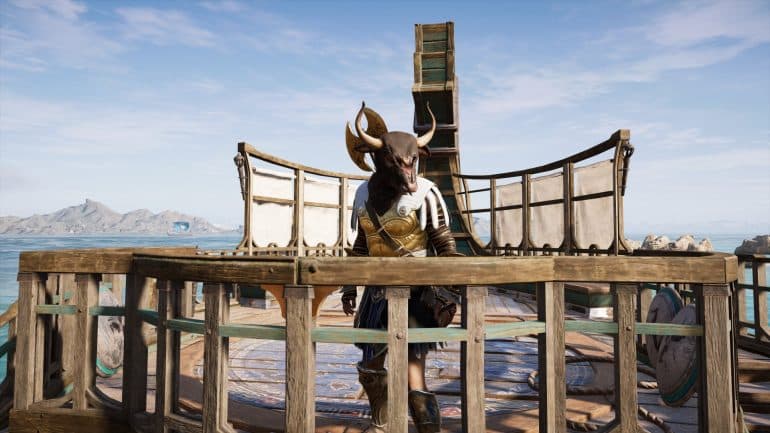 I wore it for several hours, during all manner of important conversations with world leaders, and the greatest climax came when I battled against an enormous Bull under the light of a full moon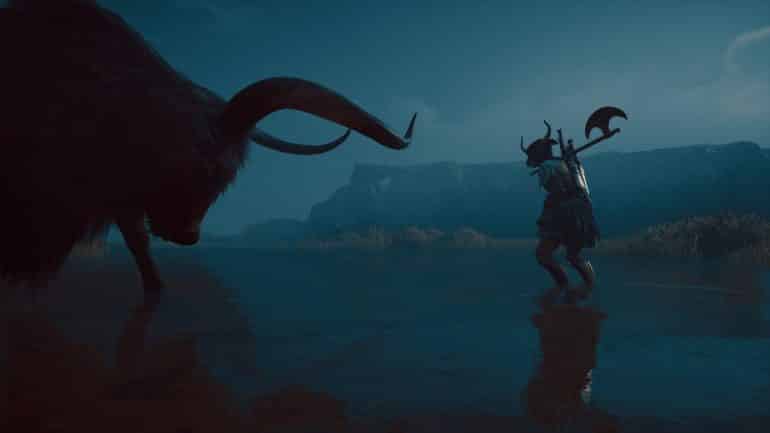 Beast versus Man-Beast – a challenge for the ages. Moo!
6. That Time I Rode a Unicorn
Your faithful stallion, Phobos, is always the same horse, but can sometimes look wildly different because of the different skins you can purchase for him. My personal favourite was the unicorn skin, and I cannot recommend it enough.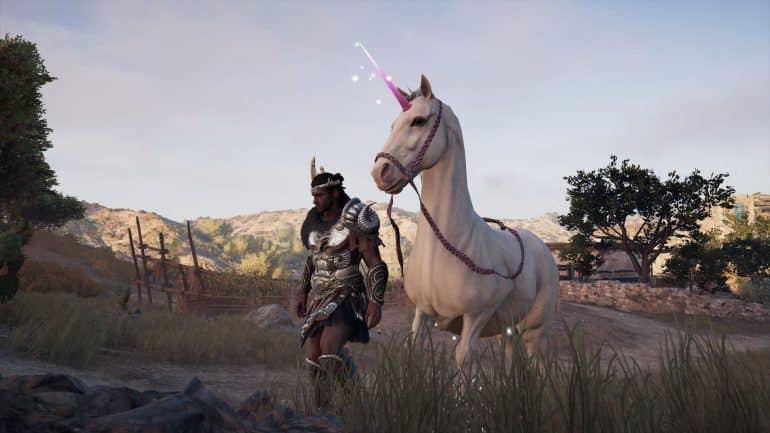 When you ride him, pink and purple colours come out of his hoof as trails, striking fear into the hearts of your enemies. In this picture, I also look especially glamorous and well-suited to be a unicorn owner, with my shiny tiara.
7. That Time I Helped a Little Girl Make Friends
There was a small and insignificant side quest where a little girl who was living on her own asked me to find some trinkets for her. During the quest, it became clear that she was wanting to give these trinkets to clay dolls that she had built to act as friends for her, because she didn't know how to make real friends.
At the end of the quest, you had an option to either indulge her fantasies or be harsh but kind with the truth. I chose to be harsh, and the quest ended there – I got my experience and moved on.
Later in the game, I went back to that island, and without a quest marker or anything telling me what to do, I went to check on the girl. She had made real friends, just like I encouraged her to do. There are many other quests like this, where your choices have real consequences, but somehow, this was one of my favourites.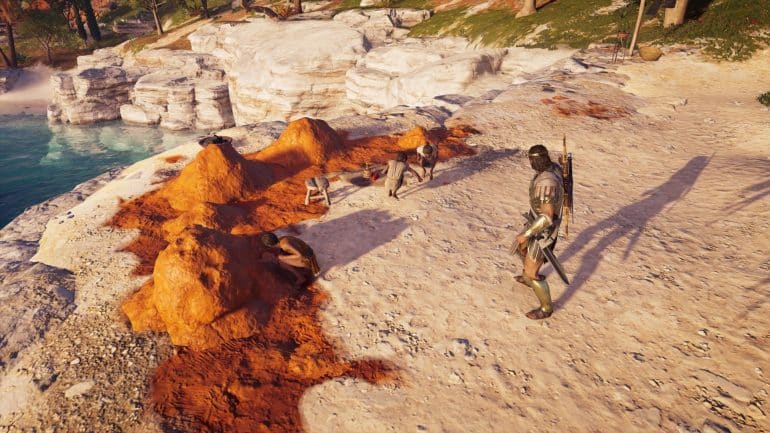 8. That Time I Kicked an Entire Army Off of the Acropolis like Leonidas in the Movie 300
During a late game quest, I found myself cornered on the top of the Acropolis, the mountain in the middle of Athens. Due to my aforementioned poor stealth skills, soon an entire army was chasing me. In my rush to survive, I found the perfect solution – I stood on a ledge, and soldiers approached me in single file. Like my ancestor Leonidas, their numbers counted for nothing. For every man that came, I let fly with a mighty kick, and sent them to their doom below. I think about 30 soldiers succumbed this way. I can only imagine what the people at the bottom of the cliff were thinking.
Notice the fear in the soldier on the right's posture – he knows what is about to happen to him, but he cannot escape his own fate. A true Greek tragedy.
9. That Time I Clipped Through my Ship and Broke the Matrix
Well, it was the only bug I had to reload for during a 75-hour play through. Could have been worse.
10. That Time I Appreciated the Ancient Greek Statues
I actually like the mythical design they've taken with some of the landmark statues in Assassin's Creed Odyssey – they just decided that for the sake of scale and coolness, they look so much better when they're made to be enormous, and I happen to agree. For this context, it works well to abandon realism for thematic values here.
Here I am on the top of the statue of Zeus the Lightning Bearer on the island of Kephalonnia. So majestic, so grand, I observe the Gods in awe…
…hehe
Assassin's Creed Odyssey released on the 5 October 2018 on PlayStation 4, Xbox One, Nintendo Switch (Japan only) and PC. Read our full review for the game.