Back in the '90s, two games ruled the PC stealth realtime-tactics genre: Commandos and Desperados.
One was set during World War II and the other in the Wild West. Both games, however, quickly built up a following after their release and were lauded for the way the combined stealth and strategy.
Desperados introduced players to its addictive and sometimes tense realtime-tactics gameplay. The series allowed gamers to take control of a ragtag team of cowboys and cowgirls as they sneaked, killed and fought their way through various high-stakes missions.
For a long time, fans have been begging for another game to be released and, finally, Desperados III is here.
Developed by Mimimi Games, the team behind the brilliant Shadow Tactics, a game that takes its inspiration from both the Commandos and Desperados franchises, Desperados III is everything you loved from the original games. Except, it is now streamlined, refined and wrapped in some great looking visuals.
Being a prequel to the original Desperados: Wanted Dead or Alive, the narrative follows the origins of the Cooper gang, with each mission revealing more about how the gang came to be.
Players take control of John Cooper and a host of colourful characters ripped straight out of old Wild West films.
Each mission starts out with players being given a set of objectives, such as blow this up or kill this guy or steal this.
While some of the objectives might seem run of the mill at first, it is the way these objectives seamlessly flow into one and other and evolves as you play that makes them more interesting than they initially might appear.
For instance, one of the first missions sees you and your gang having to blow up a railroad bridge. Of course, this means first acquiring the dynamite from one of two locations on the other side of the map, heading back to the bridge, and then finally placing it and blowing up the bridge.
It is completely up to the player how they would like to take on a mission. Do you sneak in, get what you need, and sneak out without killing a single soul? Or do you take out foes silently as you make your way to the objective? Perhaps you throw caution to the wind and start shooting up the place?
In the end, it is up to you.
I found that there were multiple paths and ways to complete missions during my playthrough, with the game rewarding careful planning and thinking outside the box.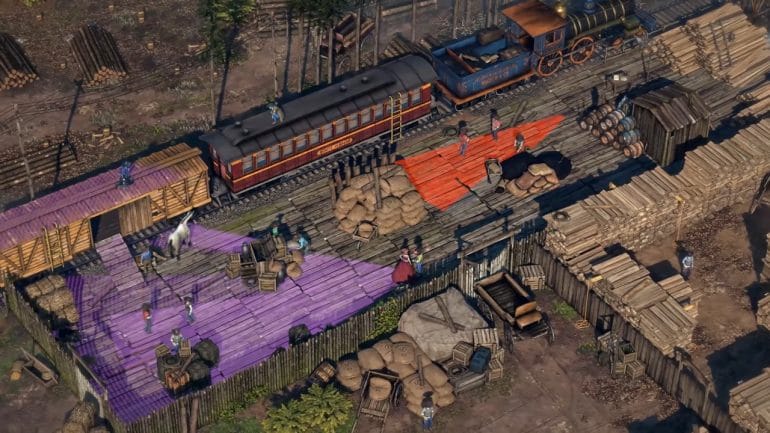 Successfully completing a mission in Desperados III means making use of all your team's unique skills and abilities. Each of your gang members has abilities that will make completing your objectives easier.
There is Hector, the large and powerful hunter who carries around a giant bear trap. He is able to easily deal with stronger enemies and even lure them into his trap with a quick whistle.
Then we have Kate, who can charm enemies, keep them distracted or steal clothing to disguise herself with.
Doc McCoy is the sniper of the team and can quickly and silently take out enemies from afar.
John Cooper is the leader of the gang and is your typical gunslinger. He can dual-wield pistols and even take care of pesky bad guys with a well-placed dagger throw.
Lastly, there is Isabelle. She has access to mystical Voodoo powers.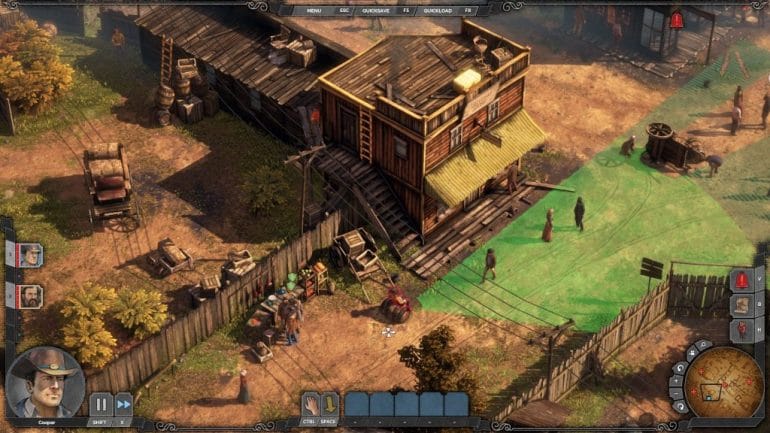 Each mission might not give you access to your whole gang. Figuring out how best to use the gang members you have access to in order to accomplish your goal becomes a mini-puzzle waiting for you to solve.
A new mechanic the developer introduces to the Desperados series is Showdown mode, which lets players pause time and queue up actions and execute them immediately or at a later stage. This comes in handy when you are faced with taking out two foes with two separate characters. You can queue up your moves and then let both characters execute them simultaneously.
The quicksave button is your friend as the difficulty picks up. It doesn't take much for all your careful planning to go sideways, especially with the game's A.I always looking for something suspicious or out of place.
I found myself spamming the quick save button after each action, fearing that something could go wrong.
Desperados III shines when it comes to the game's visuals and audio.
Visually, the environments look gorgeous with loads of attention paid to each little detail on the map.
As for the audio, the soundtrack helped immerse me into the game's world, thanks to its mix of Spaghetti Western music interspersed with orchestral moments.
While Desperados III does have its faults, it stays true to the first games but evolves and refines some of the mechanics. This elevates the whole experience.
If you loved the original games, then you owe it to yourself to play Desperados III. It's the Wild West at its best.
The Review
Desperados III
Desperados III is a more refined and streamlined experience. That said, it still has the same spirit that made the first games so special and addictive.
PROS
Gorgeous soundtrack
Challenging missions
Quicksave
Multiple ways to solve a mission
CONS
Steep difficulty curve
Levels does take long to complete
Review Breakdown
Storyline

0%

Gameplay

0%

Graphics

0%

Replay Value

0%

Sound and Music

0%