I am a big fan of indie anythings – movies, music, games – but I have noticed a trend developing in the world. They all seem to be using the same ingredients.
I have reviewed Ori and the Blind Forest (a 2D platformer), Anoxemia (a 2D platformer), Everspace (a 2D platformer), Cuphead (a 2D platformer), you get the picture.
Not that this is entirely a bad thing. The format works. Ori was beautiful. I still play it when I'm in the mood to play something charming. So, when I received Degrees of Separation for review, I was quite keen to play. Not excited, just curious.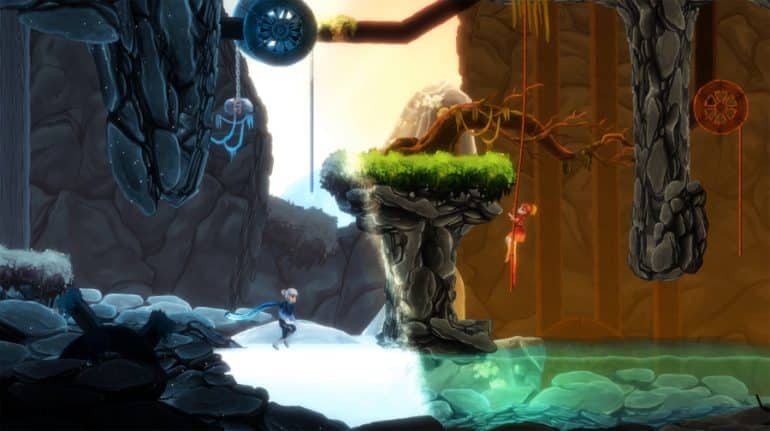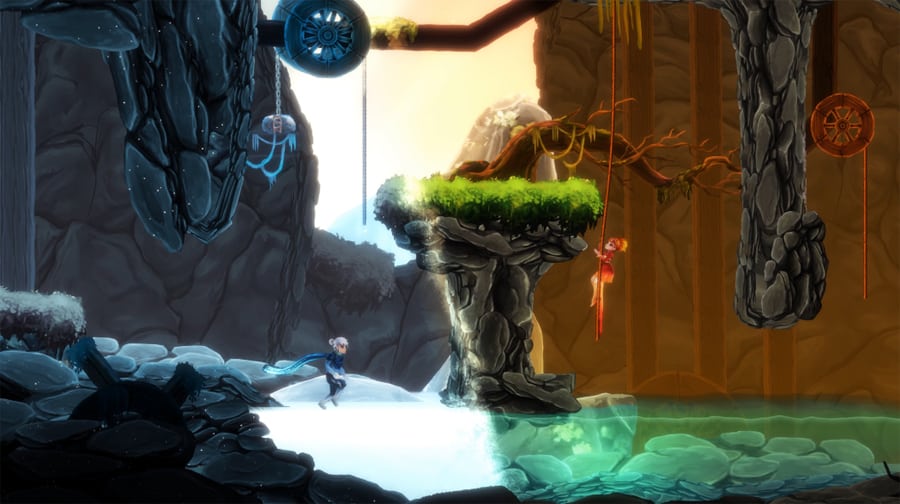 At its core, Degrees of Separation is a 2D platformer, puzzle solver, collectathon, in the same vein as classics like Metroidvania or Spyro (although Spyro would technically be considered a 3D collectahon, I guess). You have to collect items, and in the case of Degrees of Separation, it's scarves on various maps which unlock additional maps and so on.
There's not much new in the game format, but Degrees of Separation is a unique proposition. A beautiful combination of Never Ending Story and Greek tragedy. Think two star-crossed lovers from (literally) diametrically opposed worlds trying to find a way to cross the divide and unite, even though doing so would destroy them and their respective worlds.
The gameplay is very clever. You play as Ember and Rime, the rulers of your worlds. Rime is the ruler of the world of snow and ice and Ember is queen of the world of fire and heat. You need to operate the two characters together by using their abilities to solve puzzles, find scarves and unlock the next map.
Like a dream where you try to run or grab something which is always out of reach, the two characters are separated by a line across the screen, never able to touch. It's this dynamic that you need to manipulate in order to achieve the goals of the map. For example, as Rime, you could freeze water to walk over to a point on screen. Then, as Ember, you would create a lava flow to melt through an obstacle and the patience and control comes from the fact that you need to move your characters around the screen so their worlds interact in the right spot.
Does that make sense? It's actually a very clever idea and one that stitches the worlds of fire and ice together perfectly.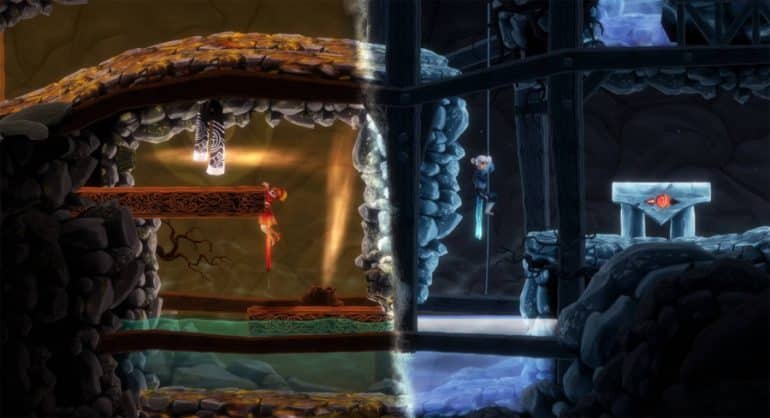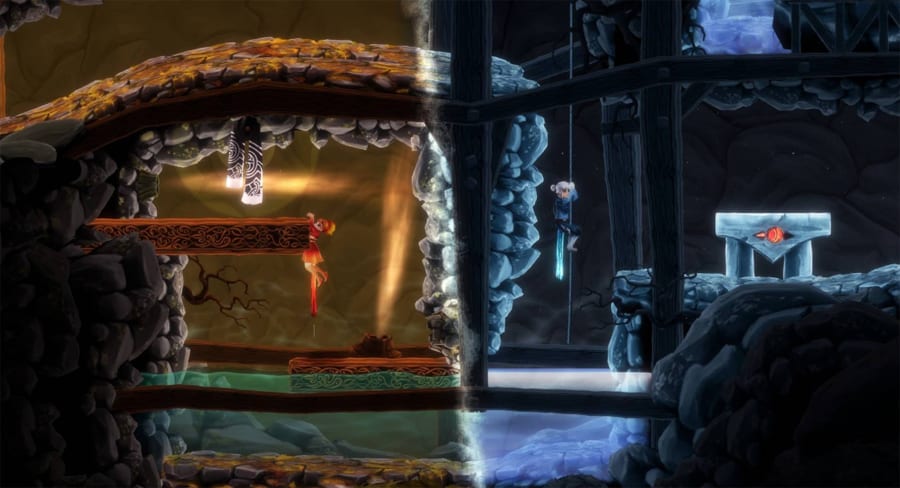 At the centre of the game is The Castle, which serves as the hub onto which all the maps are attached and you unlock new maps by collecting Scarves, which you find by solving the puzzles on each map. The more you collect, the more you can unlock, so nothing new there. Kind of the basic premise of every collectathon game ever.
Visually, the game is stunning. Harsh, beautiful and tragic, but like the swimsuit model who believes in individual liberty over equality of outcome, it's far more than just a feast for the eyes.
It is written by Chris Avellone, who has written for major studio games like the Star Wars franchise and Batman, Degrees of Separation has a very deep narrative.
Ember and Rime are Shakespearian tragedy level characters. Think of Rosencrantz and Guildenstern from Hamlet, two characters who are not really sure why they are there, how they got there and where they come from originally. They are only sure that they are there and have a job to do but, with each step they take, the sense of impending doom grows.
Add to that an evil Dragon hounding them every step of the way and you have a truly captivating story, again with the same level of gravitas as Ori and the Blind Forest.
So that's all the very good stuff.
Unfortunately, as I have learned, as is the case with most indie games, there are the usual issues and, in this case, some unusual issues.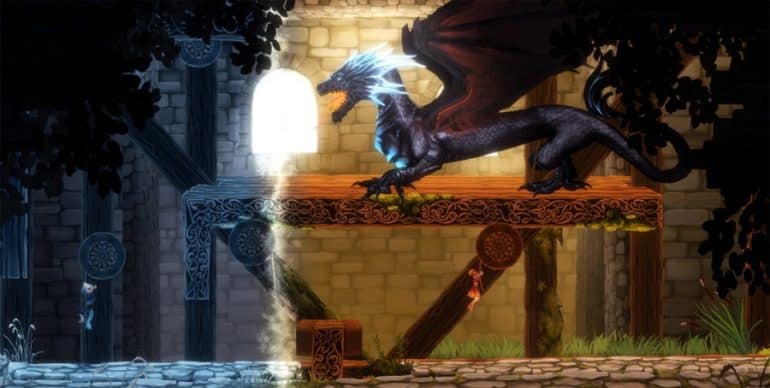 Firstly, Degrees of Separation relies on utilising both characters abilities to the full. You can play two-player where each of you would control one of the characters, but who has a second person on hand at the same time to complete this game timeously? Which means you need to control both characters by yourself. Most of the time this isn't too much of a problem, but it does become a huge problem when you need to execute precise platforming moves as well as coordinate the position of each character's abilities around the screen. It is like trying to play those little plastic games you use to get in Christmas crackers that had five little ball bearings you needed to get into five little dimplIt's Its like that. On a boat, in a storm, while high on crack.
Fortunately, you can just skip the puzzles that frustrate you off to the point that you start taking it out on your kids. You don't need every scarf to move on, you just need enough scarves. I guess you could always go back to the ones you missed once you've had a chance to cool down.
It's probably worth mentioning that you never die. Nothing you do wrong will kill you and the Dragon never really attacks you, nothing blows up and you don't get any cool weapons. You solve puzzles. I guess the thinking is that the growing sense of hopelessness and an impending sense of doom will just make you kill yourself. It's a bit like Layers of Fear in that regard.
Apparently, they are working on an online co-op mode and I think that could help because, at the moment, there is very little motivation to revisit the game. Add to that the fact it's a very short game and it becomes even harder to justify the asking price.
Personally, I think platformers like this should be straight to mobile.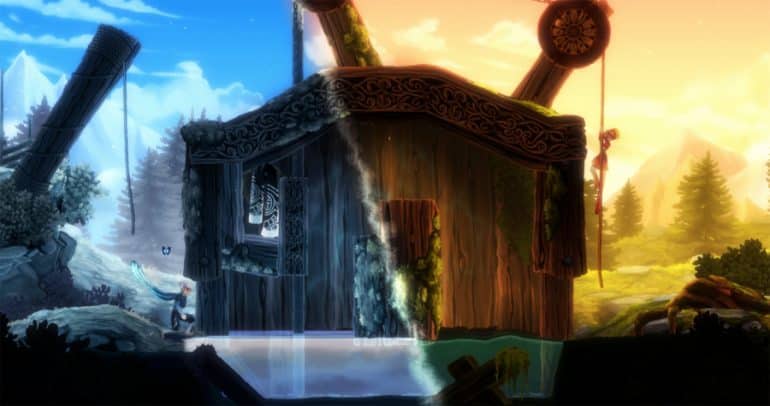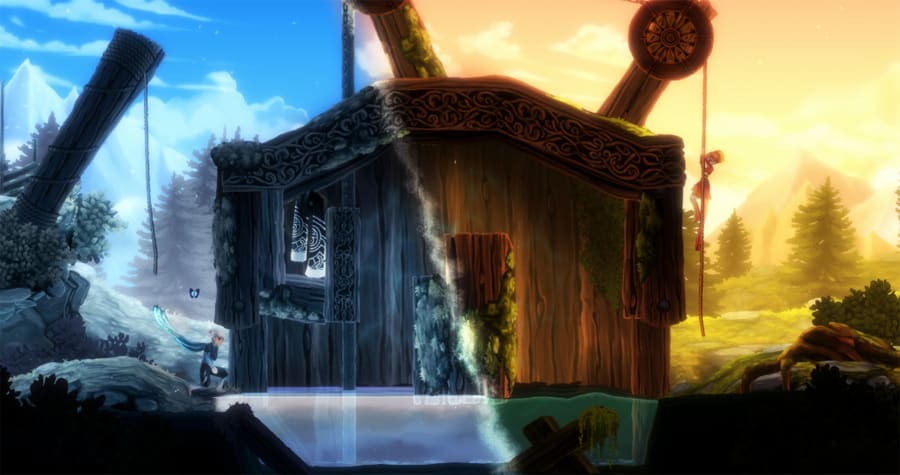 Don't get me wrong, I do like Degrees of Separation and the fact that it's been done by a small studio, I'm glad I have it, but it does cater to a very specific group of gamers. If you enjoy platformers, puzzle solving, collectathons, good stories, beautiful graphics and have the patience of Job, then I have no problem recommending the game. It brings something new to the genre.
The Review
Degrees of Separation
Degrees of Separation is a beautiful, clever and sometimes frustrating game that can, at times, test your patience.
PROS
Beautiful visuals
Interesting puzzles
Good narrative
Review Breakdown
Storyline

0%

Gameplay

0%

Graphics

0%

Replay Value

0%

Sound and Music

0%