This indie book was a creative mesh of a lot of different genres, producing a unique, slightly flawed, new series. Featuring good characterisations, but at the risk of a rushed and overstuffed plot, the premise of Defenders Of Eden #1 is certainly intriguing and the setup this issue provides is very well crafted.
Being introduced to a new world and characters within one issue is incredibly difficult to balance, especially on top of having a functioning plot. This issue does work, however, and should have strong foundations to continue.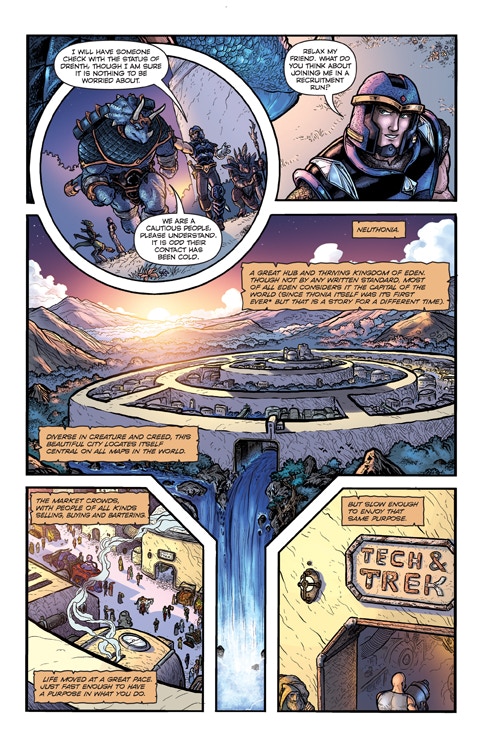 Defenders Of Eden #1 introduces us to four key players, a former defenders-esque team equipped to protect Eden in all its locations. The team consists of a general, a captain, a blacksmith and an engineer. This gives it a very role player game type vibe, which isn't a bad thing. I imagine games such as Warcraft have certainly left an impression on this book, although maybe I am just reading into similarities. The genre here is a strange blend of science fiction and fantasy, with elements of the mystical and the fantastical. There are aliens and witches all in the same book, which gives it a slightly different vibe.
…these characters absolutely have room for further dimensions to be explored…
The narrative here is a simple one. We are introduced to each team member in order, understanding a little bit about their role and their backstory. Perhaps the most weight is given to our blacksmith, who seems destined to follow in her father's footsteps. These little beats act accordingly to ensure we are familiar with our main players. Whilst substantial narrative meat has yet to be given to any of them, these characters absolutely have room for further dimensions to be explored, each offering something intriguing enough to want to know more. Our villains, on the other hand, are much more one dimensional, although reading through the whole issue, it is clear to see why. This is where some pacing issues come into play.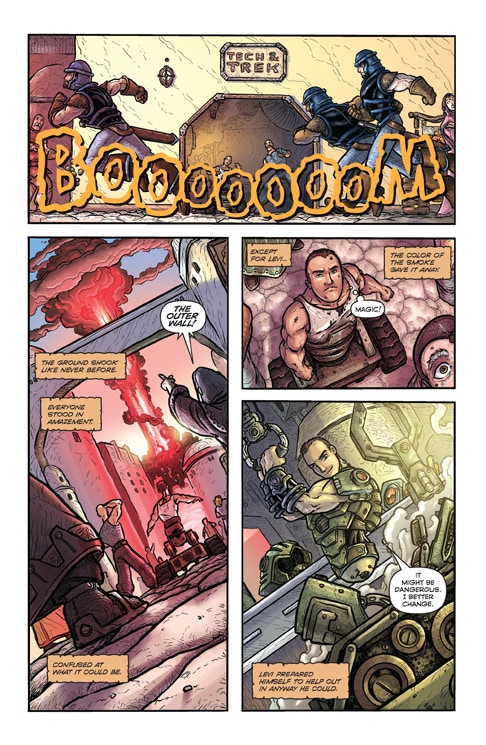 The enemies are set up very quickly, being a group of evildoers looking to conquer Eden with an army under the lure of a potion. This seems like this could cause some complexities to the issue, however, once battle ensues, the team of heroes disbands this group in a matter of panels. By capturing them they quickly, we realise the spell will wear off and so no longer need to battle them. The enemies are conquered so quickly that they barely seemed a threat.
The art here is brilliant for the book and on the level of some more professional titles.
Dragging this conflict over a number of issues perhaps would have fared all the characters a lot better, giving suitable hero moments and showing some genuine choices being made throughout. Currently, this team looks untouchable, with even some mystical creature at the end stating that trouble is coming but everything will be fine. If we know that our heroes are this untouchable, there is less reason to read. I believe that a twist or the like is inbound and so that this will not be an issue, especially as we're only on the first chapter of Defenders Of Eden. However, this is just something to be wary of.
Overall, I'm excited to see where Defenders Of Eden goes. It has a lot of potential in its characters. Towing the line with how strong the team is, however, should be a caution here and slowing things down to get a sense of these characters will help a lot in the future.