In Deathstroke: Knights & Dragons: The Movie, Deathstroke is a man with a double-edged secret.
Those who know him as The Terminator, an elite gun-for-hire assassin with enhanced superhuman abilities, are unaware of the personal life of the man behind the mask. He has a family, a wife and son, whom he loves dearly; yet his wife believes he's just a normal businessman, unaware of his chosen profession and the danger it puts their family in. Like any couple, they have their marital problems – but the truth of his job would tear them apart.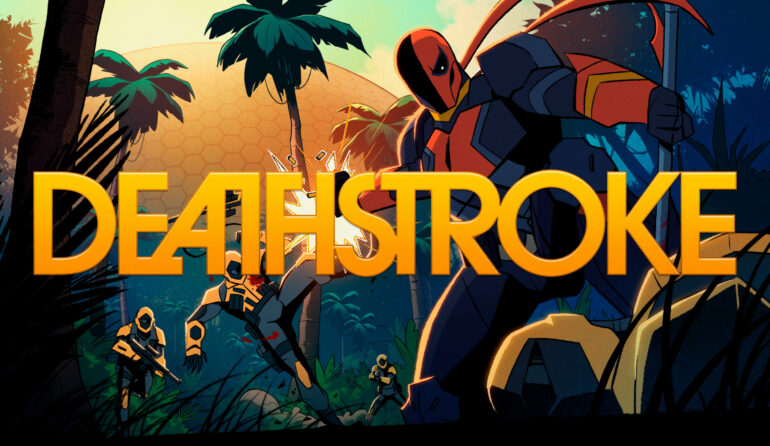 When Deathstroke rejects an offer to work for the criminal organization known as HIVE, his secrets are revealed and his son Joseph is kidnapped. As all of his lies and betrayals start to catch up with him, things fall apart despite his attempts to do the right thing. As the years pass, Deathstroke's attempts to separate himself from the old life he knew take their toll. But nobody can outrun their past entirely, and when HIVE strike out again it's time for the world's top assassin to take a stand and face the consequences of his actions…
Wait a minute… haven't we seen this before?
Well, yes, sort of. If this looks familiar, you may have caught the brief episodic web run of this before. Much like the Constantine: City of Demons feature, Deathstroke: Knights & Dragons has finally been given the proper treatment it deserves and has been completed and compiled in a way that works for viewers. And about damn time too, for anybody waiting for more of the original.
While the animation may look a bit cheap and clunky, it's functional and isn't worth complaining about too much. It may not look the best, flow too smoothly, or bother with details like backgrounds all the time… but it's watchable, and that's what counts. The story itself is a simple one, with a meat-and-two-veg basic plotline that offers no real shocks – which actually works to its advantage. Every scene concisely conveys all the information it needs to and, while there isn't much dialogue, every statement counts. Barring an awkward, poorly-explained plot twist in the tail-end of the film and some flimsy one-dimensional characterization at times, it's all handled effectively thanks to J.M. DeMatteis's solid scripting work.
Basically, if this were a live-action film, Deathstroke: Knights & Dragons would closely resemble an '80s action flick. Thin on an in-depth story and character development, high on action set pieces and blood running down the screen, and totally enjoyable regardless of its weaknesses.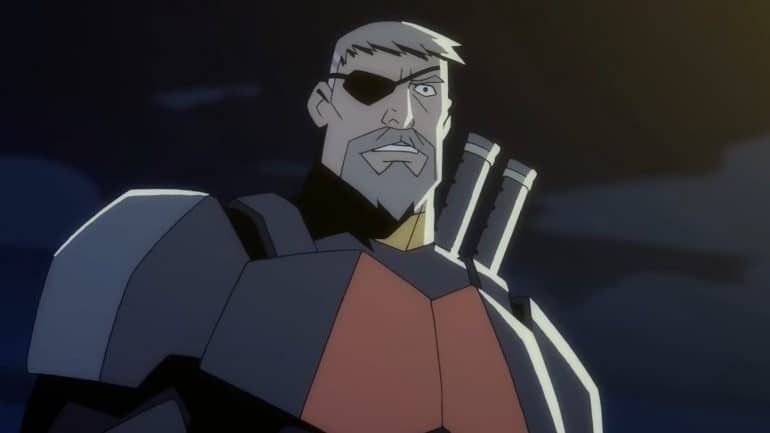 Of course, it's also a comic book-based origin film though, and that's where some of the more obvious sticking points appear.
While Deathstroke: Knights & Dragons will entertain those who only have a basic knowledge of Deathstroke and just want to see him slice and dice his enemies (or who view him stupidly as "DC's unfunny Deadpool"), it walks a fine line for the more hardcore fans. There's plenty here that's accurate from Deathstroke's origin which will keep them happy… but then his serious fans know that there's also a lot more to Slade Wilson than just being Deathstroke The Terminator. It's his personal life that makes him so fascinating.
To cover Deathstroke's origin story properly means showing the origin story of his family and others over the years too: his wife, Adeline Kane Wilson; his children Grant, Joseph and Rose; even Wintergreen, his long-time associate.
There's a lot to pack in here, so just to tell this story they've had to condense and modify plenty of details, and jettison one character entirely. Adeline seems far too passive and annoying at times, and there seem to be far too many easy-outs that bypass the complexities of the pivotal character of Joseph/Jericho. As for Rose, she flip-flops between being self-reliant and damsel-in-distress at a moment's notice – which undermines her as someone to become invested in.
Sadly, it's understandable that they get short-changed like this. After all, people who are looking for a blood-soaked action fest featuring DC's top mercenary probably aren't also interested in ninety minutes of the layered in-depth family dynamics and character building of Slade's nearest and dearest. It's a shame though, because that's what makes Deathstroke one of DC's most intriguing characters and it makes Deathstroke: Knights & Dragons a little weaker.
There's still a fair amount of the Wolfman/Perez background (and subsequent tales) on display, but not quite enough to leave a truly satisfying impression.
Still, it could be worse and Deathstroke himself delivers the goods, even if it means accidentally saving the life of a bloated POTUS.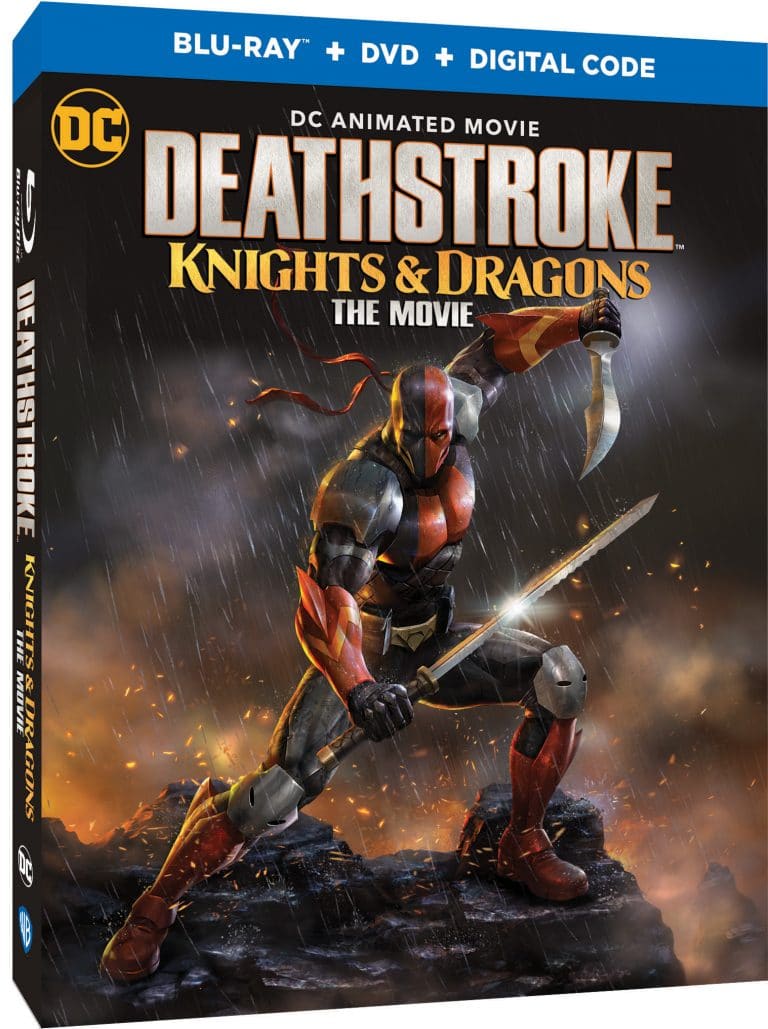 While nowhere near as weak as some of DC's more recent animated efforts, Deathstroke: Knights & Dragons also isn't as strong a film as it could have been.
Yes, it's a chance to see Deathstroke done mostly right at last, which is a very good thing; however, it also feels like a missed opportunity to be a standout production and fails to distinguish itself from the pack.
Deathstroke: Knights & Dragons should keep fans of the character happy, but it probably won't win over any new ones.
The Review
Deathstroke: Knights & Dragons: The Movie
A good Deathstroke film, but average by DC standards.