It's a dirty job, but somebody had to do it. While everybody else was off watching Aquaman at the cinemas again, I stayed home and prepared a nice bubble bath for myself. Why? Because when you're reviewing the Aquaman Bath Duck, there's no other way to do it – you just have to dive right in!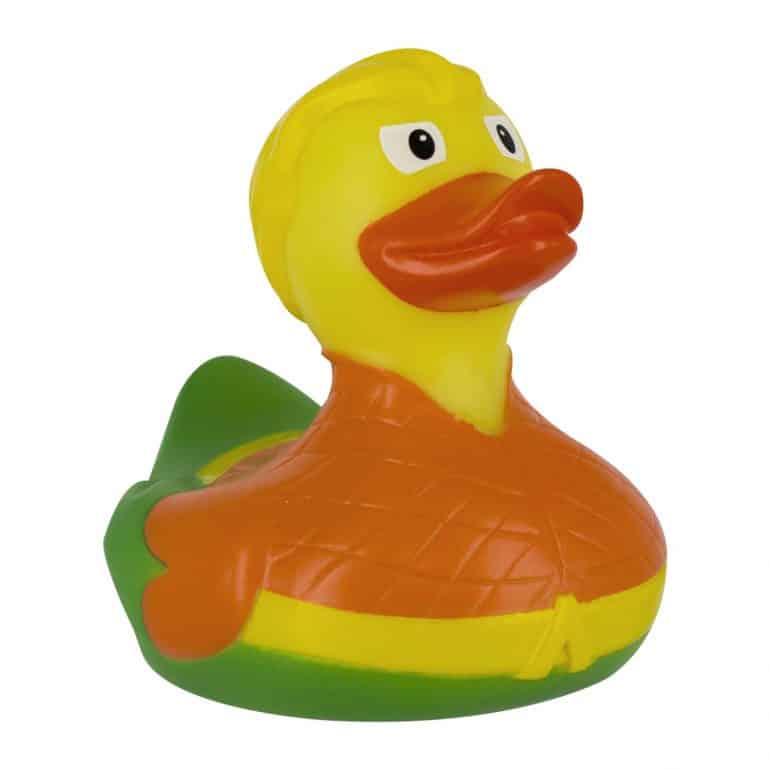 Sure, some will say that bath ducks are easily one of the most pointless products on the planet. They're probably right. But there's a wonderful blend of juvenile fun, self-awareness and absolute kitsch about them, which has led to a rise in popularity for a product that was once serenaded by Ernie from Sesame Street. With variants of bath ducks from superheroes and movie characters to aliens and rock stars, they're as popular as Funkos these days while still being inherently cool in their quirkiness. So what's the Aquaman one like?
Sporting the classic look from the comic books, this is a surprisingly handsome fellow as ducks go. His wavy blonde hair looks just right and, while his top should be a little more orange instead of brown, it's still mostly accurate to the image that fans know and love. The colour contrast works well, making him stand out as he should in an eye-catching way. There are a couple of small spots where the colouring overlaps badly, but they're only noticeable on close inspection.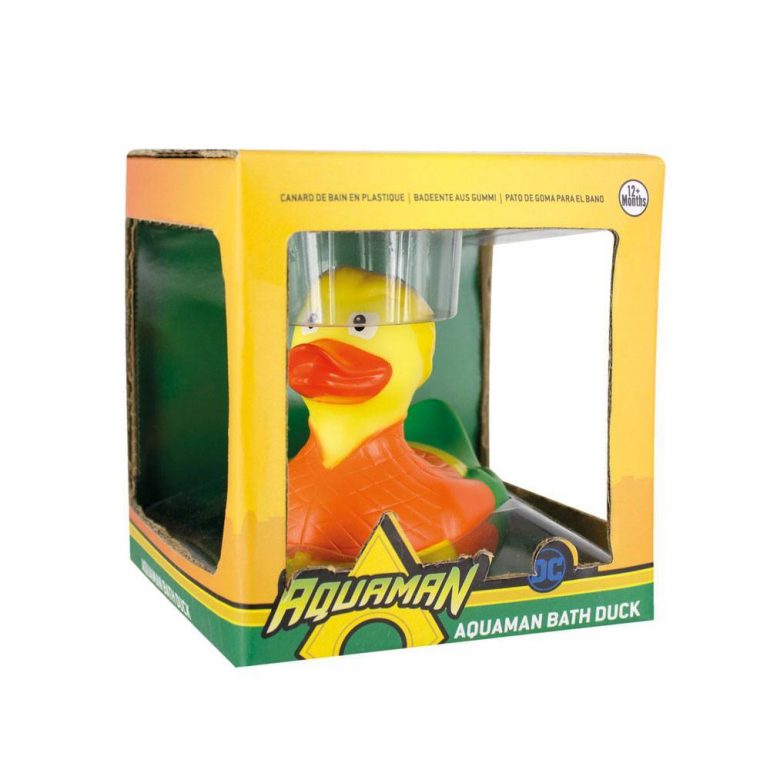 He floats well too, staying proudly upright and balanced… or at least until water gets inside of him through the air hole at the bottom (which disappointingly doesn't have a traditional squeaker). Be warned: any water he takes in will instantly make him lop-sided, causing him to lurch around like he's got the bends. While the water can be squeezed to shoot it out in a satisfying jet, getting all the water out can be a problem. So as a bath toy it's fun and attractive, if slightly impractical. Meanwhile, as an ornament on a shelf it's got massive novelty value.
That's because the coolness of this product stems from Aquaman's general perceived uncoolness over the years. Aquaman may be the current darling of the "Worlds of DC" but for decades he's come in for some flak, usually being the bad punchline to any joke about useless superheroes. He's been mocked by some, spurned by others, and finding almost any Aquaman merchandise was impossible. From cruel memes of him in Super Friends to Raj dressing as Aquaman in The Big Bang Theory, the character was considered a joke… and in many ways still is.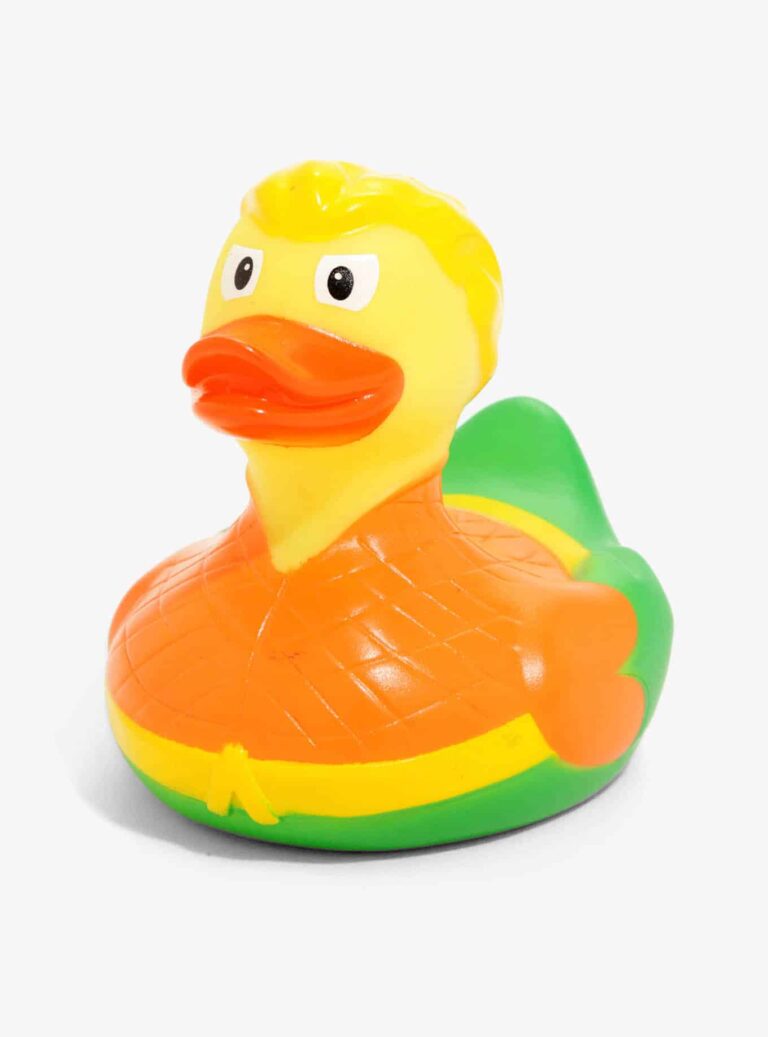 And so an Aquaman bath duck makes logical sense. Neither have been taken seriously, both are considered uncool, yet both have experienced a massive rise in popularity and have become iconic. The deeper meaning may be entirely coincidental, but that's just further proof of how right this combination of Aquaman and a bath duck are! This could possibly be the most symbolic, most perfect item of pop culture merchandise ever created! It's the best thing in the world!
Or, alternatively, it's just a toy duck that looks a bit like Aquaman and floats around aimlessly in the bathtub.
Either way, it's surprisingly gorgeous to look at and makes a fine addition to any serious – or, more likely, not-so-serious – comic book fan's collection. It looks attractive while doing very little, but then that's all Aquaman needs to do sometimes anyway. Whether it's going to be used in the bath or will simply gather dust on a shelf as a display piece, picking up the Aquaman bath duck is the perfect way to treat your inner geek to something special.
The Review
DC's Aquaman Bath Duck
It's hard to deny that this product is pointless, ridiculous and lots of fun.