A funny thing happened to me a while back. I received a package containing a mysterious object for review. Upon opening the package, I was greeted by a very small DC Super Hero Girls Harley Quinn dress and mask, which, of course, would definitely not fit my figure.
My 7-year-old daughter, on the other hand, was way more excited about the dress then I was and proceeded to grab it from me. Needless to say, she paraded in the costume for the weeks to come pretending to be Super Hero High's resident jokester.
With this in mind, I will use what little information I gathered by deciphering my daughter's overly excited comments and my thoughts about the Harley Quinn dress into one, hopefully, coherent review.
The dress forms part of the DC Super Hero Girls range of costumes and toys based on the animated show mainly focused on young girls who love DC superheroes and villains.
Over the years, Harley has donned various outfits, from the original black, red and white spandex one piece to her more recent t-shirt and hot pants ensemble. This version of the costume combines the classic red, black and white spandex with a sparkling tutu that would make any ballerina jealous. The costume also comes with a matching plastic mask to conceal her identity, of course.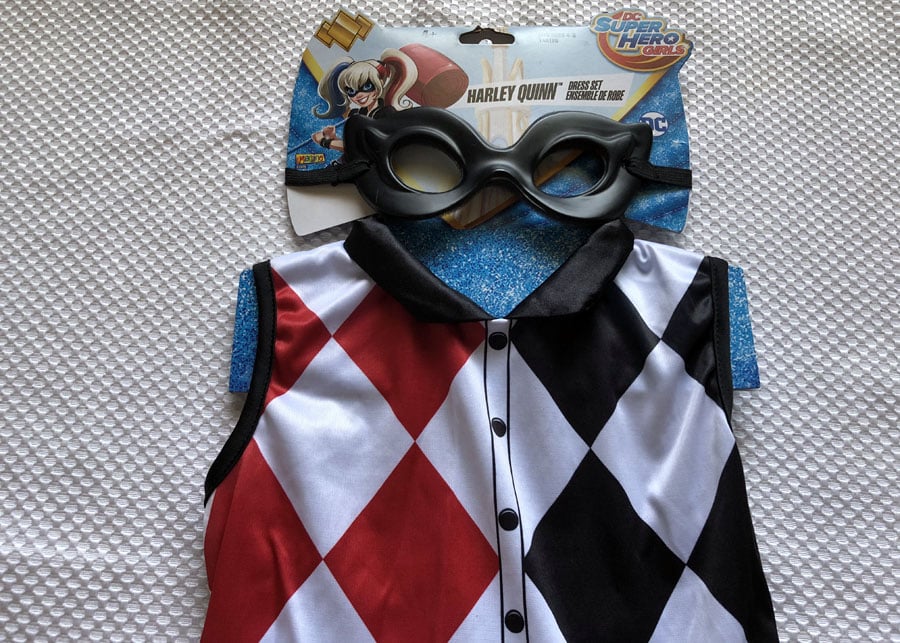 As far as the Harley Quinn dress is concerned, my daughter thinks it is cute, perfect for twirling around and durable enough to handle the occasional tree climb.
I noticed that the costume has a lot of added little details, which aren't really necessary but ads to the overall feel of quality. The added collar on the tank top and the glittering tutu are all details that scream value for money. Everything is well stitched together and during my daughter's adventures facing off against Batman and Robin not once did the dress tear or any thread come loose. The same can be said for the accompanying plastic mask. It feels far more rigid and durable than those low-priced plastic masks you sometimes get in those cheap lucky packets or discount costume stores.
What's better is that the mask is actually lined with foam as to make it feel more comfortable when wearing. This, of course, meant that my daughter could wear the costume and mask for the whole day. She even fell asleep wearing it after a hard day of fighting crime, which just attests to the costume's comfiness.
One thing I did notice was that the dress does use a little piece of Velcro at the back to close up the dress, which can end up wearing out. It would've probably been better if it had a button or clip of some kind instead.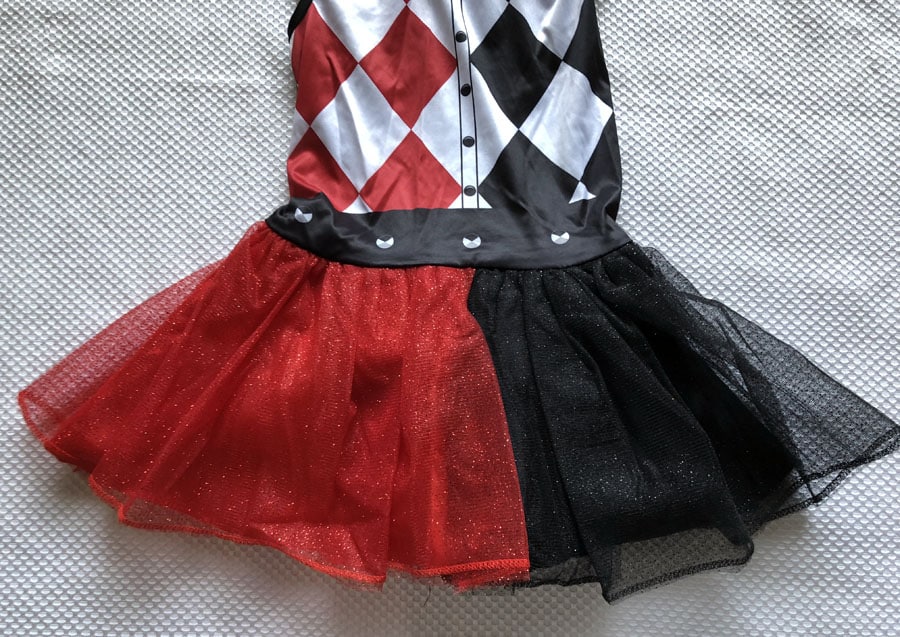 Truth be told, my daughter fell in love with this DC Super Hero Girls costume. Not only is it comfy, practical and good quality but, more importantly, it looks the part.
If you have a daughter who is into superheroes, then this range of costumes (which comes in small, medium and large) will make for the perfect gift. My daughter is already trying to convince me to get her the Wonder Woman costume.
In the words of my daughter, "This Harley Quinn dress is so awesome!"
The Review
DC Super Hero Girls Harley Quinn Dress Set
My daughter genuinely fell in love with this Harley Quinn costume. Not only is it comfy, practical and good quality but, more importantly, it looks the part. Mr J would be proud.
PROS
Good quality
Looks the part
Comfortable (or so I'm told)
CONS
Little Velcro piece might wear out over time
Your daughter might never want to take it off
Review Breakdown
Packaging

Durability

Quality

Detail

Fun Factor