Years ago, when I was only still a little kid, I remember my parents giving me an unassuming figure called Stretch Armstrong as a gift. At first, I wasn't sure what to make of this scantily clad wrestler (I assumed he was either a pro wrestler or an Olympic swimmer judging by his attire).
I was puzzled by this figure which had no visible articulation points. How was I supposed to play with it? Luckily, I quickly figured out that the clue was in the figures name. Stretch Armstrong could, well, stretch. By grabbing his arms and legs I was able to pull and stretch Mr Armstrong and by letting him go he would miraculously revert back to his normal shape and size. Now, as you would expect from most kids, I did on many occasions try to stretch the figure beyond his limits.
And while it is quite possible to eventually break him, I was surprised by the figure's durability. I think I actually still own my Stretch Armstrong figure to this day.
So, what does this bit of nostalgic reflection have to do with these DC Stretch Figures I'm reviewing? Basically, these figures are the DC cousins of the Stretch Armstrong toy I had as a kid and, just like Stretch, these figures are meant to be stretched and pulled and will revert back to their normal shape and size when let go.
To start off with, there are four different DC Stretch Figures in this line of DC toys. You get Superman, Flash, Batman, and, of course, the Joker (what would Batman be without his nemesis?). I was also sent an oversized version of the Batman figure which came with an awesome cloth cape instead of the rubber one the smaller figures wears.
The first thing I noticed about these figures was that they are actually based on the classic superheroes most of us older folks grew up loving as kids. So instead of Batman being outfitted in his buff black bat suit, the Stretch version actually wears the iconic grey and blue and, in my humble opinion, the best Batman suit. It's a nice little touch and one that immediately caught my daughter's attention. Of course, I had to explain why Batman is actually wearing blue and grey instead of various tints of black.
Each figure has some really nice details on their hard-plastic faces, with the paintwork being mostly spot on with minimal overlapping. On the smaller figures, I do like that the capes for Superman and Batman are made of a more durable rubber, but I have to say that the cloth cape on the larger Batman just looks the part.
So just how durable are these DC Stretch Figures? Well, as with most things in life, they can break when handled recklessly but, for the most part, I was impressed with how well these figures held up when put through their paces by my overly eager daughters. After a few days of stretching, they held up surprisingly well. Be assured that if these figures are mistreated they can tear or rupture but when following the guidelines supplied with the toys they should last quite some time.
My biggest complaint was that after a few sessions of stretching the figures' decals did rub off, which was a bit of a shame. It would've been nice if there was a way for the decals to last a bit longer than they did. That said, considering the punishment these toys tend to take, it does make sense that eventually they will rub off. I just didn't expect it to happen so soon.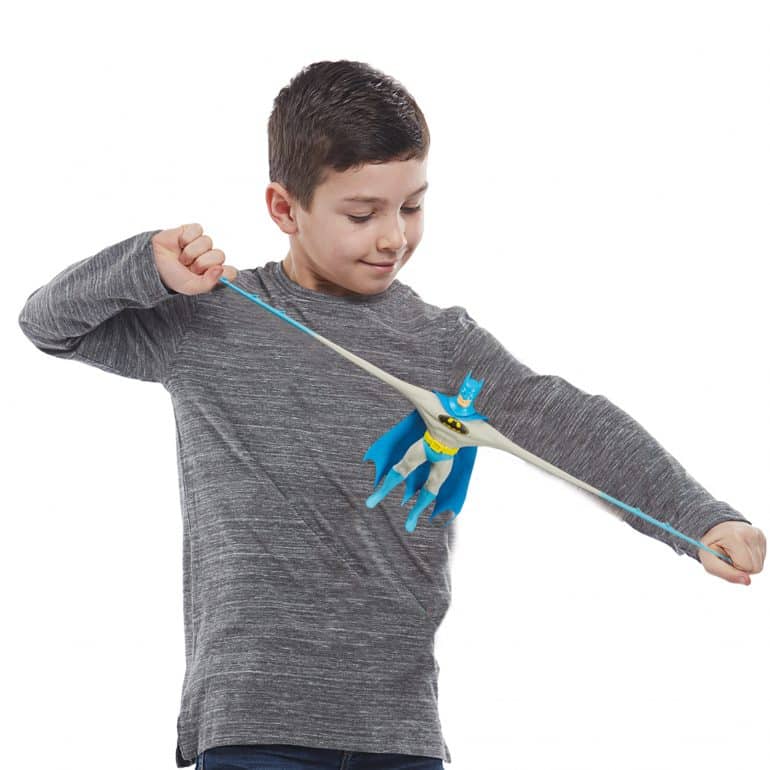 Overall, both my daughters and I enjoyed stretching and playing with these great DC Stretch figures. I even discovered that fidgeting with these stretchable toys did relieve a bit of the stress build up.
With the holiday season, fast approaching these DC Stretch Figures might make the perfect little gift for that special DC fan in your life.
The Review
DC Stretch Figures
These DC Stretch Figures are great for kids and adults, thanks to their surprising durability and the fact that these specific stretch figures are DC-themed.
PROS
Durable
Classic costumes
Just plain fun
CONS
Decals tend to rub off over time
Review Breakdown
Packaging

Durability

Paintwork

Detail

Fun Factor