The DC League of Super-Pets arrive in a new teaser for the upcoming animated movie with new voices in addition to the ones we already knew.
At the latest DC FanDome event this week, a first look at what will be DC League of Super-Pets, the animated movie that focuses on the lives and adventures of the battle buddies of our favourite DC heroes, was unveiled. Aside from the re-confirmation of Dwayne "The Rock" Johnson's involvement as Superman's dog, Krypto the Super Dog, the teaser features a hilarious Kevin Hart voicing Batman's buddy, Ace the Bat-Hound, as well as a list of many other current cinema figures.
What we know.
Details so far are scarce, but what the latest news does let us know is that accompanying the voices of The Rock and Kevin Hart, other characters will be played by Marc Maron (playing Lex Luthor), Vanessa Bayer, John Krasinski, Diego Luna, Natasha Lyonne, Jameela Jamil, Kate McKinnon, and Keanu Reeves, all the latter with yet unknown roles.
Producer Hiram Garcia spoke with Collider, where he noted that this animated DC League of Super-Pets film will serve as an introduction to many DC characters who have not yet had the opportunity to appear on the big screen.
Regarding the plot of the film and its announcement he noted:
"It's such a charming story and then in addition we get to introduce the league of Super-Pets and all those wonderful characters. We have such an amazing cast of actors, and anytime you can get Dwayne Johnson and Kevin Hart together doing what they do, you know it's going to be a big, fun ride for audiences. This is such a huge project that we've been working on for a while so we were thrilled when we finally made the announcement."
DC League of Super-Pets: The Adventures of Krypto and Ace game announcement trailer:
What to expect.
We should remember that DC League of Super-Pets was announced back in 2018, but for reasons including the COVID-19 pandemic as well as the confirmed participation of The Rock, which took until May 2021, it is not till now that we were able to see a small preview.
For this same reason it was recently revealed that, apart from Krypto and Ace, the film will include Wonder Woman's kangaroo, Jumpa, and Supergirl's cat, Streaky the Supercat. This, as well as other future details, will complete the concept of the film, which is based on the story that first appeared in 1962, in Adventure Comics #293, created by Jerry Siegel, Curt Swan, George Klein, and Milt Snappin, where the entire furry team was introduced for the first time. The announcement of the film comes a year after the relaunch of the series through DC Comics, which had previously been cancelled.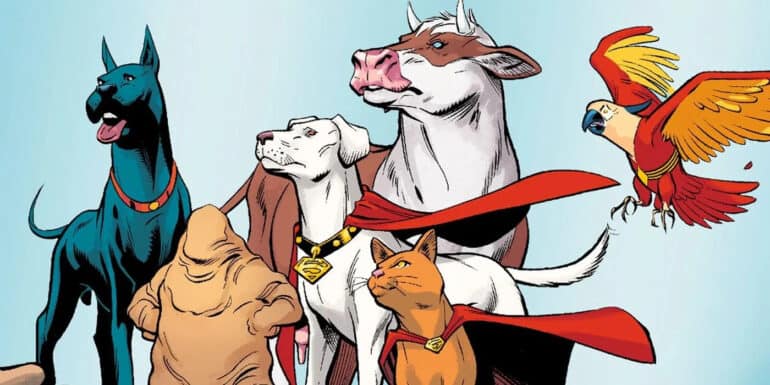 In other details, Jared Stern will serve as the film's writer and director, while Sam Levine will co-direct. Producers include Garcia, Stern, Johnson, Dany Garcia, and Patty Hicks.
DC League of Super-Pets flies into theatres with action and humour on May 20th, 2022, with a more complete preview coming this November.