After releasing a new promotional video for the highly anticipated event this weekend, the comic book giant has announced that the first-ever DC FanDome is too big for just one night.
The event will now take place over two days beginning on August 22nd with the Hall of Heroes, followed by Explore the Multiverse on September 12th.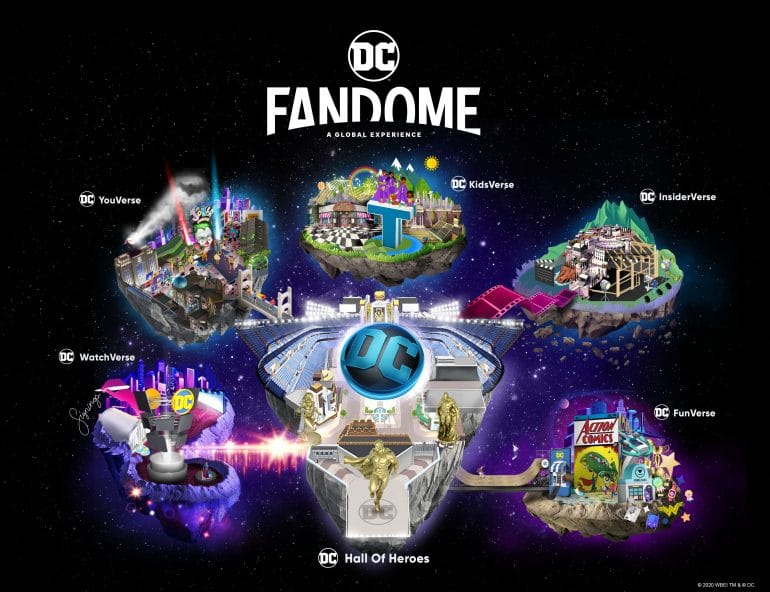 On August 22nd, fans will be transported to the Hall of Heroes. The epic world is designed by Jim Lee (Publisher and Chief Creative Officer for DC Comics), and features special programming, panels and exclusive content from movies, television series, games, comics and more.
Fans will also get the opportunity to hear from the cast and creators of DC's biggest TV shows like Titans, Batwoman, Black Lightning, Legends of Tomorrow, DC's Stargirl, The Flash, Watchmen, Doom Patrol, Harley Quinn, Lucifer, Pennyworth, Supergirl, Superman and Lois, DC Super Hero Girls, Teen Titans GO!, and Young Justice: Outsiders.
Big screen stars will include the cast and creators of Aquaman, The Batman, Black Adam, Shazam!, Justice League: The Snyder Cut, The Suicide Squad and Wonder Woman 1984.
The eight-hour show will be broadcast three times over a 24-hour period, allowing fans from around the world to experience the Hall of Heroes in their own time-zones. The event will begin at 10:00am PST at DCFanDome.com.
On September 12th you can Explore the Multiverse where DC promises to offer fans the experience of a lifetime, with full access to more than 100 hours of on-demand content.
The Multiverse has five "islands" to explore, each with its own content and unique activities.
DC WatchVerse features screenings and never-before-seen footage
DC YouVerse includes user-generated content, cosplay and fan art
DC KidsVerse is a family-friendly space for younger fans
DC InsiderVerse sees Jim Lee (DC's COO), Walter Hamada (DC-Based Films chief )and Greg Berlanti (Arrowverse creator) offer an introduction to the DC Multiverse and introduce artisans from comic books, games, TV, movies, theme parks and more.
DC FunVerse is the place to be for digital giveaways and limited-edition exclusives.
The event will begin at 10:00am PST at DCFanDome.com. You can check out the complete schedule for each island here.
Kids FanDome also launches on September 12th, at 10:00 am PST, with its own kid-friendly companion site at DCKidsFanDome.com. The content is accessible on demand for 24 hours.
All content will be available in ten languages including English, French, Italian, German, Spanish, Brazil Portuguese, Korean, Japanese and Chinese. Additionally, content programmed from specific countries will be in their native languages.
Are you excited for DC FanDome this weekend?