Tim Fox is DC's Future State Batman.
DC Comics' Future State is just a few weeks away. In anticipation of the event, the comic book giant has revealed the identity of the new Batman.
Future State is a two-month showcase that replaces DC's regular publishing line. The stories are set in a future where new generations of heroes take on the roles of DC's most popular characters.
While most fans believed the new Batman would be Luke Fox, Gotham's defender in this dystopian future is actually his brother Tim. The announcement was accompanied by a surprise variant cover for the second issue of the four-part miniseries, featuring striking art by Doug Braithwaite and Diego Rodriguez.
Speaking about its Future State Batman titles, DC said…
"In this future, Gotham City is controlled by the Magistrate. This villainous regime has taken control of the city, now under constant surveillance. All masked vigilantes have been outlawed and Batman has been killed. But led by an all-new Batman, a new assembly of Gotham's guardians rise to give hope to all of those who lost it!"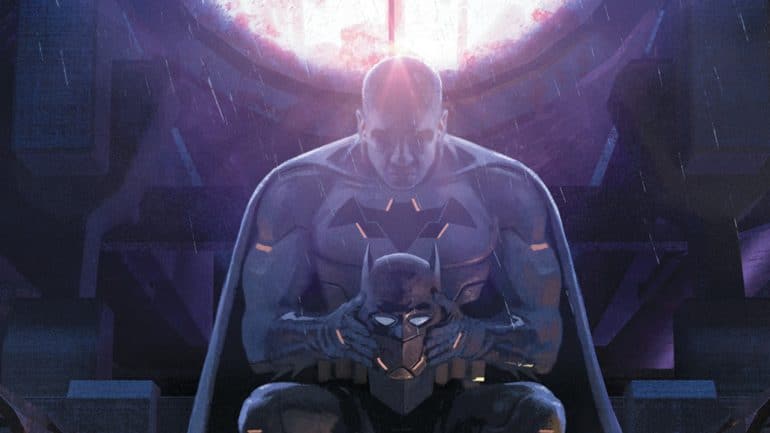 Created by Len Wein and Irv Novick, Tim Fox made his comic book debut in 1979's Batman #313 as the estranged son of Lucius Fox. After a few brief appearances, he was brought back into DC's continuity in Batman: The Joker War Zone #1, after Lucius asked him to return to Gotham.
Future State: The Next Batman debuts in comic book stores and participating digital platforms on January 5, 2021, with new issues available every other week. Each 64-page comic book includes backup stories of other Gotham City heroes and villains taking on the oppressive rule of The Magistrate and its war on vigilantes:
Future State: Arkham Knights, by Paul Jenkins and Jack Herbert (issues #1 and #3)
Future State: Outsiders, by Brandon Thomas and Sumit Kumar (issues #1 and #3)
Future State: Batgirls, by Vita Ayala and Aneke (issues #2 and #4)
Future State: Gotham City Sirens, by Paula Sevenbergen and Emanuela Lupacchino (issues #2 and #4)
What are your thoughts on the DC Future State Batman? Do you think Tim Fox is a good choice? Let us know in the comments.