I'm busy picking bunches of lavender next to a beautiful clear lake in rural Oregon. The sun is shining, and I have few cares in the world. A deer strolls past me at an uncomfortable but not entirely unwelcome distance. All is well. Until I hear it. It's always a noise first. The snarling and growling. Half a second later, they're on me. A horde. Literally, hundreds of zombies are swarming towards me in a massive, fast-moving wave. They claw and scrape at me. I run towards my motorbike. At the very last moment, I notice one more bunch of lavender next to my bike's handlebars. I grab it and swing onto my seat, running over the first zombie that tries to claw at me and making a hasty getaway. I drive for over half a kilometre before I stop and see that the zombies have lost me.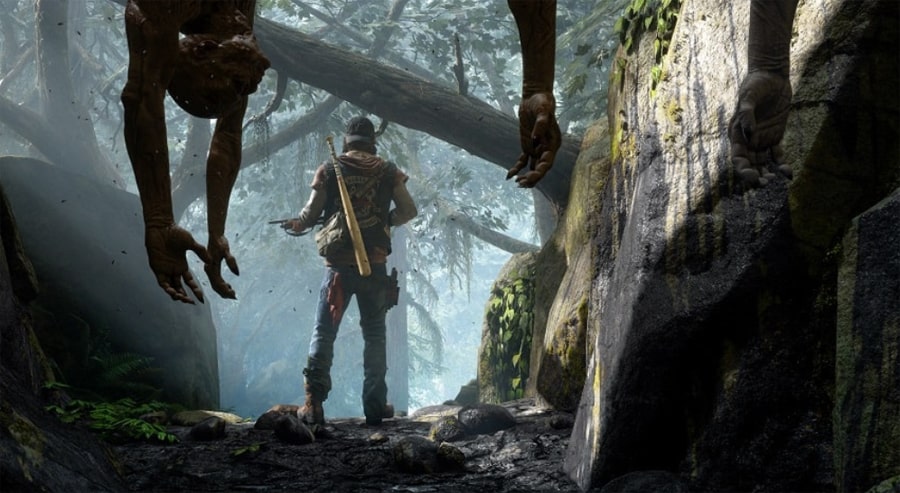 That anecdote pretty much summarizes much of my experiences in Days Gone – a quest or mission with fairly standard requirements that get blown to hell in the most exciting way possible thanks to the open-world context and free-form zombie systems in the game. Sorry, not zombies: Freakers. Let's get our insistent terminology right first.
Days Gone sees you playing as Deacon St. John, a biker living and surviving in an area of wildlands in Oregon after the zombie apocalypse has occurred. After a brief prologue, you skip ahead about 2 years, which is recorded as the number of "days gone" on your pause screen – for instance, your game starts with 700-something days, and will go up over your playthrough. The main section of the game starts off with Deacon and his best friend Boozer as they complete tasks and missions for various small communities in exchange for goods and credits.
The story-line is any kind of combination of Sons of Anarchy and The Walking Dead…
The story-line is any kind of combination of Sons of Anarchy and The Walking Dead, combined with the emotive video-game narrative style of The Last of Us. What I liked about the plot is that there wasn't some huge quest hanging over the game right from the start – Boozer and Deacon care mostly about survival, and while they do have bigger plans they work towards, the plot mostly consists of them getting into situations during their survival efforts that lead to other situations occurring as a result. It's a very organic story; realistic in a positive sense, where things happen because they make sense that they happen.
I don't think the plot quite reaches the memorable heights of The Last of Us, but it does do a damn good effort and feels like it works very well in the context of an open world game. I didn't like Deacon either at first, feeling that he was too much of a stereotype. However, by even the midpoint of the game, I began to actually quite like him, and the narrative did a good job of humanizing him. This happens both in gameplay and in cutscenes – in gameplay, Deacon might say things to himself or shouts at enemies in such a way that it shows his feelings and emotions towards those people quite well. He's not blindly sociopathic like some video game characters, he seems to have a developed set of feelings about every enemy type he encounters.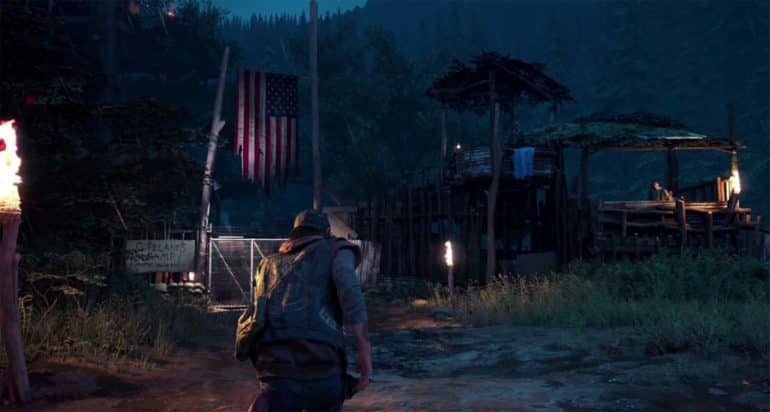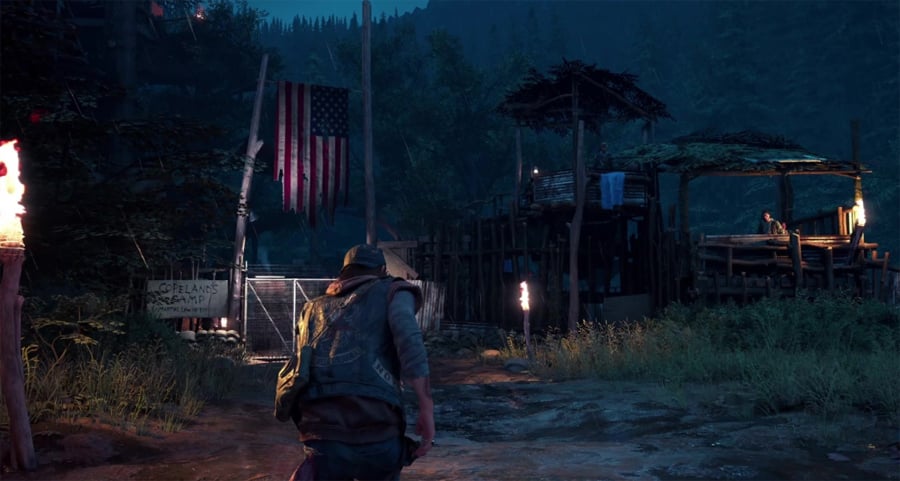 There are several major safe camps that you can find throughout the world and during the plot, each with their own leaders, character, and style of government. Deacon has a history with all of these camps and their leaders, but it's not made explicit immediately – the narrative trusts you enough to work some things out through inference, or by learning about them later. The game avoids most of the classic writing errors of saying too much that the characters themselves should already be aware of. The way these camps work for gameplay are interesting too: you do missions for a camp and earn currency only in that camp. Money doesn't exist anymore, and it's more of a "you have earned this much favour with us alone" kind of idea. This means that you might have a lot of money at one camp to refuel and pay for weapons, and very little at another.
The game avoids most of the classic writing errors of saying too much that the characters themselves should already be aware of.
The quest system ties well into the strong focus on narrative. You don't have main quests or side quests, what you have instead is plenty of Storylines, each with a percentage meter and individual rewards for reaching certain milestones. Missions you do will contribute to various storylines in intuitive ways – for instance, you may be going somewhere to get medical supplies and, on your way, you have to fight and destroy an enemy base. This would add a fixed percentage to both the storyline for helping the doctor and the storyline for destroying the enemy bases.
Gameplay in Days Gone primarily takes the form of a third-person shooter, with cover-based elements. Deacon travels around on his motorbike, which can be upgraded through buying new parts and can be customized in appearance in various ways. There is a practical fuel-system, meaning that you must buy or scavenge for fuel during your travels. Your bike can also be damaged and must be repaired either at your cost or by using scrap. There is a fast travel system, and a pleasing number of checkpoints can be unlocked for that, but it still uses fuel to travel from one point to another. On average, I would keep the fuel system, but it was occasionally quite irritating and worrying to run out of fuel in the middle of a journey. But perhaps that was the point.
Combat in Days Gone is nothing especially out of the ordinary for this type of game but is handled competently. You have a side-weapon, a primary weapon, and a special weapon. These are selected through a wheel menu, and various melee weapons and additional throwing weapons can be crafted from items you scavenge in the wild. You will either be stealthing around to sneak up on enemies for silent takedowns or hiding behind cover to pop up and take enemies down through gunplay. Weapons can be bought or located in the wild or taken from dead enemies. There are a lot of additional items, like smoke bombs and timed explosives that I never really used myself, but which are there if you enjoy a different style of gameplay. I rarely felt like I was running low on materials, but I did feel the need to keep on picking up more items wherever I was.
…the world of Days Gone is gorgeous…
You have the ability to both upgrade your stats through specific items found in fixed locations, and to unlock additional skills as you level up. Your three stats include Health, Stamina, and Focus (a slowdown mechanic while shooting). Skills are bracketed into either Melee, Firearms, or Survival categories. Again, these skills are serviceable and useful but nothing groundbreaking. I found something useful in all three and spread my skills out accordingly.
Missions have a few basic types. There's the "go there and kill everyone" type. There's the "find out what happened to these missing people" type. There's the "hunt down this guy on a bike" type. There's the "sneak around and don't get caught while you find out information" type. A few others break this mould in interesting ways, but what keeps these all exciting is the world and the interactions you have with it.
Firstly, the world of Days Gone is gorgeous. You have three main biomes to explore – a more deserty and rough section, a woodland and foresty section, and a lakeside, mountain-side snowy area. They are all framed around a huge mountain peak, with realistic day-night cycles and impressive weather effects, including both rain and some very nice looking snow. Secondly, the way that zombies interact with you while you are trying to do anything creates some of the most fun you will have in this game.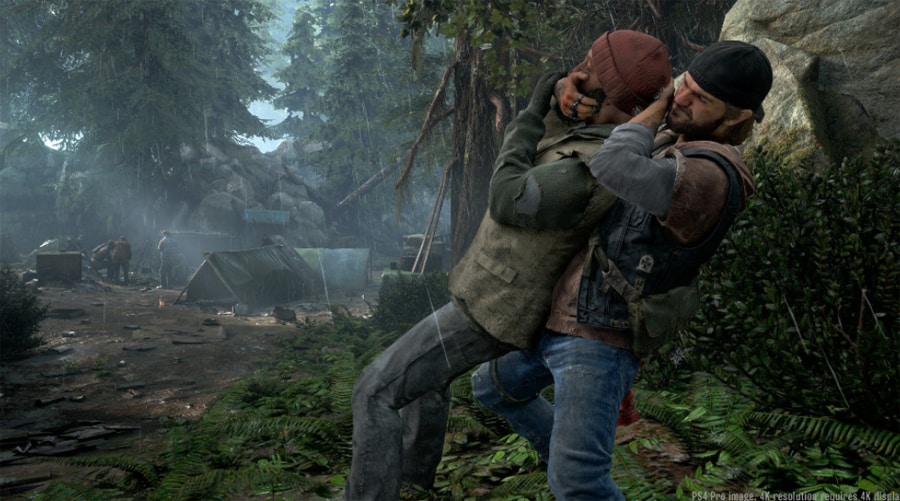 Zombies, sorry, Freakers, are divided into several types and have some predictable behaviour patterns. Basic Freakers are easy to take down, more active at night, and build burrows and hideouts during most of the day. Newts are the zombie version of children and pre-teens. They keep to themselves on rooftops, not getting violent unless you invade their territory first. I'm actually really impressed they pulled through with making children zombies, as most media in this genre avoids that area completely for no good reason. When a few hundred Freakers get together, that's a horde. They will charge around a whole area of countryside and absolutely destroy you if you hang around, so you best get moving on your bike quickly.
Zombies, sorry, Freakers, are divided into several types and have some predictable behaviour patterns.
However, they can sometimes be manipulated, and that's part of the fun. I once was destroying a base of deranged human cultists and heard the horde of Freakers in the distance. I jumped onto a building where they couldn't reach me and shot a wall open to let the horde come in and destroy my enemies for me. After they were done, the horde moved on without seeing me, and I jumped down for an easy victory over the evil cultists. On another occasion, I was liberating a former government base to take over for myself and turned on a generator. Without knowing it, I had left a siren attached. It brought every zombie for miles around towards my direction, and I had to abandon my new base and tear off into the wildness with a zombie army in tow. Later on, when I came back to that area, I saw some zombies still hanging around the siren which was still blaring, and I had a very difficult time clearing them out and shutting it down before I could make use of the are again.
That's the kind of thing I like about a game like this, which is that it allows you to create so many of your own stories, but still has a structure of its own when you're ready to follow the narrative and learn what happens next. I kept on moving on to the next mission, just because I wanted to see what would happen next, both narratively and for me in the random gameplay events. I don't think it's the kind of game you need to play over and over again, once you finish it the first time. There are some motivations to carry on, including collectables and famous landmarks to visit, and those are fine. But you will get quite a few tens of hours out of the main experience before you exhaust the adventure you can have the first time.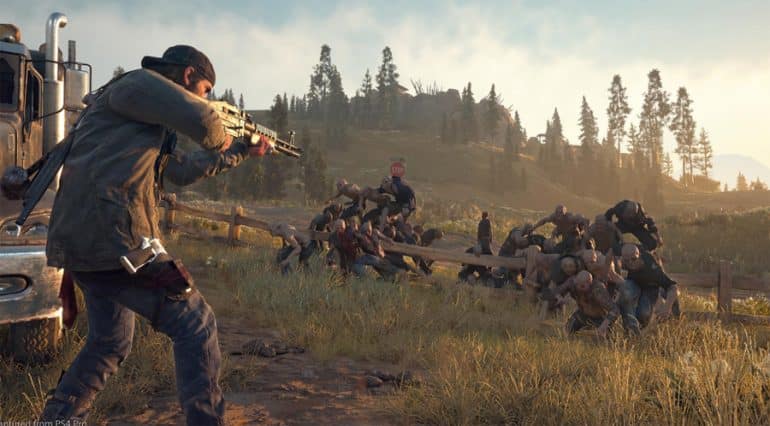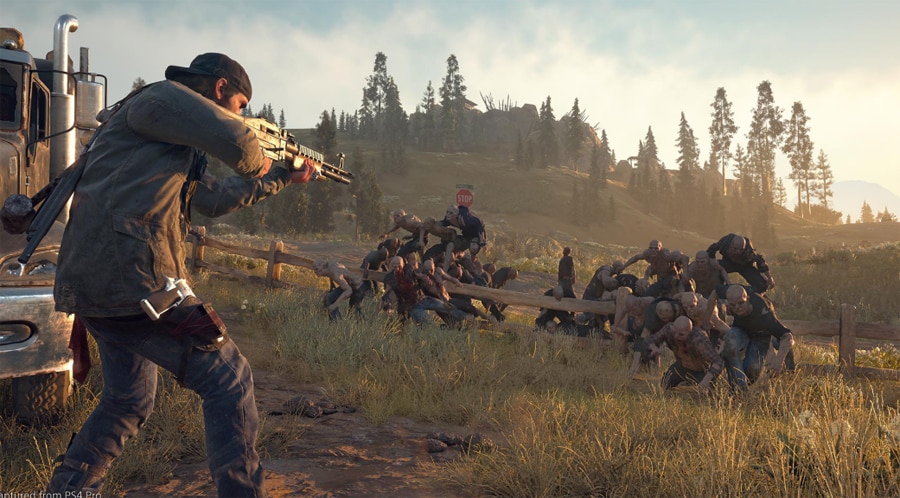 I think zombies as a genre are largely tapped out, to be honest. We need to let them rest for a bit. While Days Gone may not reinvent the wheel in that regard, it does bring together some of the best parts of the genre found in videogames and narrative storytelling, to the extent that I feel it pulls off its own effort with a great degree of style. What I think it also shows is that narrative-driven games don't have to be walking simulators. Days Gone does have cutscenes and walking-and-talking bits, but it mostly tells its story through gameplay and brief conversations. And so, if we don't get any more major zombie releases for a while (unlikely, but still), this will be a great title to reflect on while we wait for some more innovation to come in the future.
The Review
Days Gone
Days Gone might not bring anything new to the zombie genre of games but what it does is combine all the best parts from previous zombie games into one hugely fun package.
PROS
Beautiful world to explore
Messing around with freaker hordes is loads of fun
Great storytelling
CONS
Doesn't bring anything new to the genre
The fuel system can be tedious
Review Breakdown
Storyline

0%

Gameplay

0%

Graphics

0%

Replay Value

0%

Sound and Music

0%