Yes, there is a multitude of bad and unworthy games that flood the genre. But, for every 1,000 or so bad indie games, there's a gem to be found somewhere in there. It's not always easy to find and sometimes requires a bit of marketing and word-of-mouth to shine through. DARQ is such a game.
The Story
DARQ is based on the premise of lucid dreaming.
While many associate sleep with a time to relax, rejuvenate and unwind, that's not always the case. In fact, there are many out there who are suffer from constant nightmares. This is what plagues the nights of the lead character, Lloyd.
Lloyd goes to bed every night and has a series of nightmarish lucid dreams on repeat.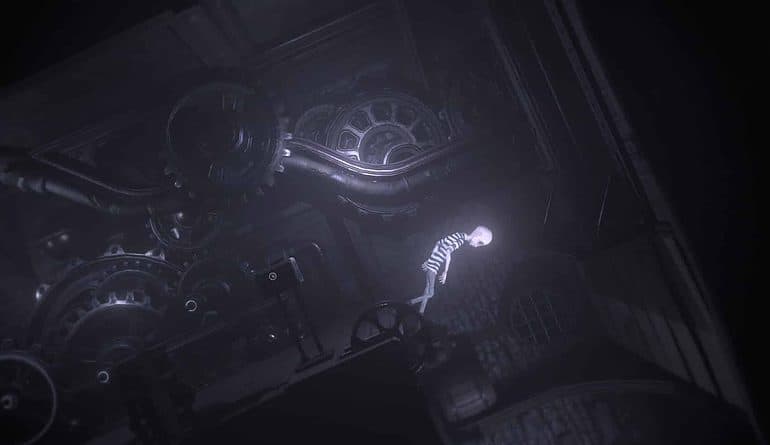 DARQ's Gameplay
It's up to you to guide Lloyd through the obstacles of this world, filled with – as with any nightmare – horrors, terrors, hidden figures and more.
These obstacles are presented in a series of puzzles and this is where the game comes to life.
The puzzles are complicated and require some thought and memory, as they're not always completed in isolation. And completing each set of puzzles per chapter is highly satisfying.
I found the first chapter's puzzles the most challenging. This wasn't because it was more difficult than what was to follow, but rather overcoming the learning barrier.
Once the game mechanics have been learned, it becomes more of an exploration to find puzzles to solve. Each new chapter in DARQ provides a set of new mechanics to assist in solving problems.
The mechanics start off with the basics, including walking up certain walls and, on the ceilings, defying gravity. These are required to solve specific challenges.
There is also a mix of puzzles found per chapter, none of which are repeated. This includes interacting with objects within each room that sometimes allow you to flip rooms, change perspectives, finding obstacles that allow you to power others or just manoeuvring others to active triggers.
It's great.
The Horrors
It's not all exploration and puzzles, though. Being a horror/thriller title, DARQ does have a few scares thrown in.
The most frightening of these include the figures hidden away or chasing you down. The element of surprise and contorted body parts is the shocking factor here.
And it's not all jump scares either. Having to solve puzzles to time limits, for example, builds some intense moments.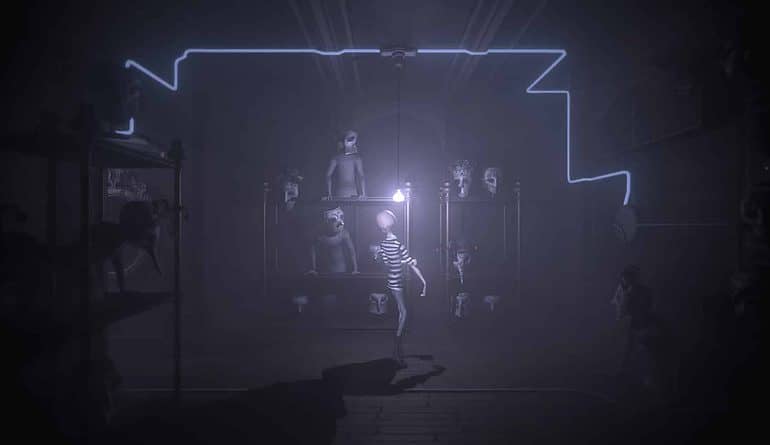 The Look
Both the graphics and the sound composition within DARQ are great, too. The dark, shadowy halls are filled with patches of scarce light and effects.
All of which is brought together by the chilling score and sound effects. This ties everything in the game together.
In Conclusion
My biggest gripe DARQ is that just as you start to get into it, the rug is pulled away and it ends abruptly.
The steam count showed a play-time of just under 4 hours, which is reasonable, but somehow still feels very short.
Developers, Unfold Games, released a free DLC a few months back. The Tower brings a series of new perspectives and mechanics. The scares aren't as intense as the original game, but provide a solid 30 minutes of puzzle solving.
A second DLC, The Crypt, is set for release in December. As with the first, the DLC will be free to play.
In addition to this, the developers will also be releasing DARQ on consoles. This includes Xbox One, Xbox Series X/S, PS4, PS5 and Nintendo Switch.
The Review
DARQ
DARQ is, as the name suggests, a dark look into the world of horror-filled lucid dreaming. It's a great problem and puzzle-solving title with new mechanics to explore in each chapter. The visuals and sounds add to the intensity and scares, but it all just ends a little too soon.
PROS
Interactive puzzles
Different styles of mechanics
Great sound and visuals
Scares
CONS
Ends too soon
Stealth mechanic doesn't add much to the game
Review Breakdown
Gameplay

0%

Graphics

0%

Replay Value

0%

Sound and Music

0%