The fact that Darksiders III even exists in the first place must be seen as some sort of victory in and of itself, and a demonstration of the power that a dedicated fanbase can generate for a franchise. It should rightfully be applauded for that. That being said, Darksiders III may not be a technical or gameplay powerhouse in any way, and it has its fair share of issues to overcome, but at the end of the day, it's still good for about 10 hours of good old-fashioned fun.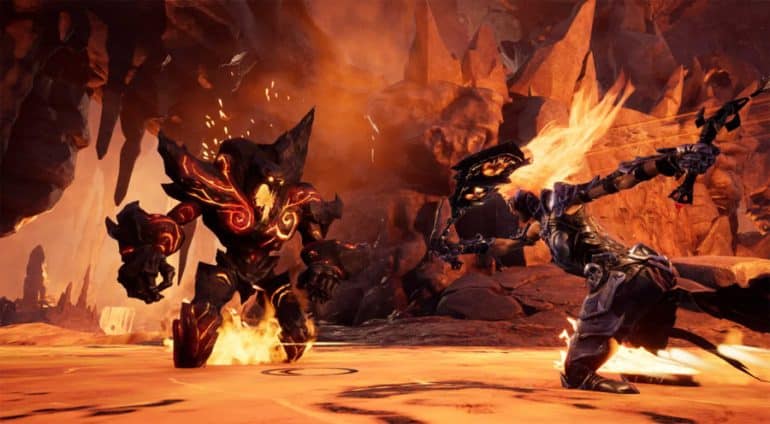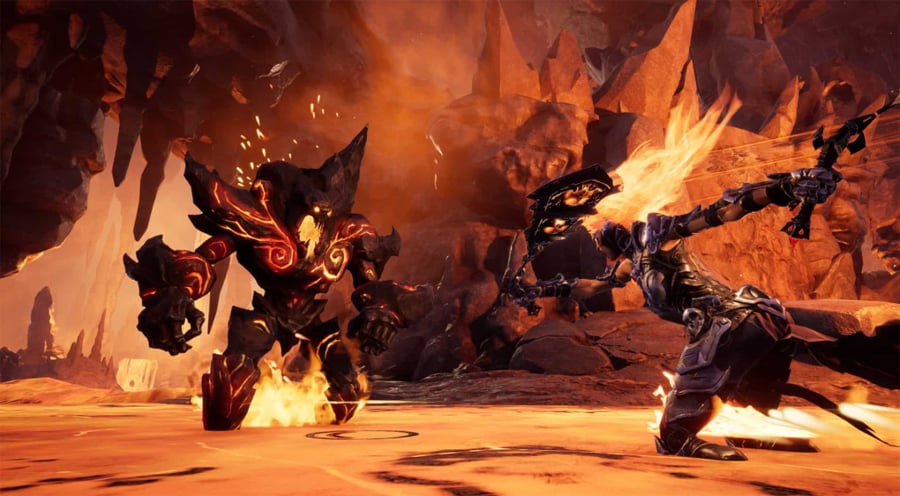 Let's recap, for those slow to the party: Darksiders, aside from having a terribly generic name as a franchise, arrived in 2010 with its first instalment. It was essentially a Zelda clone with some Devil May Cry gameplay mixed in, and as far as clones go, it was a fairly decent romp, albeit while not being particularly innovative. Come on, it had a portal gun that shot blue and orange portals for goodness sake. It had an aesthetic that carried it through with some style, in a very '90s, Todd McFarlane meets the enormous shoulder pauldrons of WOW kind of way.
It was a goofy premise but we bought it despite the silliness just for the potential cool factor – you played as War, one of the Four Horseman of the Apocalypse, and there was a whole mythos created around the Judeo-Christian Mythology mixed in with some new stuff about Angels and Demons and a big huge war between them. Darksiders 2 arrived in 2012, and you took control of Death, War's brother, in what was now more of a loot-heavy, platform-y quest. Then, the studio that made the series, THQ, went bankrupt. Fans of the series didn't know what to expect, as the story was far from finished. However, 6 years later, many of the old employees from the original team have formed their own studio and have now managed to bring the next instalment in this series to life.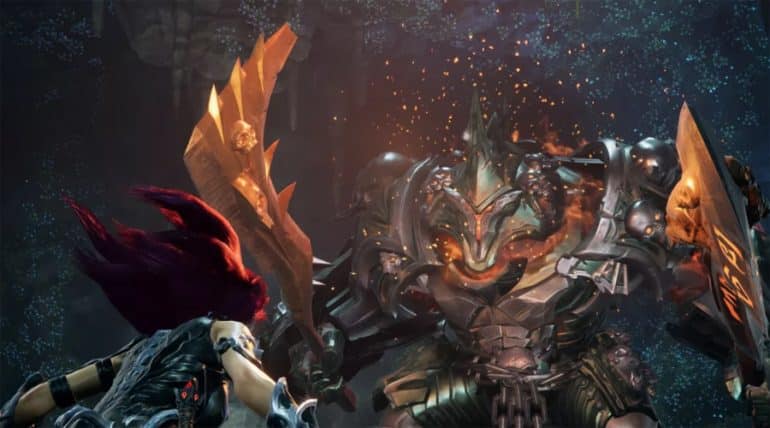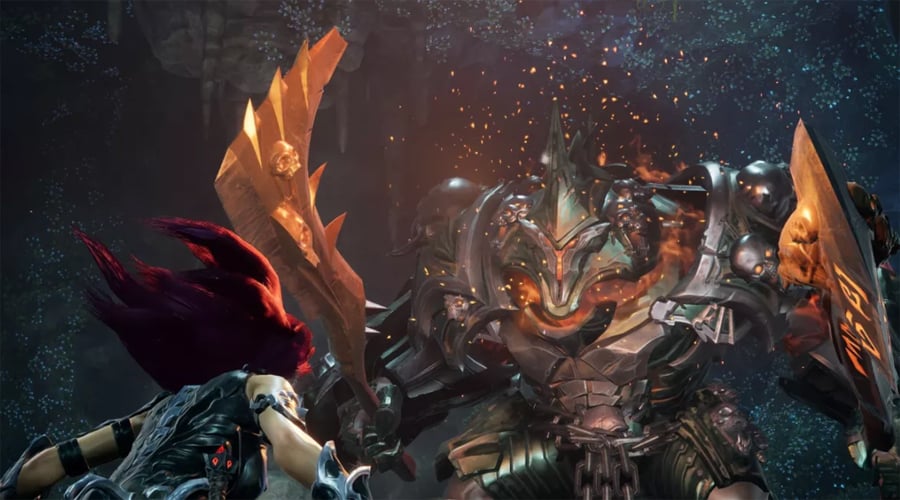 Darksiders III stars Fury, the only female member of the Horsemen. The game is effectively a prequel, as it takes place after the time that War triggers the Apocalypse in D1's prologue, and before he is released from his prison in the main plot of that game. Fury is tasked with destroying the Seven Deadly Sins, who have escaped captivity. In return, she will be rewarded by being given the leadership of the Four Horsemen. See what I told you about this plot being so goofy, that it's quite fun?
This time the game is halfway between a Metroidvania, a Souls title, and a Ninja Gaiden series.
Anyway, let's talk about what this affects in the game. Once again, while the aesthetic is similar, the core gameplay is quite different from the previous titles. I quite like this actually. Each game has a different protagonist, they have their own combat style, so a gameplay change to match isn't so bad. This time the game is halfway between a Metroidvania, a Souls title, and a Ninja Gaiden series. Once again, fairly derivative, but it pulls these already existing ideas together fairly well.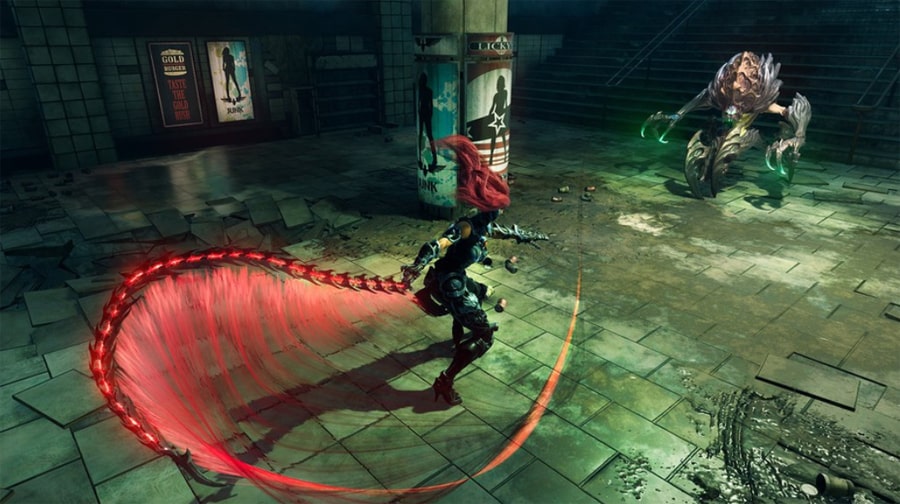 Combat has been made a major highlight and is now far more precise than ever before. Fury can go down to hits a lot quicker, and you essentially have to rely on a lock-on feature and to use dodge and dodge-counters to achieve maximum success. There are some links to the Souls series with checkpoints being fixed and with your wealth, or "souls" being left behind when you die.
The Metroidvania aspect comes in when you are given one large inter-connected world, and you are occasionally given new powers called Hollows that change how you can traverse this world. As you gain another, you get a new way to move or jump or travel, and this lets you access new paths than what you had before. These Hollow Forms also change your secondary weapon, and you can swap between them on the fly.
Combat has been made a major highlight and is now far more precise than ever before.
Aside from these four secondary weapons, your main weapon is a whip that can also be used for swinging across gaps. Your four Hollows are the elemental properties of Fire, Lightning, Ice and Gravity. There's the idea that aside from the start and end of the game, you can make many more choices about what order to take down bosses in – essentially, you have 7 bosses to kill, and you can only get to the last one having killed the previous 6, so you can choose what order to tackle them in.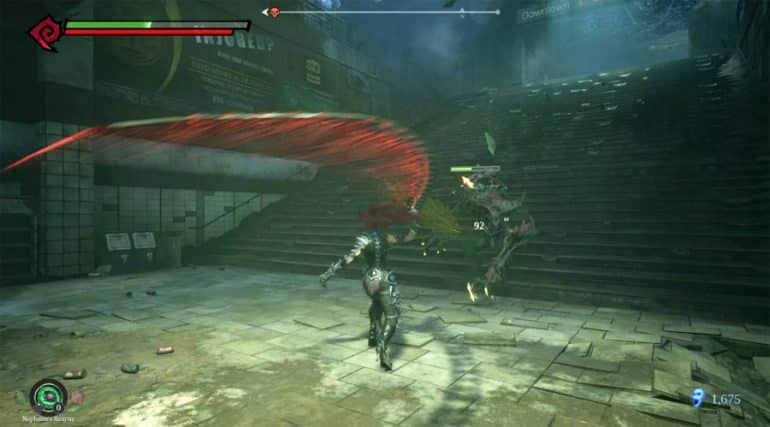 The above paragraph is the pitch, shall we say. Let's now talk about what works well here, and then later I'll mention what doesn't work well in the execution of these ideas.
Firstly, I think Fury has a fairly decent arc as a character, despite it being quite a short game. Her motivations are very lacking at the start of the game, but by the end, I found her altogether a fair bit more relatable. Secondly, the scope of the open-world is admirable at the time, and you do get that amazing feeling you always get in games like these, where you have spent hours travelling through Area B and you end up figuring out how it loops back to Area A that you went through at the start of the game.
Fury has a fairly decent arc as a character, despite it being quite a short game.
The way you can approach bosses is also interesting and exciting, as I entered a large room to see a boss in the distance, but knowing I would now need to figure out how to get to him later. As it happened, my adventure very organically took me towards him when the time was right. The plot is not quite as open as the advertising would have you believe, as about the last half of the game is pretty much a set order of bosses, but I'll give it points for effort. I'll give it further points for some optional quests and endings that never get listed anywhere, you just get told about them and have to remember to look for them later.
The Seven Sins are mostly one-scene wonders, but I found them to have some interesting views on the nature of their element, especially Lust, who avoids what could have been a very cheap pitfall. As for combat, when it all comes together it does feel very empowering, as you leap and twirl and use combos and elemental effects to your advantage. It's a great game if you can get into the groove and mindset of it.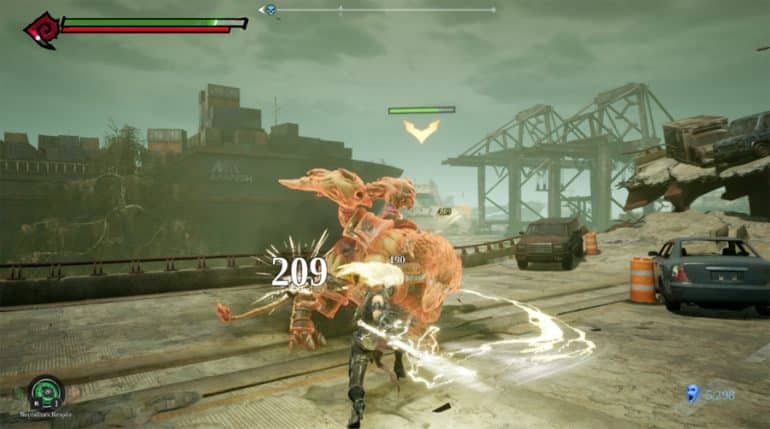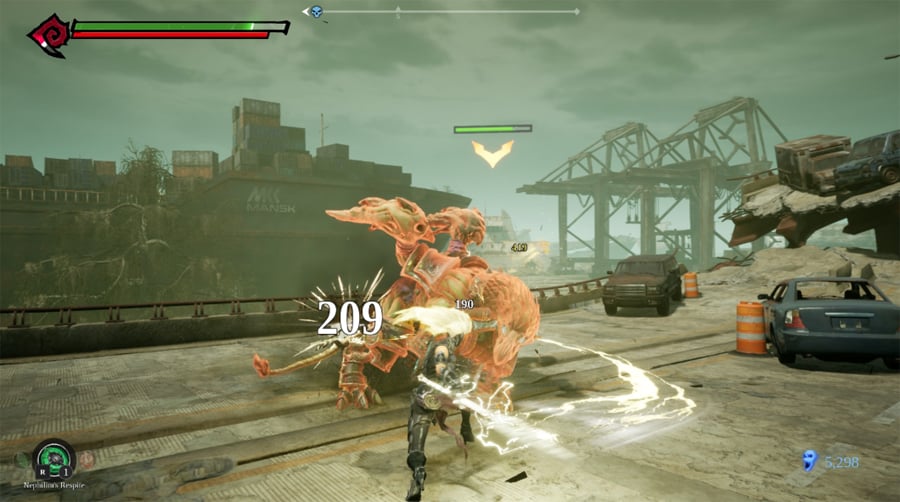 …a lot of Darksiders III can feel obtuse, and while the combat system does have some depth, you really need to teach yourself and practice a lot before you can get the most of it…
Well, let's mention some of the negatives now. Firstly, a lot of Darksiders III can feel obtuse, and while the combat system does have some depth, you really need to teach yourself and practice a lot before you can get the most of it. That goes for upgrades and equipment systems too. Secondly, the combat works much better in encounters with only one or two enemies. As soon as you have a group it can feel chaotic for the wrong reasons, and it doesn't help when the camera goes absolutely nuts and causes you to die for no reason. The jumping is also atrocious, even with Hollow upgrades, and an aerial dodge is so sorely lacking it hurts.
Darksiders III is also a very short game, and the overall quality of it leads me to feel that I wouldn't personally pay full price for it now, but at a 20 percent or 40 percent reduction of what it is now, I would consider that to be value for money. There are difficult modes and different approaches and secrets that pad out the length, but I'm talking now about the core quest. Next, the game is very poorly optimised at times, with frequent pauses as the game has to load more of the open world as it goes. Perhaps this would run better on the PS4 Pro, but there's really no excuse why it doesn't do better on a base PS4.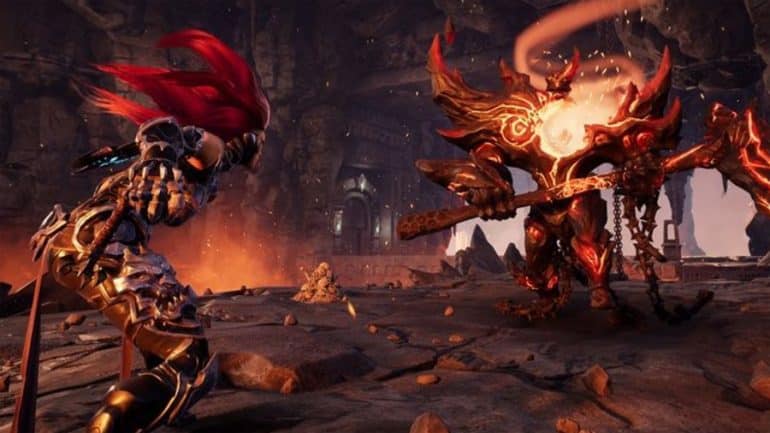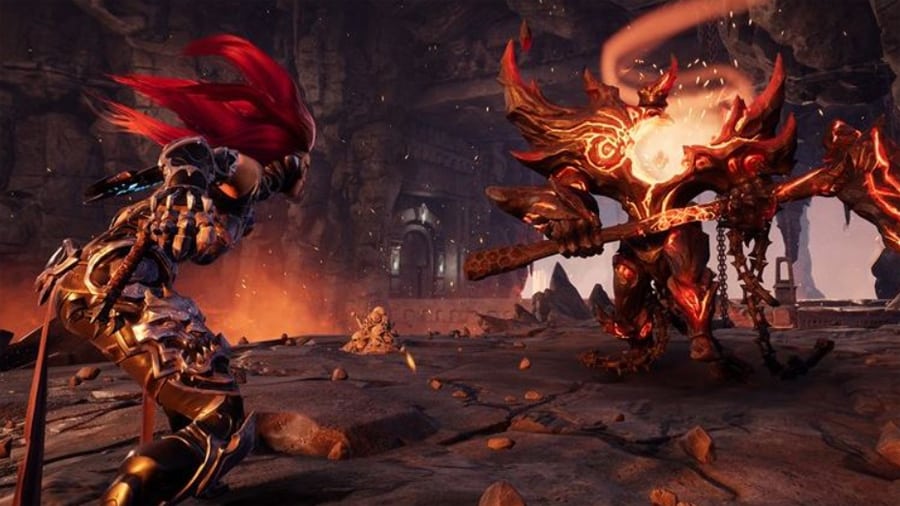 I think the game has a nice aesthetic, but I don't think it's as unique or inspiring as the original games, perhaps because of the loss of some key art developers. It paddles in the same pool as the first two games but doesn't bring much new to the table. Finally, on a thematic and plot level, the game is slightly irritating because it will only pay off if we do get a final game, which is not confirmed yet. Darksiders 1 ended with an absolutely epic cutscene and the promise of what was to come, and fans have been eagerly anticipating that moment to resolve for 8 years now. Instead, we have had two prequels in a row that don't really move much forward in the greater scheme of things. I think its past time now that they just get on with it, and if we do get another title, they should use it as a chance to wrap things up, rather than to keep on betting on diminishing returns for the franchise.
My final opinion of Darksiders III can be summed up as follows: after about two hours of play, I was willing to give it up as boring, but then I unlocked some new powers that really opened up the game a lot more, and from there I was determined to see it through to the end. I won't come back to it, and I don't think I'll remember it much on its own, except as part of the larger franchise, I don't suppose, but the time we had together was pretty fun while it lasted.
The Review
Darksiders III
Darksiders III is a game with a fair bit of heart, and in many ways feels like a relic of the older 2000s era of hack and slash/action adventure titles. If it was released then, it probably would have been a game-of-the-year. As it is now, it does feel a bit technically inept, and the ideas it brings forward are not really any of its own. I did enjoy the story and the characters, despite them being barebones, if nothing else.
PROS
Interesting bosses
Fun combat
CONS
Camera can go nuts
Can feel like a relic from the 2000s
Review Breakdown
Storyline

0%

Gameplay

0%

Graphics

0%

Replay Value

0%

Sound and Music

0%