Thanks to the Fox acquisition, Disney now owns the rights to Alien. But what could they possibly do with the sci-fi franchise? Here's an idea for an Alien sequel: abandon Ridley Scott's new trilogy and make the story about Sigourney Weaver's Ellen Ripley again. And this time include Daisy Ridley as her daughter, Amanda Ripley from Alien: Isolation.
Who is Amanda Ripley?
In 2014, Sega released Alien: Isolation, a video game set in the world of the iconic sci-fi franchise. The stealth and survival horror story followed Amanda Ripley, the daughter of Ellen Ripley, who learns that the flight recorder of her mother's ship, the Nostromo, has been located. Hoping to find closure regarding the fate of her missing mother, Amanda joins a retrieval team and travels to the space station. When she arrives, of course, she and her team discover that the station is damaged and external communications are offline.
Doesn't that already sound like a better plot for an Alien sequel?
But wait. There's more.
That wasn't the first time the character appeared either.
Watch the deleted scene from Aliens below.
Amanda Ripley can actually be seen in a deleted scene from the original 1986 theatrical version of Aliens. The clip reveals that she was just 10-years-old when her mother, Ellen, travelled into space before the events of the first movie.
Sadly, she died during her mother's 57th year in space (December 23, 2178) from cancer, somewhere between the events of the first two Alien films. When a picture of an elderly Amanda is shown to Ripley, she cries and reveals that she had initially hoped to return to Earth before her 11th birthday.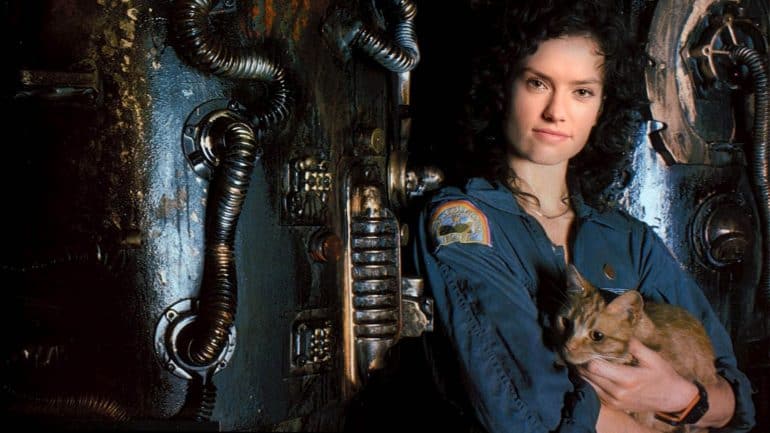 Daisy Ridley as Amanda Ripley in Alien
Who would be better to portray the daughter of one of the most significant female protagonists in cinematic history than Star Wars' Daisy Ridley? The daughter of the feminist film icon would have to project the same amount of strength and vulnerability as Weaver did. And it's hard to argue that Ridley isn't up to the task.
She's practically already played this sort of character with Star Wars' Rey. If Disney is considering recasting or continuing the franchise and its legacy, she would be the perfect pick.
In fact, the characterisation for Rey fits seamlessly with the description for this role too: "Stubborn, headstrong, brave, optimistic, and maintains fierce loyalty."
Ellen Ripley's Daughter is the future of the franchise.
In 2015, director Neill Blomkamp announced a fifth Alien movie with actress Sigourney Weaver returning as Ripley. Fans' excitement was short-lived, however, as the film was cancelled sometime before 2017.
At 71-years-old, Weaver might not be able to take on a physically challenging film any longer. But she is able to co-star and lead the film's new protagonist. Using Ellen Ripley's daughter as the new lead seems like a good idea to move the story forward.
The Xenomorphs are still out there somewhere and there are still tons of stories that could be told in the universe. Hopefully, Disney will realise that the future of this franchise doesn't require Ridley Scott's input any longer.
The Alien franchise needs to return to its horror roots. Beyond that, it needs to return to the story of its most important character, Ellen Ripley.
What do you think? Would you like to see Daisy Ridley play Ellen Ripley's daughter in an Alien sequel?