Daemon X Machina is a game with a strange title and an obtuse story that rounds that whole package up with some boring gameplay. After a deluge of excellent Switch titles these past few months, it's a bit of downer to plummet so far down again. Looks like I will need something else to tide me over until Pokemon Sword/Shield. What a pity.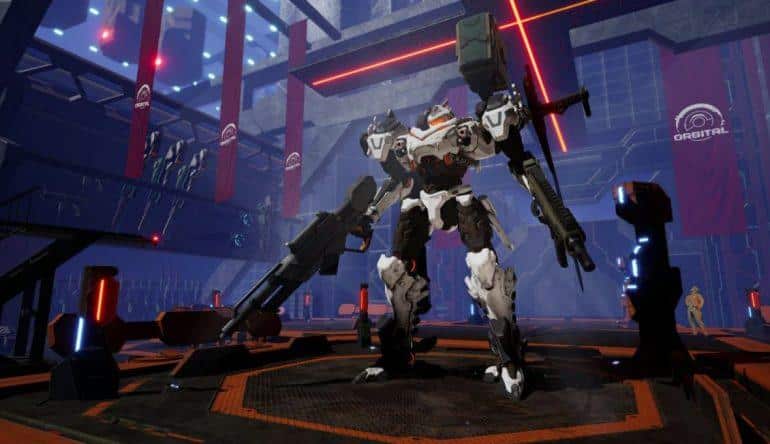 Daemon X Machina is a mech shooter. Most gameplay takes place with you in control of your giant humanoid mech, shooting at various targets. Occasionally you take on missions where you go on foot, but the vast majority is inside your mech. The plot is that, some years before, a moon collided with your planet, somehow driving most AI systems insane and violent towards humans. In the present, you are a rookie Outer, an individual who commands a mech called an Arsenal. You take missions on behalf of various mercenary groups, and interact with those mercenary groups, sometimes as allies, and sometimes as enemies.
The game tries to make a robust cast of interesting anime-esque characters for you to engage with, but I found very few of them interesting or memorable. They are largely stock standard stereotypes, and with very little charm to make you want to spend time with them. Through various missions, you will eventually unlock some of them to serve as allies for side quests, but I didn't really feel excited that any specific individual was joining me. The rest of the plot is pretty generic, with a standard level of double-crosses and "twists." Somehow, just nothing about it came together to me and I disengaged emotionally entirely. Some of it may also be the fault of the voice acting, which was pretty horrific.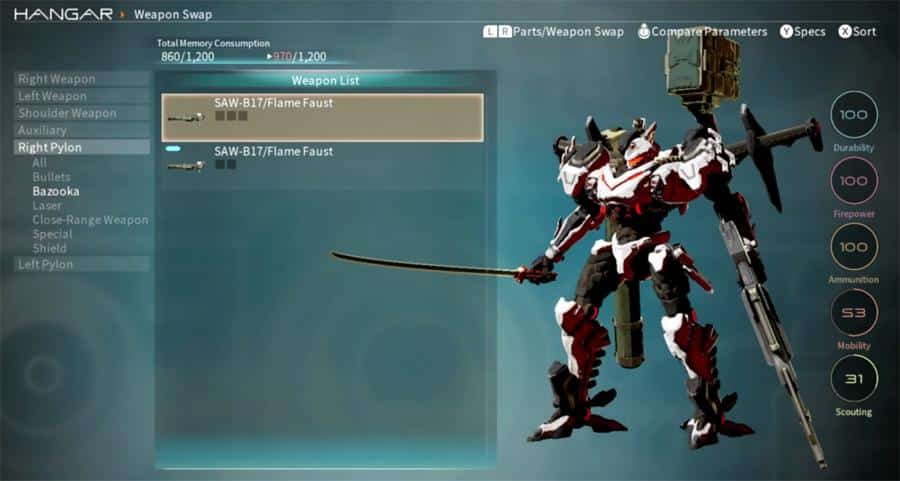 Most of Daemon X Machina will consist of the following: you start in your main mission hanger, which is a generic room. You can buy upgrades and maintain your Arsenal through equipment and weapons and appearance customisation. You then select either a main or side quest and go to battle. You either shoot the requisite number of targets or defend a target. Sometimes, another, more important enemy will turn up to shoot at you unexpectedly. It happens a lot, so it stops being unexpected.
The levels are boring to look at, and even worse when you get out of your mech and go on foot. Everything is designed for the scale of the mech fighting, so when you go on foot, you look like your a children's toy running around a bunch of boxes stacked on top of each other to look like a city.
All of this would be forgivable to some extent – the levels, the missions, the characters, the plot, all these mistakes – all of them would be forgivable if the gameplay itself was worth coming back for. You could skip the cutscenes and ignore the levels if, in fact, it was fun to zip around and fight rogue AI. Sadly, it is not.
Let's start with mobility. You have a limited charge ability that boosts your movement, and you fly in the air and run on the ground. The game makes it very painful to switch between the two. Every time you are flying in the air and hit the ground, your mech does a little "thunk" movement where your feet have to suction to the ground like a magnet is drawing you down. It's immensely irritating and hinders the fluidity of your movement immensely. I ended up actively avoiding touching the ground as much as possible as a result. In the air is better, but you still get a feeling like you are dropping all the time without intended to, and therefore you don't feel as stable as you should. These games should be a power fantasy, and making it feel like a chore to move around is a cardinal sin for a giant mech game.
In regard to weapons, you can hold one on each arm, plus a spare one you can switch to for each hand, one on your shoulder, and one support gadget. Typically, you hold guns or swords in your hands and missiles of some kind on your shoulder. Combat typically involves pointing yourself at enemies and holding down both shoulder triggers until everything dies. It's not very tactical. The most challenge comes from lining up missiles, but that offers limited appeal after time. The bullets just don't feel very substantial, and it takes far too many to kill anything.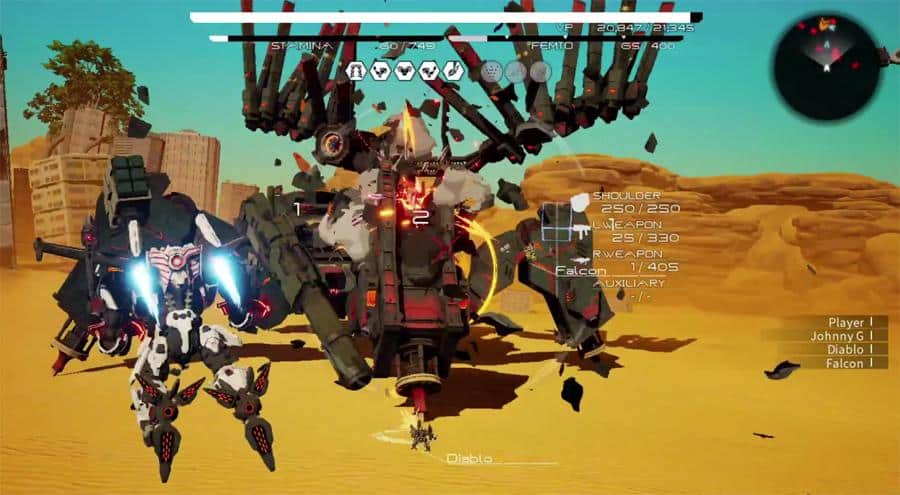 You have some power-up abilities provided by a red energy source floating around in combat and can use this for various purposes, such as creating a duplicate of yourself or getting a slightly more specific shield. I found it pointless and forgettable as a system.
So, at the end of the day, we don't really have anything. Bad combat, bad mobility, bad graphics, bad plot, bad characters. The music is okay I guess, with some good rock backing to events.
Wait, I forgot to complain about some more minor irritations. Let's include them, for the sake of completion. The menus in Daemon X Machina are awful, with it being a chore to navigate and decide which gear you want to equip at any given moment. Swinging an energy sword was so much less cool than it should have been. Sometimes I exploded right after a cut scene for no reason and had to go back to the start of the mission. Boss battles are tedious, with long periods where the boss can't be hit and you just wait things out.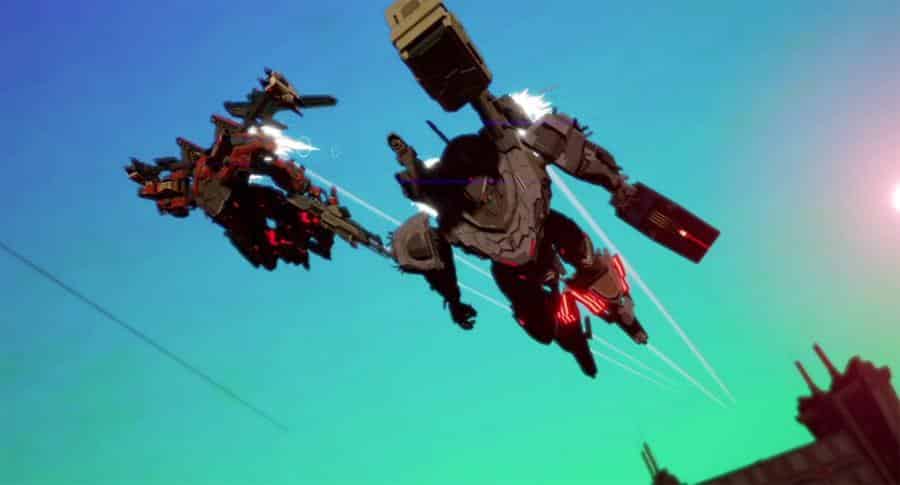 There is a multiplayer mode, where up to three friends can join you as player-controlled allies in missions. As everything is more fun with friends, this makes this game more fun too, but the fundamentals of everything else is so bad I just couldn't recommend it as a selling point.
Even for mech fans, I don't think that Daemon X Machina is worth your money. I know you might want to because your genre is so underserved, but you deserve something better than this.
The Review
Daemon X Machina
Daemon X Machinais tedious to play has loads of issues and more importantly, just isn't fun at all.
CONS
Bad movement
Uninspiring story and characters
Review Breakdown
Storyline

0%

Gameplay

0%

Graphics

0%

Replay Value

0%

Sound and Music

0%