In a more than suitable ending to 2020, one of the year's most highly-anticipated gaming releases has received rotten responses from frustrated and underwhelmed gamers across the globe. A decade in the making, CD Projekt's post-apocalyptic game, Cyberpunk 2077, had the nearly impossible task of delivering on the promise to redefine open-world role-playing games for overenthusiastic fans.
After a massive marketing campaign and dangerously high levels of hype, everyone was expecting the next evolution in gameplay, storytelling, graphics and immersion. What we got, however, was an unpolished sci-fi title that's riddled with hilarious bugs and glitches that dampen the experience.
But it's not all bad. There is still a lot to like about Cyberpunk 2077.
You're in control of the cybernetically-enhanced body of a mercenary named V, an avatar that can be modified and customised to your delight. Of course, CD Projekt takes customisation to the next level by even allowing you to choose the size of the penis of your character in the game. And while that's a wild example of some of the extremes, it's pretty fun choosing, changing, swapping out clothing items and looks for the protagonist.
Essentially, the idea is that V can be anyone you want him/her/them (choose your pronouns) to be.
The main mission, however, is the same for everyone: seeking glory in Night City.
The prologue allows you to select between three options that determine your character's background. While all three are interesting choices, none of them ultimately have an impact on the game's outcome. Instead, they are simply different introductions to the world of Cyberpunk 2077.
What is the objective of Cyberpunk 2077?
Once you've completed the slow burn introduction, V teams up with a gun-waving small-time crook, Jackie Welles, and begins making a living doing various errands for the city's big fixers. Along the way, however, a heist gone wrong leads to the protagonist's mind being implanted with an experimental new chip that contains the mind of a dead musician/terrorist — Johnny Silverhand (a dislikable Keanu Reeves), an ex-US military veteran who defined the rockerboy movement.
Of course, the confrontational Silverhand has plans for V and instructs him/her/them to get back at the Arasaka Corporation that killed him. Together they must find a solution to the situation they find themselves in.
Once you've reached this point in the game, you're basically free to explore the city and get into all kinds of trouble.
It's a simple but convoluted futuristic detective story that's heavily-influenced by the many popular sci-fi films Cyberpunk 2077 takes inspiration from. These include Blade Runner, The Matrix, Johnny Mnemonic, and Ghost in the Shell.
What is the gameplay like?
The best comparison is probably "a first-person GTA V set in the future".
Like the popular Rockstar classic, you roam the streets of Night City on foot, or by car, looking for missions to complete. These missions involve rescuing certain people, killing others, stealing items and sometimes just finding and talking to specific characters to further the story. A lot of this requires improving your special skill set: hacking.
V is able to hack just about anything, including security cameras, vending machines and TVs. This is especially interesting when trying to remain hidden from enemies and you need to infiltrate certain areas. Yes, there's a certain bit of stealth involved, but this isn't Metal Gear Solid. The AI isn't as sharp and the gaming is pretty forgiving in terms of being discovered by enemies.
Most of the time you can pretty much shoot your way through some of the sequences – especially if you have enhanced your character for greater fighting inefficiency. This means upgrading your body, weapons and vehicles.
I'm not sure that the gameplay in Cyberpunk 2077 will blow everyone's hair back, but it is immersive and there are plenty of fun elements. And that's what counts.
My biggest gripe with the game was that I ultimately struggled to connect with some of the characters. Sure, there are standouts but most of them are hit-or-miss. In a world where nearly everything is synthetic, it would have been great to find a real human character with heart. That's sorely missing here.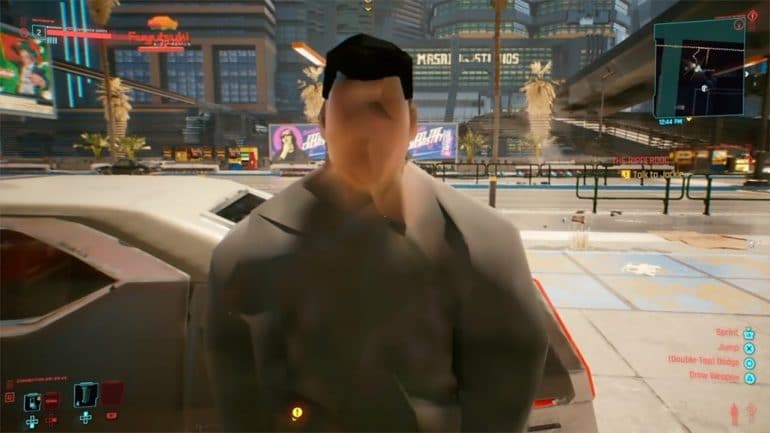 Is it really that buggy?
Look, while Cyberpunk 2077 is without a doubt a mixed bag in some regards, there is no doubt that its strengths ultimately outweigh its weaknesses. Yes, there are bugs. Yes, some are hilarious. And, yes, not everything works as it should. But a lot of this can be rectified over time – and probably will be very soon.
Personally, I haven't experienced as many of the negative aspects as other players have. I've seen some of the horrendous glitches online but never encountered anything that put me completely off playing the game. It was never unplayable — for me.
Also, personally, I think the eye-popping presentation and just the ambition of Cyberpunk 2077 far outweighs the bad.
Should I purchase Cyberpunk 2077? Is it a game worth owning?
The short answer: yes.
To be completely honest, we live in a strange world today where consumers are making ridiculous demands on retailers and publishers. Earlier this year, after multiple delays by CD Projekt, fans were pressuring the company for a release of the game. Now that it has been released, those same individuals are crying about the gaming being "an unfinished product" and demanding refunds. It's difficult to win with an audience that keeps changing the goal post.
I also find it hard to believe that the majority of gamers can't look past the flaws in Cyberpunk 2077.
Perhaps I come from a different time: a time when playing a game and enjoying it was enough — a time when a developer was praised and rewarded for trying an ambitious new project.
But that's just me.
Is Cyberpunk 2077 game of the year? Probably not. But that's okay.
What do you think? Is Cyberpunk 2077 overrated and did the game need more development? Let us know in the comments.
Prima Interactive provided a review code to Fortress of Solitude for the purpose of this review.
The Review
Cyberpunk 2077
Cyberpunk 2077 is problematic at times, but the good far exceeds the bad. It's possible to be a fan despite the flaws. An update or two will fix the majority of problems. Those who are willing to enjoy it for what it is will have a rewarding experience.
Review Breakdown
Gameplay

0%

Graphics

0%

Replay Value

0%

Sound and Music

0%

Story

0%