One of the most anticipated events on The CW Network is the annual Arrowverse crossover. This year's event did not disappoint.
Unlike Crisis on Earth-X, it wasn't just about bringing the Green Arrow (Stephen Amell), The Flash (Grant Gustin) and Supergirl (Melissa Benoist) together to fight some bad guys. Instead, the writers went all out to welcome more iconic characters into the event, with Lois Lane (Elizabeth Tulloch) making her debut in Smallville alongside Clark Kent (Tyler Hoechlin), as well as Kate Kane / Batwoman (Ruby Rose) making a strong debut in Gotham.
For longtime fans of these CW shows, there were loads of fun inside jokes, as well as a ton of Easter Eggs for DC fans in general. And if that wasn't enough, Elseworld's ended by teasing next year's crossover – Crisis on Infinite Earths.
Recap…
The show opens with a scene of destruction on Earth 90 as The Monitor uses the Book of Destiny to destroy what's left of the planet. The Flash from Earth 90 (a role reprised by John Wesley Shipp) barely escapes in time to warn other Earths of The Monitor's wave of chaos and devastation.
In the meantime, The Monitor sets his course for Gotham City on Earth 1 and delivers the Book of Destiny to John Deegan, a doctor at Arkham Asylum (Dr Destiny in the making).  Deegan is given the task of rewriting reality using the book in order to test the survivability of Earth 1 against a future crisis.
But the only major change in Deegan's first attempt is a Freaky Friday or Quantum Leap scenario (depending on who you ask) that body-swaps Barry and Oliver. With their friends and loved ones skeptical enough about the swap to lock the duo in the Star Labs Pipeline, they escape to Earth 38 hoping that Supergirl will confirm their body-swap theory and help them figure out what caused it.
They travel to Smallville (accompanied by the theme song from the 2001 hit show) to find Kara who's visiting Clark on the Kent Farm, where we are also treated to Lois Lane's debut in the Arrowverse.  Kara confirms their true identities and travels back to Star City on Earth 1 to help her friends. A vibe from Cisco eventually gives our heroes a lead that points them towards Gotham City.
Upon arrival in Gotham, our heroes discuss the "legend" of Batman (myth to scare off bad guys or real-life hero?) which leads to their first encounter with Bruce Wayne's cousin, Kate Kane.
The heroes infiltrate Arkham Asylum only to be dosed with a fear toxin which causes them to see each other as their mortal enemies – Eobard Thawne for Barry and Malcolm Merlyn for Oliver. An inevitable fight ensues, but the effect of the hallucinogen is quickly thwarted with the help of Batwoman.
Grabbing the Book of Destiny, everyone gathers at STAR Labs where Barry Allen from Earth 90 explains that The Monitor is using the book to approximate the collision of realities that the multiverse will face in a future crisis.
The superhero team briefly confronts The Monitor, but he whisks away The Flash from Earth 90 and returns the Book of Destiny to Deegan. With a better understanding of how the book works Deegan rewrites reality once more – where good is bad and bad is good. He casts himself as Superman (but a morally questionable one), while Barry and Oliver are turned into the villainous Trigger Twins. Meanwhile, Kara is locked away as a prisoner under the watchful eye of Alex Danvers who has no sister on Earth 1.
As the show comes to a close our heroes face The Monitor's final test. They have to prove themselves worthy of taking on the coming crisis by embracing their true essence. Kara manages to emotionally connect with Earth 1's version of Alex Danvers and is freed from her cell. Oliver embraces his darkness rather than deny it, but at the same time expresses his belief in the hope and goodness represented by Barry and Kara.
In order to retrieve the Book of Destiny from Deegan, Kara and Barry must slow down time by running in opposite directions around the Earth. Despite knowing that this is how they are destined to die, they don't hesitate.
To save his friends Oliver confronts The Monitor alone and asks him to alter Barry and Kara's destiny, calling him foolish for being willing to sacrifice the very people he thinks are most capable of saving the multiverse.
"The universe is a complex piece of machinery and balance must be maintained," The Monitor tells Oliver. "One change requires another. How would you propose I keep the balance?"
With an unknown cost to Oliver, reality is restored. Deegan is defeated and the Book of Destiny is destroyed.
In the final sequence, Deegan is seen occupying a cell in Arkham Asylum. A familiar face (Psycho Pirate) assures him that everything is going according to plan.
"The stage is set. Worlds will live, worlds will die and the universe will never be the same," he says – setting up next year's crossover event: Crisis on Infinite Earth's.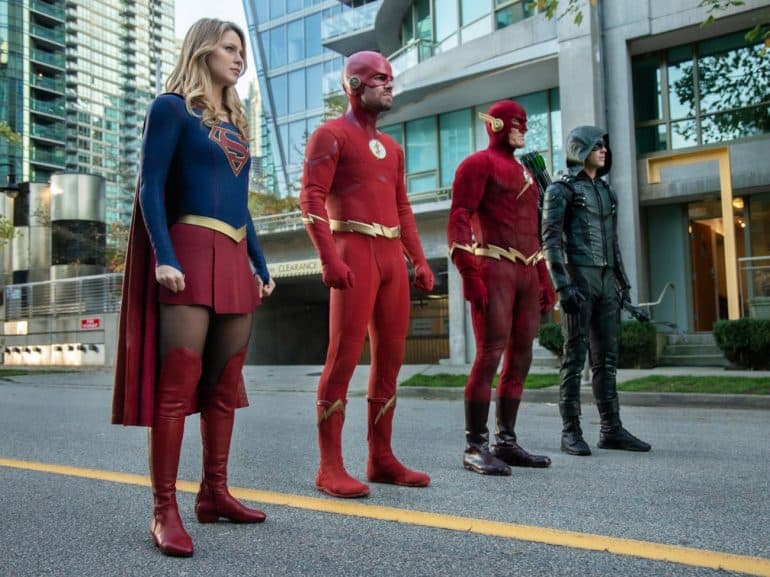 Final Thoughts
With its light storyline, the crossover may not have pleased some of the more hard-core fans of the Elseworlds comic books. But if you're a die-hard fan of the CW's Arrowverse with a love for these characters (flaws and all), Elseworlds is definitely worth checking out.
The Flash, Supegirl and Arrow will return with new episodes on January 15th, 20th and 21st respectively on The CW.
The Review
CW's Arrowverse Elseworlds Crossover
From the obvious humour of the body swap with lines like, "I forgot. Do I need help putting this on?" (Barry to Diggle when he's handed the Green Arrow suit), to all Easter Eggs and throwbacks that the writers included - there's a lot to love about the crossover.