Crisis on Infinite Earths Part 1: Supergirl
I really don't want to hate on the first part of CW's Crisis on Infinite Earths, but I've kind of got to.
Now, I need to admit something right off the bat: I don't watch Supergirl. In fact, I barely watch any of the CW superhero shows anymore. It isn't that I haven't tried all of them, but one by one I've given up on them. Arrow showed improvement but became more soap opera than superhero show; The Flash was more fun and lasted longer, despite its awful writing, but I abandoned it after four seasons; the others have barely sparked my interest, except for Legends of Tomorrow (much to my own amazement, given its weaknesses) which I'll be continuing with for yet another season.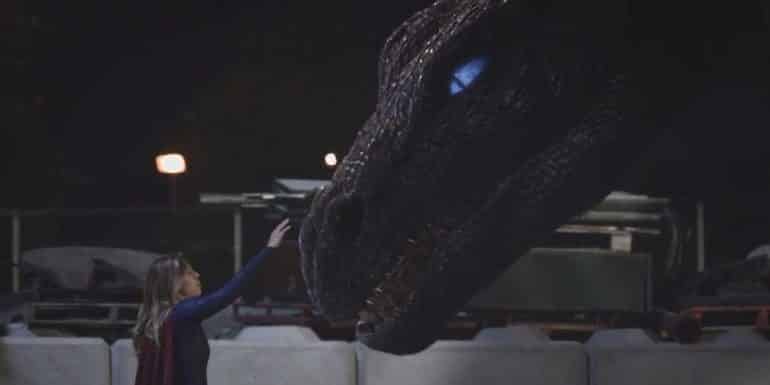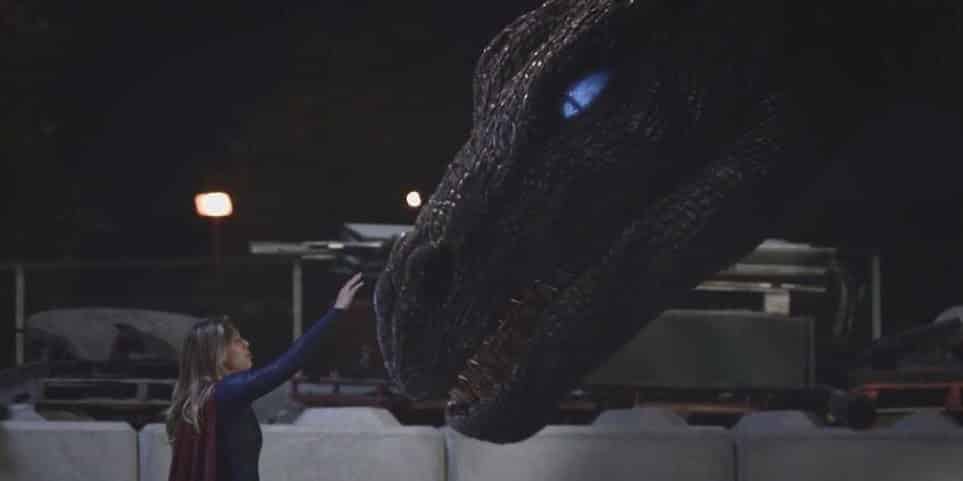 However, I LOVE comics and superheroes and have all my life. More than that, I LOVE the original Crisis on Infinite Earths comics, so this is must-see TV. Of course, not really being a fan of some elements of this event series whilst being a fan of other things about it means I'm going to be biased in all sorts of ways for and against, right from the start. I may make some harsh calls, but this is based on personal opinion and isn't a review. So… here are some of the ups and downs from part one…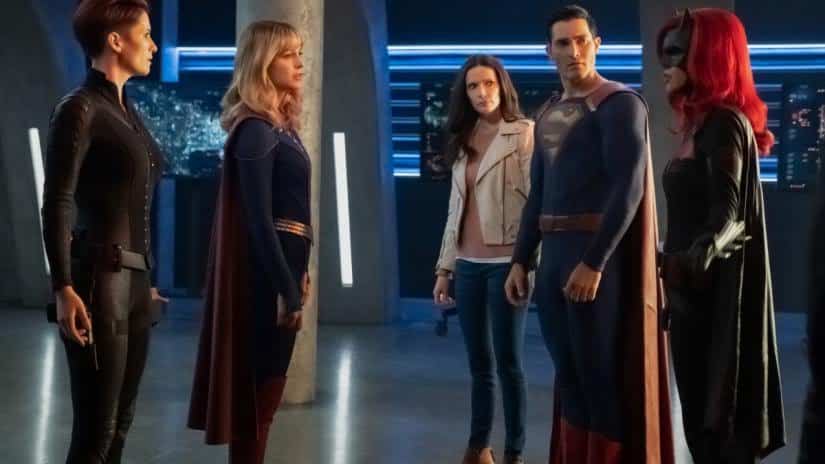 Up: Cameos!
Yeah, I'm a sucker for nods to DC's rich past of superhero shows and movies. Seeing alternate universes and timelines was always a part of what made the Crisis on Infinite Earths comics special, so seeing the TV series do the same was great. Do I want to believe that Tim Burton's Batman universe – complete with Danny Elfman theme music and Robert Wuhl's Alexander Knox – is being wiped out? No… but it's great to know it's out there. Meanwhile, I can't even describe how overjoyed I was to see Burt Ward and the world of Batman '66, and the dog he was walking was a great homage both to his own wonderful work with dogs in real life as well as Ace the Bat-Hound. Thank you!
Down: New viewer confusion!
Not having followed Supergirl too closely, I was fully prepared to not be too familiar with some of the characters and what their personal relationships are. Was that really the Martian Manhunter? And is that annoying Jeffrey Combs-like kid Brainiac 5? Even expecting it though, I was left scratching my head at some of the storylines being mentioned. Worse, nothing that was said made me want to delve any deeper in to it to find out any information. And if it's that bad for me, then imagine how entirely new viewers may be feeling.
It's hardly surprising that this event is going to play more to the fans of all the shows more than to newcomers, but would it have hurt the writers to spend an extra moment or two explaining who we're seeing on screen? Or, alternatively, to have eased off on the more show-specific elements in favour of the bigger picture?
Down: Don't contradict yourself!
Sooooo… let's back this up a bit, all the way to the first season of Legends of Tomorrow and their time-travel trip to the Star City of 2046. Given their constant rewriting of the timeline, it's pretty easy to accept that this now wasn't the future. CoIE confirmed that it's Earth-16, one of the infinite parallel earths. That's good, because the whole original appearance contradicted a future of another Legends team member. The problem is that all of it now throws all of their time-travel journeys in to doubt as actual time travel. If nothing else, it muddies the waters of what they do even further, but as usual we're meant to take all of that with a grain of salt because, hey, who cares about consistency and who watches Legends anyway?
More disturbing was Sara's reassurance to 2046 Oliver that he's a good guy, and that he's a good guy on every Earth. Um, does that include Earth X? Because I sure as hell remember just a few seasons ago there was an Oliver Queen she met who was Dark Arrow – the Nazi Fuhrer of the New Reich. Now it's fair to say that Sara probably thought best to not bring this fact up to Earth-16's Ollie, because he needed some positive reinforcement. But she said it so convincingly that it was more like the writers either forgot, or simply chose to ignore it. Both seem possible, given the storytelling inconsistencies of the CW shows in general.
Also… let's just ignore the irony that the original Crisis was meant to streamline the DCU's history by clearing up confusing storytelling.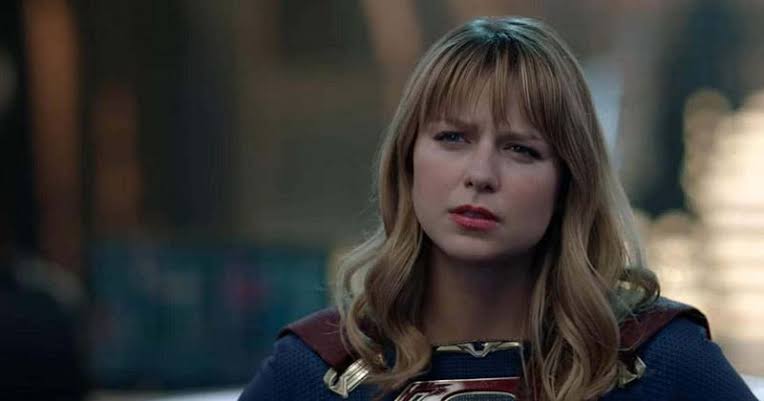 Up: The scope is so big!
Crisis on Infinite Earths is a huge story regardless of the medium used to tell it. We're talking not just talking a world or a universe, but all alternate universes here. Fans know that this is the TV equivalent of Avengers: Endgame, and all credit to the CW shows for actually being able to pull this off. Some never thought that such a huge story like Crisis on Infinite Earths would never get made in any way, because of the sheer size and complexity of it. So that it even exists is an achievement alone, and it deserves high praise for that.
Down: But… the scale is so… small!
As big as the story is though, the sad fact is that this first episode felt… small. It isn't just that the tale is so huge that it's hard to comprehend, or that this is still limited to a TV budget featuring some cosplay-level costumes and dodgy sets; it's that even the storytelling itself feels strangely limited. We're told that billions are dying, and that billions have been saved, but the numbers are only lip service. All we see are a few dozen people, and there's no connection with any of them to make it matter. We're told that the whole planet is in danger, but are barely shown any of the turmoil across the globe even on news reports. Some smarter storytelling tricks could have been used to create a far bigger feel to the proceedings.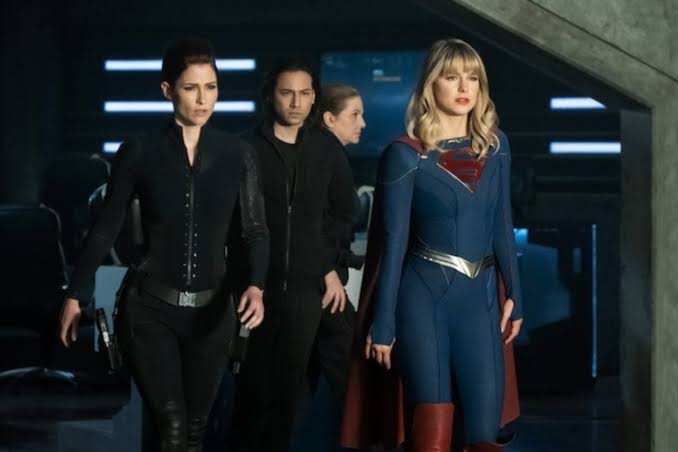 Up: Wait… this is accurate?
Fans know to not put too much faith in famous storyline adaptations for two important reasons: either they veer off from the original far too much to be right, or they're so accurate that they lose any sense of originality. Instead, the best superhero films and shows out there have been the ones which cherry-pick the best elements of the original to capture the essence of what the characters and story are about. Here, fans were treated to several huge elements from the original Crisis on Infinite Earths. The gathering of an assortment of unlikely heroes instead of the obvious ones, the shadow demons, the defending of the Monitor's tower, and even another super-baby (albeit of a different lineage) being rocketed away from a dying world are all elements of the original. So far, so good…
Down: Supergirl didn't love her mom?
Like I said, not being a regular viewer of Supergirl I have no idea what the relationship was between her and her mom Alura. But if I were to guess, I'd say… she hated her, or something? Maybe I'm wrong, but that's the impression I got from the scene in which Supergirl and Superman discuss the death of Alura and the destruction of Argo City. Supergirl didn't seem to care too much about any of it. Meanwhile, Superman seemed more about throwing himself a pity-party regarding his own failure to save them, rather than regretting their actual loss.
Maybe I just got the wrong end of it, maybe I'm just not used to these characters, or maybe it was just a badly-presented scene which didn't convey the right vibe for me. Whichever it was, Supergirl handled a presumed loved one's death in the same way as someone finding out they've knocked over a bowl of salad, while Superman's reaction was like someone who'd forgotten where he'd parked his car. I'm not after a massive outpouring of emotions here, but this felt cold.
Up: Na-na na-na na-na na-na, Batwoman!
For some viewers, all that's known about Batwoman is that the trailer for her show got panned, but she seemed okay in the last crossover. So is she the worst thing ever, or does she get a pass? Honestly, she lands just on the right side of entertaining. Yes, it makes little sense to have her be standing toe-to-toe alongside Superman and the Flash as a powerhouse hero, but then she's on a similar level to White Canary or Green Arrow. Even in the original story the initial team was an eclectic mix, which included the likes of the Ted Kord/Blue Beetle, so there's room for everyone with all sorts of abilities. While her importance and skills may have been overstated, she was a more than welcome addition.
Down: The format!
This will presumably be one of the biggest gripes as this series goes on. Even if you're a viewer who has no idea what Crisis on Infinite Earths is, odds are you'll understand what they're trying to achieve here. Splitting this over five individual episodes of five distinctly separate shows is absolutely not the way to tell this story. Even when it's ultimately put together into one collected edition DVD, the very format they've gone with reduces what it was meant to be. It may be a crossover story, but that doesn't mean it should be a crossover series.
In an ideal world, the smart thing to have done would have been to either create a unique extended film-length version in one go – one that told its own story without all the fluff of each show getting in the way – or as a two-part miniseries (at two hours per episode) airing on consecutive nights. It's an ensemble cast tale that should be have been presented with a big picture approach. It's now a cliché but the Infinity War and Endgame format showed how it should have been done. The groundwork has been laid in the separate shows, so why limit this to them too? It should stand as its own story, and the CW made a mistake in not following that route.
Now, roll on part two of Crisis on Infinite Earths…
Crisis on Infinite Earths Part 2: Batwoman
After the first part of Crisis on Infinite Earths felt like a cluttered – but still somewhat enjoyable – mess, how did the second episode fare? Well, if anybody out there was worried that this was going to be the worst Crisis on Infinite Earths episode, and were automatically put off just by the name Batwoman on the episode, then they probably got the shock of their life.
In a move that may have shocked some of the nay-sayers out there, it was actually whole lot of fun that rapidly ignored the downer of the destruction of the multiverse and the awkward fact that there are now billions of refugees nobody seems too concerned with.
Instead it took the story down a notch and sent three teams of heroes on personal mini-quests. Batwoman, since it's her show, got to team up with Supergirl and meet Batman. Meanwhile, Superman, Lois and Iris went searching for another Superman to saaaaa-aaave them, and Barry and White Canary had to handle that Dead Oliver situation like it was Weekend at Bernie's.
So how did it all turn out? Let's take a look at some of the ups and downs from part two of Crisis on Infinite Earths and find out…
Up: It's happy and you know it!
Pretty much right from the start this episode set out to have some fun. Peppered with jokes throughout, which smartly gave way to some of the more shocking moments at all the right times, the pacing felt far better this time around. More than that, the story itself was absolutely entertaining even in its weaker or more cheesy moments. From quite possibly the funniest Superman vs. Luthor fight ever and the reading of softcore smut to the superbaby to John Constantine losing his mojo like Austin Powers, it was a hoot and served as the perfect antidote to the underwhelming mass confusion of the previous instalment.
Down: Darn those pesky Paragons!
So in this Batwoman episode of Crisis on Infinite Earths, the rag-tag team splits up and go in search of "Paragons" – some amazingly iconic heroes who can help out in this Crisis. Fair enough. Also, despite all of the Monitor's work, it seems like he's either so cryptic about who they are or so confused about what worlds they're on that he brings in Lex Luthor… who instantly goes rogue. Oh, and he has the teams wander around the rapidly dying multiverse just on some random chance that they'll get lucky. Thankfully, the Monitor has Ray Palmer and his science lab to build a Paragon detector because… it's just that easy. Um. Yeah.
First, nobody likes it when a team boss plays cryptic, practically sells out his own team and puts their lives in danger just in the hope that it'll make them work better or accept their own importance. Even by the low standards of the Monitor, that kind of illogical, backwards thinking only points to bad storytelling which thinks it's clever. Secondly, Ray Palmer may be one of the CW/DC boffins who can create a whirlwind in a can in five minutes, but… no. It's ridiculous and hard to buy in to.
Up: I spent the night with Supermen!
Admit it, the return of Tom Welling as Clark Kent was pretty damn cool. Not only was he still absolutely on point as Smallville's Clark, but the (very) short story-within-a-story told about him was practically an extension of everything his tenure on that show was. Plus, Brandon Routh's Superman return was absolutely spectacular and reinforced just how great he was in that role as he conveyed some real emotion over the loss of his loved ones. And while Tyler Hoechlin's own Man of Steel may seem smaller by comparison, to see the show actually acknowledge that fact by playing around with it for laughs simply worked. A Superman vs. Superman fight was predictable (and predictably weak) but at least it led to what may have been a cool Superman III reference.
Also… Supergirl confusing Routh's Superman with Ray Palmer and admiring his body, before that awkward moment where she's told that's her cousin, is possibly the funniest thing since Princess Leia realised she that when she kissed Luke Skywalker she was kissing her brother.
Up: And the Dark Knight returned too!
Of course, we'd be missing the obvious if we didn't acknowledge Kevin Conroy's Bruce Wayne. While it's a shame that we didn't get to see (and hear) more of him, the time he was on screen really counted and his ability to deliver some exposition – even if it wasn't entirely necessary – was played to the hilt as he ground out dialogue with more attitude than any other Batman actor ever. Yeah, forget about Christian Bale yelling while chewing a mouthful of gravel, this was what the voice of an embittered old Batman should sound like. The more of his story we learn the more we understand that this may not be the Batman we were expecting, and the punchline was well handled.
Down: Bring out your dead!
Wow, that didn't take long.
While nobody in particular probably bought in to Green Arrow's early death in the last episode of Crisis on Infinite Earths, it was like they couldn't even wait for his body to turn cold before they had to flip it and make his sacrifice seem somewhat meaningless. In a franchise where death isn't the serious handicap it used to be in the olden days, they quickly ruled out time travel, clones and alternate universe versions of Oliver to bring him back. Instead they went back to a far more tried and trusted method. Once there was a time where using such a plot device was a real game-changer, but…
To be fair, the whole issue did ring some alarm bells for at least one character who saw a problem with it, and allowed for a good, punchy heart-to-heart conversation to be had. Plus, it gave a good reason for John Constantine to show up, which is never bad. On the down side, so far Barry Allen, the fastest man alive, has contributed nothing to the story other than a long sad face and a couple of hugs. Even Ollie's temporary death could barely get a reaction from him. Really?
Up: The little things!
There were so many small details here that helped make this Batwoman episode of Crisis on Infinite Earths feel special that it's impossible to know where to begin. Some were elements from comics over the years, with references to Superman being a strange visitor from another world, Kingdom Come's Joker, movies… and so much more. Incredibly, even with all of this going on this also felt like a far more personal episode that highlighted a lighter side of the CW's DC output and paid tribute both to those who helped to build it as well as the fans who have come to love it.
Down: Cameos! Or at least one of them…
As awesome as the guest stars were in this episode (shoutout to Wentworth!), and for as much as a kick as it is to see all the nods to all the DC shows and films, sometimes there's a limit where it simply feels gratuitous. Enter… Jonah Hex. Who doesn't love Jonah Hex? Well, almost nobody, but in this case it felt so forced that it simply wasn't funny, smart or even needed. Basically, it was little more than an excuse to put in a vaguely familiar face and have a completely unnecessary fight scene which added nothing to the story. Maybe if we'd actually had a moment to bond with him, it might have meant something.
Up: Batwoman! Again!
It's obvious that Batwoman is getting a huge push with this Crisis on Infinite Earths crossover, even though once again it's clear that this series is going overboard with her. Ease up on the gas there, CW; she doesn't always have to be the coolest, most important person in the room in any given situation and it seems unnatural. She would be far easier to take if it were to happen more naturally, rather than her being forced on to viewers.
That being said, here Batwoman does come across as pretty cool though. This Crisis on Infinite Earths episode may have been a part of her show and that was reinforced by the ending, but it was her interactions with the others that worked best for her. Plus, anybody who has that kind of a response to being asked to hold the superbaby definitely gets a big thumbs-up. Not everybody buys in to the whole "cute kid" thing.
And now, on to part three of Crisis on Infinite Earths…
Crisis on Infinite Earths Part 3: The Flash
So far, we've had shocks, thrills, cameos, deaths and old catchy theme tunes… but what we've kind of been lacking is any sense of danger, or in fact any real emotional stakes being offered in this series. But could the third part of Crisis on Infinite Earths deliver what it's been missing? Damn right it could.
While not quite as entertaining as the previous episode, this was certainly the big one in terms of emotional impact. Not only that, but Crisis fans will also know that it's around this point when there should be a double-whammy coming in terms of jaw-dropping moments – and yes, it delivered them. It not only got a lot of the bigger moments from the comics mostly right, it also introduced some new characters into the mix, and gave us a few intriguing twists and turns that set up a twisted cliffhanger that's bound to get viewers talking.
So, let's see what ups and downs happened in part three of Crisis on Infinite Earths, shall we?
Up: I second that Emotion!
So the first part of Crisis on Infinite Earths was a confusing mess, and the second part was sheer fun. This third instalment, however, was easily the most emotional of all of them so far. A majority of the scenes emphasised the importance of what was happening, and managed to convey the tragedy of every failure for the heroes. Whether it was something big – like the fate of the Flash – or something personal that happened off-screen – like Superman repeatedly failing to save universes – the feelings of triumph and tragedy hit hard.
It's almost fitting that this was happening in an episode of The Flash, which has been accused of being the most huggy-touchy-feely of all CW shows (led by Cryin' Barry) – and for once those emotions seemed genuinely earned. It's just unfortunate that this level of emotion hadn't been conveyed earlier, to help viewers understand the real impact of the situation right from the start. Still, here it was played to perfection and the emotional storytelling was in great form.
Down: Hell is other people!
Oliver, Oliver, Oliver.
Obviously Oliver Queen is a huge character. He's Green Arrow, the first building block of the whole Arrowverse, and as such his leaving is a big deal. How can this not be an important issue? So now, in the short space of just three episodes of this crossover series he's saved billions, sacrificed his life, and been physically resurrected. Now a team has been dispatched to the afterlife to find rescue his soul, and the Spectre has shown up too… which, to be fair, could present some of the most awesome Crisis moments on screen to date.
But come on, this is still the Crisis itself. While letting the guy rest in peace was never going to be on the cards, this whole thing just feels like a bad subplot that's just wasting time and getting some characters out of the way while bigger things are happening. Yes, it's going to pay dividends down the line, but right now it's padding and a waste of heroes.
Up: Behold! Acting!
Picking up from the improved emotional storytelling in this episode, what really sold it were some great performances all around… and in particular from three actors, who managed to sell some occasionally clunky dialogue like it was Shakespeare. The best of all of them was Cress Williams as Jefferson Pierce/Black Lightning, and his feelings of loss and rage at the deaths of his loved ones were entirely convincing. It put Supergirl's spilled salad scene from two episodes ago to shame.
Likewise, Brandon Routh was in fine form as Superman despite his short time on screen (once again proving how damn good he was in the role) and the woefully underappreciated John Wesley Shipp as Earth-90's Barry Allen/Flash. Proving that great actors can make even the worst writing sound good, both delivered some cheesy statements with heartfelt sincerity. In an episode that was all about emotion, they made us really care about them.
Up: The stakes just went up, up and away!
So, the Infinite Earths are being wiped out. Yes, we knew that already. Although for the first time we started to get a real sense of danger, a point made clear by the plans of the heroes repeatedly going wonky. Every failure or realisation of how screwed they are was built on, with the stakes getting ever higher. The real shock though was how this episode doubled down on the expected tragic loss by having that not be the cliffhanger for the episode.
Instead, they smartly piled even the pressure, creating more problems for our heroes, and they even threw in a rather neat and unexpected curve at the end. Yes, logically it makes very little sense so far but there's plenty of wiggle-room to allow for theories, and plenty of time for fans to discuss it. How will the heroes solve the Crisis and stop the Anti-Monitor now? This is a genuine cliffhanger we can't wait to see played out.
Down: Get Snart (and Rory)!
Is anybody else loving Captain Cold's voice on the alternate Waverider, or is it just me? It's easily one of the most awesome additions to this whole story. It's also been great having the cornerstones of the Legends of Tomorrow team representing their respective brand. Just one question though… where was Heatwave in this episode? Maybe I missed him, but he was all over the previous instalment and now suddenly he's off doing other things again. Ah, maybe he was busy working on a new chapter for his next book while worlds were being washed out of existence.
Up: The Flash of two worlds!
Admit it, you knew it was coming. If you've got any knowledge of the Flash from comic books, then you'll know what happened to Barry Allen in the original Crisis on Infinite Earths. Even from day one of this Flash TV show, the Red Skies/Flash Vanishes Crisis moment had to happen. However, fans have also been expecting them to cop out on it in some way, the most obvious being that it would be another Flash.
That they delivered on all the fan expectations is an understatement, because of how powerful the moment itself was when it finally happened. Was the whole sequence of events entirely logical? Not really, but for once we'll overlook it just because of how amazing it was. Of course, it may not affect the news headlines in a Back To The Future kind of way (hmm, we'll see…), but this was definitely the big Flash sacrifice fans needed – and a whole lot more, too. We'll miss you, Flash.
Down: Fight or bite!
As Mr. Blonde once said, are you gonna bark all day, little doggie, or are you gonna bite? It's fun seeing Batwoman and Supergirl hanging around together, and to resolve a tense standoff between the two with just words instead of fists is a great tease of possible things to come.
Then the show ruined it.
To have Batwoman following her at full pace in the very next scene, wanting to talk again directly after the argument has been resolved… that's clumsy. People usually need a cooldown period after arguing, otherwise it's more than possible that the fight may start up again because they're still on edge. It doesn't matter if it was to apologise (um… for being right), and maybe Batwoman's pointlessly confrontational by nature, but this dumb and felt like she just wanted to keep fighting.
And by the way, that glowing green kryptonite – if that's what it is – must be burning a hole in Batwoman's pocket or something because she keeps on pulling it out to look at it. Now, while it's necessary to remind the viewers of where this particular hot potato is for when it comes in handy later, it's also making her look like she's just itching to try it out. It's not a good look for her.
Up: Luci and the Birds of Prey!
Those wonderful cameos kept on coming, and right out of the gate we got a chance to see 2002's Birds of Prey back in action (or at least Huntress and Oracle). And you know what? While this was only a brief moment, it was truly awesome for this old fan. Also, this was the first time that we really got a sense of how devastating the oncoming antimatter wave truly is because it really hit home. Oh yeah… and we got Lucifer too.
That may sound almost like a throwaway comment, but that's only because they botched on a moment he shared with John Constantine. It's no real shock that the two would have crossed paths before, but to invert the joke on how Constantine's surname should be pronounced was a slap in the face. It may have been meant as a joke, and it was kind of amusing… but to have someone finally pronounce it correctly, only for Constantine himself to correct that and say it wrongly is massively annoying. It was a great moment which suddenly fell flat.
Anyway, so far this Crisis on Infinite Earths series has been a remarkably entertaining one that's been doing justice to the comics and should be making longtime DC fans proud. There's a long time to wait until this cliffhanger is resolved and we'll be covering the conclusion when it airs next year, but we can't wait!
Do you have any theories as to how this will end? Will they reboot the whole Infinite Earths? Reset time itself, perhaps? Or maybe streamline all the CW shows so there's only Earth-1 left? Let us know what you think!
Crisis on Infinite Earths Part 4: Arrow
It's the end of the road for the Crisis on Infinite Earths … almost. Oliver has gone and the Flash has disappeared. The remaining heroes – and Lex Luthor – are stranded our heroes beyond time and space, with nowhere to go and no way to fight. Some plan, some train for a battle that might never happen, some mope… and some grow ugly beards.
Wow, that cliffhanger sure did put them in an awkward spot.
The latest episode managed to resolve that and a whole lot more, with some standout moments and one of the biggest group fights in a DC show yet. With the death of Oliver Queen in Arrow looming over the whole story of this episode, fans had a chance to remember the good times and enjoy a laugh at the closest thing anybody's going to get to the Snyder Cut of Justice League anytime soon. But what deserved applause, and what went wrong?
Up: Lenny the Idiot Nephew is The Ultimate Luthor?
Ever since Jon Cryer took the role of Lex Luthor, there's been a question mark hanging over him with fans. Yes, it was a cool casting choice because Jon Cryer is a hugely underrated actor and a cult favourite. Not only was he Duckie to a legion of '80s fans, more importantly it was a great acknowledgment of his role in Superman IV: The Quest for Peace in which he was Lenny Luthor, Lex's idiot nephew.
The stench of Superman IV's reputation has been a tough one to shake, but up until now Cryer's done a solid job of rising above it playing Supergirl's Lex. He's redeemed himself from his earlier Luthor performance, especially in Crisis on Infinite Earths.
In part four of this crossover though, we got to see him take it to the next level. Having already disposed of fan-favourite Kingdom Come Superman and written himself in to the Book of Destiny, he's saved his own skin at the expense of the last son of Krypton. Thankfully, it didn't end there. After biding his time and working with the heroes for long enough, he finally reveals that trademark Luthor spark of cunning as he plots to rewrite history and save the universe… while still putting himself on the top of the heap. Oh, and he battles Supergirl to a standstill, outwitting her mentally and holding his own physically. Take note, people. He's a real apex Lex.
Down: That disappointing Spectre
When it comes to impressive superhero reveals, consider the Oliver/Spectre one as a dud.
Fans may love Oliver, and it's right that he plays a significant role in resolving the Crisis since he's been the cornerstone of DC's TV universe. It's also right that he should meet his fate in the Arrow episode of this crossover, after so much build-up to this inevitable moment. However, when it comes to Oliver becoming God's "terrible swift sword" and one of the heaviest hitters in the DCU, it all felt a bit out of place. Naturally as Green Arrow he would be underpowered in the Crisis, but to bump him up to cosmic levels of power – and seemingly out of nowhere, and with almost no explanation – was a poor choice.
It also didn't help that, as the Spectre, his look was essentially no different from usual. At least if they'd made a design choice to have him take on the more traditional appearance of the comic book Spectre, shown his vast abilities and explained his new status properly, it might have worked. In fact, seeing Oliver gradually lose his humanity as the embodiment the Spectre took over throughout the episode would have added some tension and a deeper sense of loss and sacrifice. Instead, it's just the same old Oliver, only with yet another digitally altered voice and a few tears.
Up: Flashbacks!
So… how do you turn a show in to a greatest hits clip-job without actually boring the audience? Easy. You have Oliver's memories become like Horcruxes that are split up and exist in the Speed Force, and then have several of the heroic Paragons interact with them after a few moments to turn them in to something a little different. It wasn't a huge change, but it was fun and kept things interesting while still playing to a sense of nostalgia about good old Oliver.
In Batwoman's flashback-gatecrash, she delivered one of the highlights of the show as she lectured Oliver and Ray Palmer while also conceding that she had similar issues they did; for J'onn it was a brief return to the alien Invasion, while Barry got to chat with Ollie about cutting a deal with the Monitor during the Elseworlds crossover; as for White Canary, she was a part of one of the funniest mourning scenes ever. They weren't the best flashbacks, but they were fascinating to watch because you never quite knew where they were going.
Plus, of course, there's that incredible flashback-that-wasn't-a-flashback in the Speed Force. But we'll get to that in a moment.
Down: Flashbacks, too!
But… it's still a clip-job, right?
The problem with all those flashbacks is that they also served as padding, and offered very little for fans to get truly nostalgic about. Given that these were meant to be Oliver's greatest hits, you'd imagine some happy group shots of his brighter days interacting with Team Arrow, Team Flash and (in particular) Felicity. Even if they had to involve the other heroes, there were better moments even on the island. Alas, the restraints of budget, casting limitations and more had to be taken in to account and so we were denied some truly classic scenes.
Down: So, how does this fight work exactly?
Here it is, the final fight. Sort of. Which, despite some apparent rewriting of the timeline, all the paradoxes this entails and the impossibility of the battleground, all goes ahead without a hitch. Basically, it involved everyone using their Kamehameha moves against waves of shadow demons, before Oliver went Super Saiyan and became a conduit for a Laser Floyd light show. Seriously. But that's okay, because other superhero shows and movies have offered up worse.
To help Oliver, the united Paragons needed to, um, fan his flame. And no, that's not really a euphemism. Lex Luthor works out (thanks to his Crayola scribblings on his magical scrap of paper) that it means that they're meant to… stare at Oliver. Really hard.
If there had been more to this moment then it might have meant something. Showing willpower/mental/spiritual energy being a true force on screen is difficult even at the best of times; Jean Grey looked like she was constipated whenever she did it in the X-men films, those guys in Dark City looked like they were having a brain fart, and Ryan Reynolds could barely muster a squeak in Green Lantern. So for our Paragons to do more than gaze in to the distance with slight determination is kind of understandable. But still, as fights go this one started out strong (even if it made no sense) but ended weakly.
Up: The Flash of Two Worlds… again!
Credit to everyone working on this for keeping this incredible cameo a secret. Not a single spoiler came out, and the end result was laugh-out-loud brilliance. Nobody saw this one coming. Ladies and gentlemen, it's the true Snyder Cut of Justice League.
Seeing Ezra Miller appear as the Justice League's Flash and interact with Grant Gustin's TV version has to be one of the most impressive highlights of this entire crossover. That it came out of nowhere was one was impressive enough. As the pair fawned over each other's costumes, with the movie version's Barry being as dopey and overwhelmed as usual, it still won over the hearts of even the most cynical of the film's critics. He may not be our favourite Flash, but he's also impossible to hate; even any flaws in the logic of this meeting were brushed away with a light touch that was hard to argue with. Given that the Flash's actions in this episode emphasised how offbeat his adventures could be in general, it's hard to argue with it.
Yes, reminding fans that there's a sub-standard Justice League film out there and that the Flash movie seems to be stuck on a development hell treadmill perhaps isn't great. Yes, this wasn't exactly the most groundbreaking reveal they could have done either. And yes, it was an absolute throwaway moment. But damn, it was fun. Who cares about an actual Snyder Cut when there's real potential to have these two Flashes interact again?
Down: Don't fear the beard!
We like Ryan Choi.
In our hearts, nobody will ever replace Ray Palmer; but Ryan Choi is absolutely worthy of the mantle of the Atom, and is a fantastic character in the comics. On TV, we like Osric Chau in the role and we hope that he sticks around because he's bringing a lot to the character. While the addition of Ryan Choi as a Paragon in Crisis is a bit forced, he's managed to prove his worth by simply saying and doing the right things at the right times. It's been a surprisingly smooth introduction to his character.
But in this episode, that beard… it's just wrong. Clearly chosen to emphasise the amount of time our heroic paragons have been trapped in the Vanishing Point, Choi's beard was simply annoying. Looking curiously out of place, it resembled a rejected Wookiee merkin stuck on with tape. It's a small thing, almost pointless in the grand scheme of things, but it was a bad, bad choice.
Up: Some kind of wonderful!
This episode delivered some wonderful moments all across the board, from some great performances to snazzy effects and small touches with lighting and directing. It wasn't a complete success, wasting time on unnecessary sub-plots while rushing important moments, and some of the dialogue felt clunky and unnatural. But it was still entertaining and felt like a good resolution to the previous block's cliffhanger, wrapping everything up… which would allow the next, final instalment to be an epilogue.
One of the most wonderful things here though came just moments in to the episode, during the credits list. One name appeared which was the greatest cameo of all… and it sure wasn't Ezra Miller. That name was Marv Wolfman, the original writer of comics' Crisis on Infinite Earths, who here served as co-writer.
We're not sure how much of the script for this episode that Marv had a hand in writing, but just seeing his name there was a true highlight. The man has been a legend in the comic book industry since the '60s, writing and creating characters and stories that have become iconic. Knowing that he not only wrote the series which inspired this story to exist but was actually recruited to help out makes this episode particularly special. Now, if only he'd actually appeared in it…
Crisis on Infinite Earths Part 5: Legends of Tomorrow
So, Crisis on Infinite Earths finally over. And it's been a hell of a ride.
After years of teasing, the adaptation of Crisis on Infinite Earths is now done. It may not be perfect, but it was entertaining and brought viewers enough big moments to please even the most jaded of fans. Was it DC's Infinity War? No… but then, with a TV budget and more of a focus on streamlining continuity, it was never meant to be. It could never hope to compete on that level, and so wisely didn't. Instead, it became something of a love letter to the source material and to the fans.
The final episode was technically an epilogue, featuring one last battle against the villainous Anti-Monitor as our heroes attempt to settle into the new world they find themselves in. While appearances from Beebo and Sargon the Sorcerer brought the laughs and some more timely cameos and obscure references (Gleek!) brought the feel-good factor, it was also a chance for viewers to say their final goodbyes to Oliver Queen.
But what parts made us cringe, and what parts made us cheer? How about these…
Up: The rude awakening!
This episode of Crisis on Infinite Earths started firing on all cylinders the second it started, with Kara waking up from her battle to save the multiverse like it was all just a dream. Or rather, a nightmare. As a result, she nearly wound up killing somebody with her heat vision. Reality has rearranged itself around the surviving Paragons – or vice-versa – with some predictable (and not-so-predictable) side-effects. Kara experiences the next one soon, and it's even more of a nightmare for her: a smug Lex Luthor winning the Nobel Peace Prize.
As zinger followed zinger, viewers were bombarded with changes big and small as the status quo of the new "Arrowverse" was explained. Like many expected, all those shows are now set on the same world, including Black Lightning which will likely be the show with the most changes. Supergirl can now cross over with the Flash as much as she wants to, while Luthor can battle the Legends if he ever decides he's bored with tormenting Superman.
How will it all shake out though? Honestly, all we can do is wait and see… but it should be fun! Is the DEO linked in any way to the Time Bureau, and if so does this mean that Lex has a link with it? Will Constantine ever take Superman out for a night on the town? Will Batwoman team up with Supergirl regularly? New histories and timelines will need to be explained with each show, potentially making this a fascinating soft reboot. Or, like the comics, it could lead to some writers making even more continuity errors.
Up: High energy hijinks
While there were a few down spots in the episode, one area where it really excelled was the sheer level of oomph it had. There was hardly a moment where the episode took a breather, with each scene brimming with enthusiasm and excitement. Not only did it make the episode seem full of life, but it gave the impression that Legends of Tomorrow – and even the other Arrowverse shows by extension – are going to have this level of enthusiasm moving forward.
It's a positive sign, and when combined with the idea that viewers will be getting something new in the landscape of each of the shows too it adds up to something fresh. Probably the best moments in this episode weren't so much the clichéd battle against the Anti-Monitor, but rather the ones with Beebo – despite being an annoyingly unfunny character previously – and the Super Friends jokes.
And for the record, does anybody actually want a Justice League TV show now with this cast? Maybe. But we'd be happy just to see them pal around together from time to time, and we definitely need to see Gleek.
Down: Saint Oliver?
Say what you want, but Oliver Queen was no saint. But he was a hero, and died as one… assuming he truly is dead again. That's the problem with playing the boy-who-cried-wolf approach to bumping him off earlier. It hurts the concept of his actual loss. Regardless, he's gone and that's pretty much that.
Naturally, the characters eulogise him and praise his memory throughout. His friends gather, discussing what he meant to them, while Sara angrily demands to know why there isn't place in their wonderful new world for the man who sacrificed himself to make it a reality. It's all very touching and heartfelt.
Then the characters sing his praises again. Then they fight a battle in honour of his memory. Then the President makes a speech on TV, honouring how awesome he was, before practically doing the "USA! USA!" chant because the USA – and by extension, apparently, the world – is saved once more. Then his friends honour him again, and light an eternal flame in tribute. They even unveil a chair they made, just to honour him. It's all Oliver, Oliver, Oliver.
By that time, it's all gotten a bit much and you wouldn't be blamed for wanting them to shut up about him. It's the law of diminishing returns, and they laid the schmaltz on far too thickly.
Up: Brave new worlds!
Let's hear it for the Negative Man, who wasn't afraid to shake his rump to the hump-de-bump. Because that's how the Doom Patrol roll, baby.
The Doom Patrol exist. So do Swamp Thing, the Titans, Stargirl and S.T.R.I.P.E., and so many other DC heroes (and villains). Even those rather weird-looking Guardians of Oa from the dismal Green lantern movie exist out there somewhere in the multiverse, their stupid long robes draping down from their ridiculous kiddie high-chairs.
This final instalment of Crisis on Infinite Earths let it be known that there are worlds to be enjoyed by all fans. Those worlds are safe thanks to the heroes of the DCU, and we can visit them whenever we want – something that was made clear to readers of the comic book Crisis too. No matter what changes are made to continuity in the Arrowverse as a result of this, fans will always be able to enjoy their favourites even if they don't quite fit in. Does that mean that we'll get lucky and see Brandon Routh return as Superman once again? Never say never. But he's out there somewhere, and just knowing that is enough for now.
Down: Lather, rinse, repeat fight scenes?
Some moron once said that people are going to win so much that they'll get tired of winning.
While that's one of the dumbest statements ever, watching people winning all the time can be tiresome. When that happens, it stops looking like a challenge and there's no real tension because there's nothing on the line. That's kind of how it is with the big group scenes in these crossovers. While technically the heroes have lost a few of the battles along the way, two of which resulted in a teammate dying (the same teammate really, so… does that count?), it doesn't seem like they ever really lose.
Here we saw them square off yet again with thousands of Harry Potter Dementor rejects, otherwise known as the Anti-Monitor's shadow demons. After the usual flat action, the shadow demons evolve into the bland Anti-Monitor, because… well, he's travelled the multiverse to give them an old-school beatdown in what looks like a factory parking lot for revenge after losing a fight to them at the dawn of time. And obviously he loses again.
Even though this time they don't have the Spectre backing them up.
And this is the real problem. At first, the Anti-Monitor and his shadow demons seemed like they could be threats due to their numbers, if nothing else. Here, none of them are a threat. To add insult to injury, the Atom just shrinks the Anti-Monitor down to nothing, which they could have done right from the start. Worlds lived and died, but now it seems like they could have handled this before breakfast and still be home in time for cornflakes.
Down: That's not the Martian way!
Maybe we missed the memo, but going out for revenge isn't the Martian way and it certainly seems out of character for J'onn J'onzz – a character known more for tolerance and understanding.
It seemed wrong that J'onn blamed Nash so much for the Crisis. Sure, he had reason to bear a grudge, but wasn't it the Anti-Monitor himself who said their conflict was inevitable? Even after re-writing the past with the Monitor, the Anti-Monitor still existed and wanted to destroy them. Not that their previous battle made sense anyway. Yes, Nash definitely screwed up, except… in this new world they're living in, he technically didn't. Because everyone, except for the Paragons, got a blank slate.
To help bring the friends and loved ones of the Paragons up to speed, J'onn telepathically brought back their memories of how things were before. That's great, but what about that clean slate and everything they thought they knew before that? Technically, these aren't even the same people but rather new alternate recreations of them. This version of Nash had no memories of doing anything wrong, and in this reality he was innocent because the Crisis never actually happened. Yet J'onn not only judges him based on what "another" Nash did, but he jump-starts everyone's memories so that they can judge him too.
Oh, and then he jump-starts Nash's memories as well, causing this innocent, blank slate person to feel overwhelming guilt for something they technically never even did. Not cool, J'onn.
Up: Do things by the book
There was something reassuring about seeing Heatwave doing a book-signing session for his latest romantic saga. Maybe it's just that we've come to know and love this big goof, but it seems like the perfect tribute to a character who's grown tremendously over the course of Legends of Tomorrow. He isn't just the beer-swilling thug he used to be, he's a sensitive soul who's in touch with his feminine alter-ego side.
What made the scene even better was his impressive leap into action when called to do so. He may hate the term, or insist that it's just because he enjoys getting involved in a good fight, but it was downright… heroic. All he was missing was a bottle of booze at the bookstore, so that he could literally have said "Hold my beer!" to the lady he was signing the novel for. It's a missed opportunity, but either way that whole scene was fantastic.
Down: Just ignore the minor details, okay?
This is a tricky one, but it's a problem that's existed with all the crossovers they've done: for all the talk of how big the story is, there's never much sense of scale or scope.
Apparently, we're not supposed to remember the fate of all those refugees who fled from one Earth to the next, desperately looking to be saved. Presumably, they're still fine, much like the people of Argo City. Or are they? They've made it clear that this isn't quite the same world our heroes remember; different events have occurred and new people exist there, like Superman and Lois now having sons, plural. Even if those people were saved, have they now always existed on this world, like how National City itself has now always existed? Have trillions died? What was the point of saving anybody? What about the red skies headline, and what was the Monitor's alternate plan if Oliver hadn't sacrificed himself? Would Barry have become the Spectre? Would Kara? As the Riddler would say, too many questions.
Yes, some things will be answered in time; surely the Kryptonite that Batwoman got her hands on will come back in to play at some point, Ryan Choi's future story continue to unfold as time goes on, and so on. But the bigger ramifications rarely get addressed in any of the Arrowverse shows. The theory is that we're just supposed to shut up and not ask questions, but for once it would be good to get some kind of clarification.
Up: That magnificent cameo!
As if his writer's credit wasn't enough in the previous episode of Crisis on Infinite Earths, here we got an appearance by the one and only Marv Wolfman. It's also good to see that his artistic partner from the source material, George Perez, was name-dropped too. But the Wolfman cameo was pretty damn cool for fans, and a wonderful tribute to one of the men who made it all possible to begin with. His performance on screen may not have been the smoothest, but it was still fantastic.
As said before, the man is an industry legend and is responsible for co-creating classic Marvel and DC characters like Blade, Bullseye, Deathstroke, Cyborg, Raven and more. Seeing him on screen, gushing over the Flash and Supergirl and assuring them that the world is exactly as it's meant to be is an incredibly meta-textual moment and it's wonderful to see him being honoured like that.
At times it's been hard to endorse some of the Arrowverse's production decisions, owing to some of them being out of touch with the source material. But here they got it right. While other cameos, like Burt Ward, Kevin Conroy or Ezra Miller may have been obvious fan service, this showed a genuine understanding and respect for the creators. For all the missteps, here they did Crisis on Infinite Earths proud…
What are your thoughts on Crisis on Infinite Earths?