Crash Team Racing hurtles back into our lives in its Crash Team Racing Nitro-Fueled incarnation, as one of the few instances where, yes, it's just as good as you remember it being when you were a kid.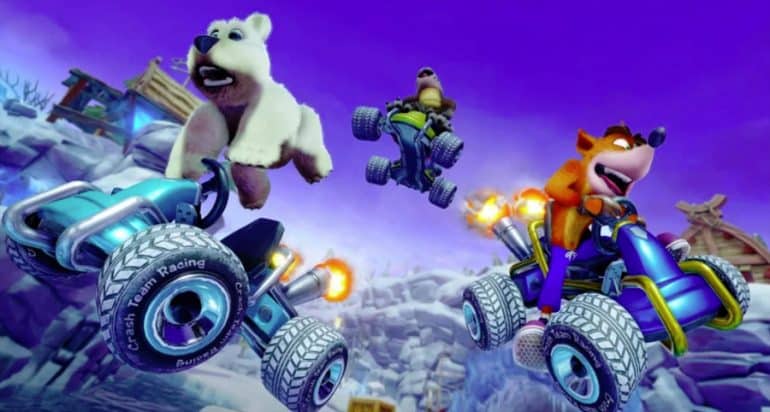 The world of the remaster / remake is a cynical, money-hungry one. For many recent years, we have suffered the horror that modern publishers unleash upon us when they add one new texture and sell the same game from five years ago back to us again for full price. And while that trend continues, the past year and a half have been an absolute gift in terms of respectable remakes, as some of the most classic PlayStation 1 games have been remade with class and style.
Resident Evil 2, Crash Bandicoot, and Spyro the Dragon remakes have all arrived, and we continue to be blessed this month with the return of the best mascot-based kart racer title of its generation (suck it, Mario). Although, I do accept that the amount of times I speak in comparison to Mario Kart in this review does speak to something about how ubiquitous that franchise became in kart racing, which I can't deny.
Crash Team Racing (CTR) was originally released in 1999, capitalizing on the success of earlier kart racers such as Mario Kart 64 and Diddy Kong Racing. However, it arrived at the perfect point in time: Mario Kart 64 was a couple of years old and wouldn't see another release until 2003 on the GameCube. CTR was perhaps not enormously innovative, but it took some of the best parts of other kart racers and added its own distinctive flair to proceedings and produced a very respectable, technical racer. Two sequels to CTR followed in 2003 and 2005, but neither was produced by the original studio and were sub-par compared to the original.
Luckily, Beenox has understood that, and limited aspects are taken from each of the successive games in the CTR franchise and added to Crash Team Racing Nitro-Fueled. There are 31-odd racetracks in total: 17 from the original game, and 14 from the 2003 sequel, Crash Nitro Kart. There are 26 playable characters, with all original racers and bosses unlockable, as well as several from Nitro Kart too. The contribution of Crash Tag Team Racing from 2005 (best forgotten) is some character skins and a couple of unlockable karts. As it should be.
The core of Crash Team Racing Nitro-Fueled is still the Adventure Mode, where you engage in a bare-bones-ish campaign, with several hub worlds and the 17 original races connected to them, along with 5 boss battles. The additional tracks from Nitro Kart are only available in the Arcade mode or for Multiplayer matches. There's not a heck of a lot of depth to the campaign maps, but it's still pleasant to drive around in the Adventure Mode area and practice your moves and skills before driving into the race that you want to challenge next. There are two possible settings to this Adventure mode: Classic, which plays like the original game did in 1999, where you choose one character and stick with them throughout the campaign, and Nitro-Fueled, where you can swap in a different character at any point, and select from Easy, Medium, or Hard difficulties.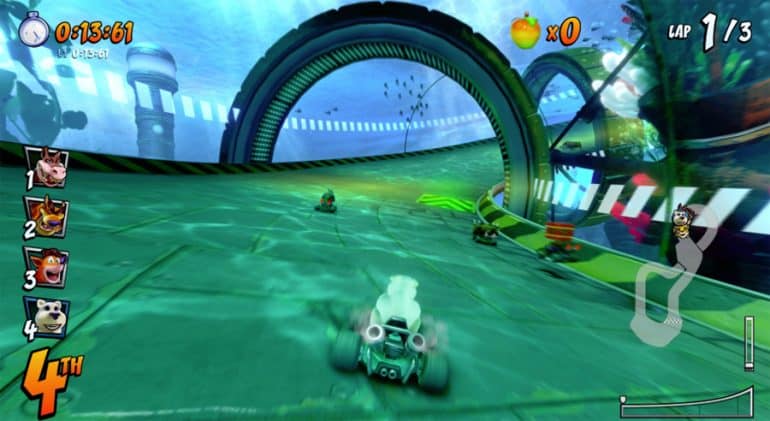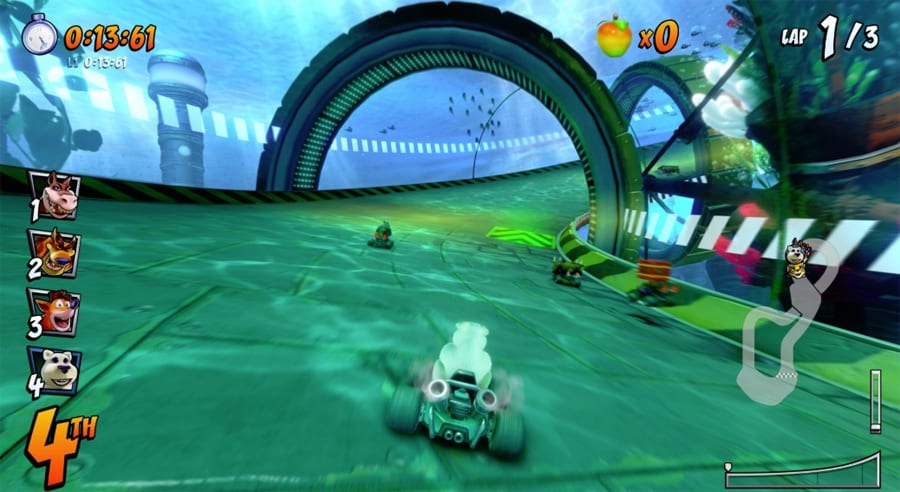 Crash Team Racing Nitro-Fueled has eight characters are available at the start, with more being unlocked during the campaign or purchasable from the in-game store. The in-game store functions with in-game currency, rather than microtransactions, and aside from characters, new karts, decorations, skins, and the like can be purchased there too. Characters are generally divided into Beginner, Intermediate, and Advanced classes, which translate to the Light, Medium and Heavyweights from Mario Kart. Basically, the smaller a character is, the better turning they have, but the worse top speed. And the heavier a character is the better speed they have, but the worse turning and handling.
Characters also have unlockable skins, with several being alternate colours, and at least one for every character being a distinct and different costume or look. These, along with the kart customizability, means that you can make a very distinctive-looking and personalized racer. It's a pity that some of the best skins are locked away in the in-game store, but the store changes its array of purchase options available every day, and therefore one you like will cycle around eventually.
Let's talk about the actual racing. Anyone familiar with Mario Kart will find nothing new immediately here. You and 7 other opponents race around a wacky themed level, occasionally collecting weapons from boxes and firing them at each other to cause damage and strategically position yourself past an opponent. The weapons range from explosive boxes and vials that are dropped behind you, to projectiles of some kind, ones which lock on and ones which don't, as well as a few "help you when you're behind" weapons, like a speed-up invulnerability mode, and one which targets every racer in front of you. So far, its par for the course with kart racers.
Let's look at what Crash Team Racing Nitro-Fueled does differently and well though: firstly, the drift mechanic is advanced and essential to master if you want to win. You are able to chain together drifts around corners, up to three times, and each one provides you with a boost. Learning to boost chain properly is essential to winning in Crash Team Racing Nitro-Fueled. The boost meter is visible on the UI, but also on the wheels of your kart as you begin a drift and they start to glow, giving a great visual indicator of when to tap for the boost.
As a result, the overall pace of races is much faster in Crash Team Racing Nitro-Fueled than other kart racers, and the length of each race is shorter. Secondly, you can collect fruit, which acts similarly to coins in Mario in that they speed you up. However, when you reach 10 fruit, any weapon you pick up enters a new, super-powered mode, which increases its effectiveness appreciably. Finally, there's a reasonable balance in the game between when you need a specific item, and when you are in first-place and someone destroys you with an ultimate weapon over and over again so that you lose right at the finish line. You rarely get that feeling of being stuck in first-place and only getting banana skins each time, before a blue shell gets you, as I often feel in Mario Kart.
As for modes, speaking of single-player action, aside from the aforementioned standard races, you get time trials, a four-race cup mode, a Relic mode, where you can collect boxes to slow down your time and earn a relic, a CTR mode, where you must collect the three letters in CTR and also finish in first place, and a Crystal hunt mode, where you must collect a certain number of crystals in an allotted time.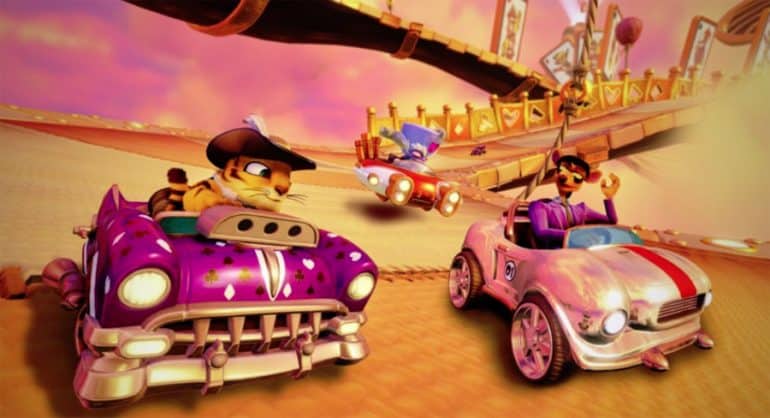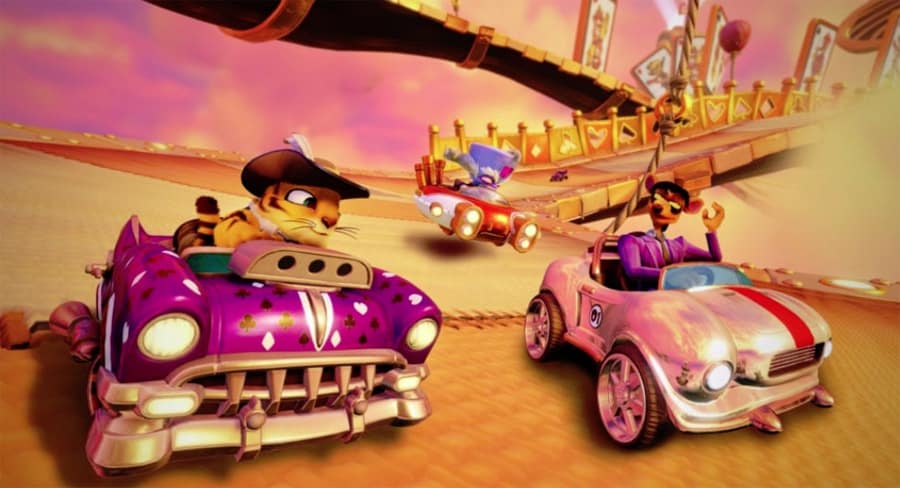 Multiplayer can be played either locally in split screen or via online. The same normal kinds of races apply there too, as well as 12 battle modes. These are reasonably similar to each other most of the time but are quite fun and involve sometimes frantic action in Capture the Flag or Steal the Bacon mode, which is just as fun as you imagine it being. Overall, it's a great experience in multiplayer, whether it's on the couch with friends or online with randoms.
The gameplay is essential here, but I feel I have to mention how gorgeous this game looks. This is not only in relation to how the original looked but also in and of itself as a title standing alone. All the characters have a depth of personality in how they look and act while driving, and the levels look stunning too. There are heaps of background events that you will probably miss while racing, but sometimes I just stopped and drove slowly to see all the things that were happening in the world around the race. The levels themselves are not as dynamic as Mario Kart sometimes has, but they all look amazing. I love how each character, no matter how silly or different in size they look, has been made to look and sit comfortably in their kart, which is a distinct improvement over the weird way the tiger kitten Pura drove his kart in 1999.
Beenox has a plan to continue support for Crash Team Racing Nitro-Fueled into the future, with weekly special events that are introduced and may be played to earn unique unlocks. These are free, but there are also new characters announced as DLC, such as the Pit Crew Girls, and Spyro the Dragon. I don't know if these are paid DLC yet, but at least the in-game items are all earnable through in-game currency. The PS4 version also comes with one unique retro PlayStation track, and two retro skins for Crash and Coco in game.
There are some negatives to the game that I should mention in fairness. Firstly, the load times are not very good, with them being reasonable on PS4 Pro, and lengthening by the time you get to regular PS4 and becoming quite terrible on Switch. Secondly, the difficulty of the game can be abrasive when playing single player, as the AI even on Medium difficulty can seem wholly unfair. Once you get used to how the drifting works, it gets better, but the rubberbanding from AI can feel awful at times. The bosses are the worst for this. Thirdly, the drop in level quality between the original CTR tracks and the more derivative ones from Nitro Kart is noticeable too. It's hard to complain about more content as a problem, but it seems worth pointing out.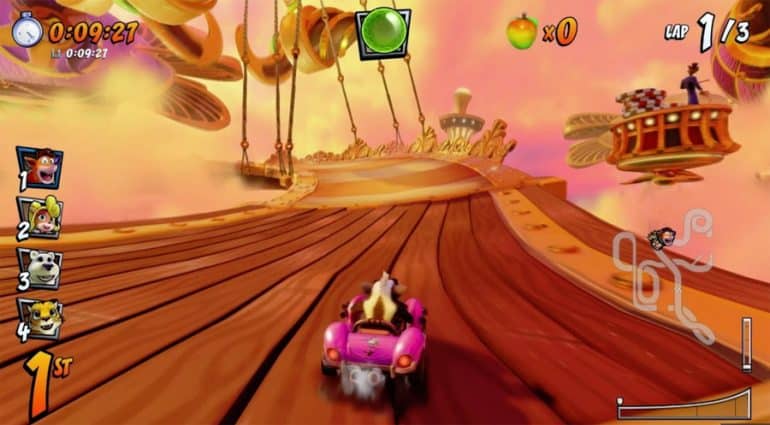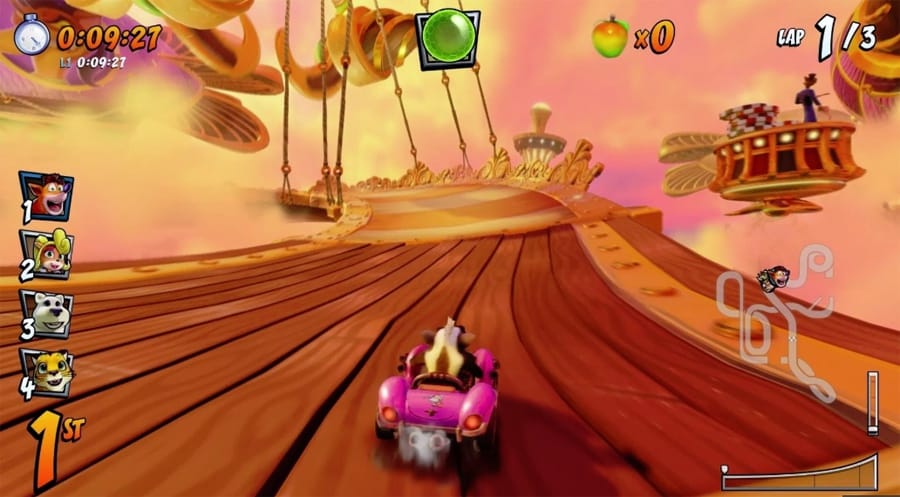 All in all, though, I love Crash Team Racing Nitro-Fueled just as much as I loved the original, and it feels just as good as I remember to play, with all the polish that a proper remake made with love can bring. The multiplayer feels competitive and fierce, in a great way. The characters look great and there's lots of unlockable content to customize and keep on playing with. Sure, I don't really care about much of the characters from 2003 onwards, but they're there if you want them. More content is better than less. Although the AI had me wanting to throw my controller a fair amount, the pure zen-like feeling of mastering the drift chain around a corner and boosting out to victory is second to none.
The Review
Crash Team Racing Nitro-Fueled
Crash Team Racing Nitro-Fueled is a welcome dose of racing nostalgia fans of the original Crash Team Racing games should just not miss.
PROS
Visual upgrades
Fierce multiplayer
Loads of additional content
Feels just as good as we remember
CONS
Lengthy load-times
A.I can be infuriating at times
Review Breakdown
Storyline

0%

Gameplay

0%

Graphics

0%

Replay Value

0%

Sound and Music

0%