Matthew McConaughey and Woody Harrelson share one of the best-known bromances today, their chemistry translating just as well on screen as it does off. The two first worked together on EDtv and have proved inseparable ever since. However, in a recent interview with Kelly Ripa on Let's Talk Off Camera, McConaughey revealed that the two might have been closer than initially thought.
RELATED: The 15 Best Post-Apocalyptic Movies of the Last Decade
Let's Talk Off Camera Interview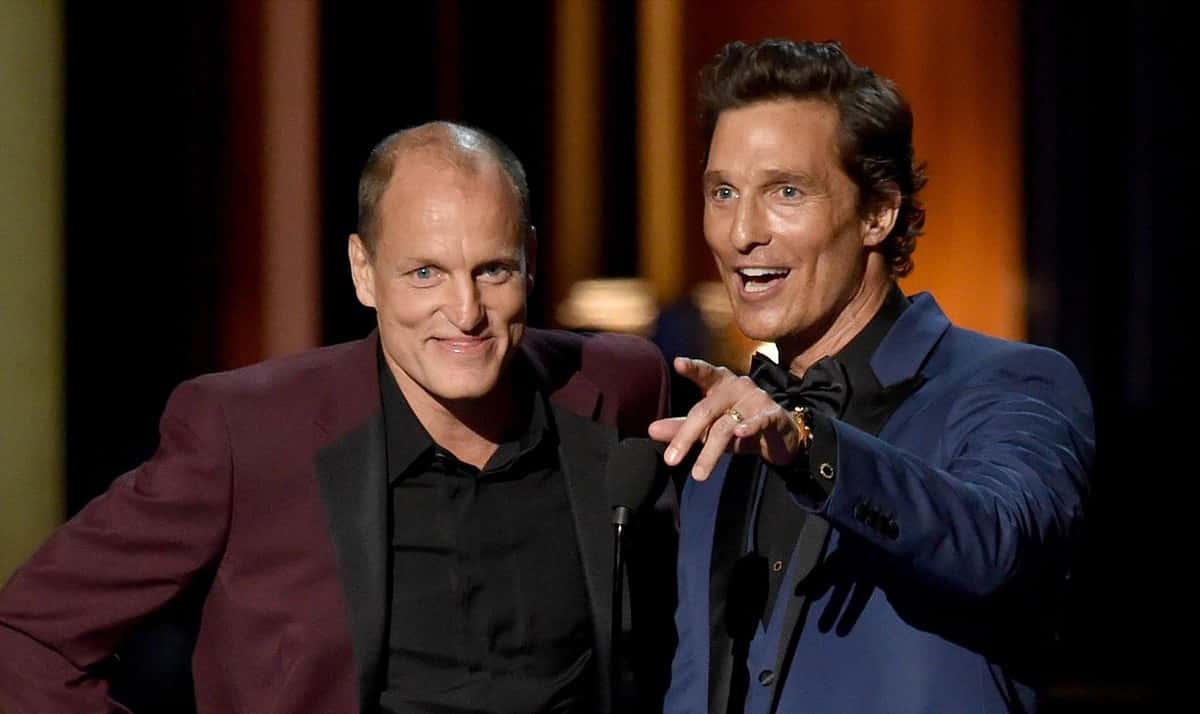 During a podcast interview titled Matthew McConaughey: Who's Your Daddy? McConaughey was talking to Kelly Ripa about his bromance with Harrleson, saying:
"You know, where I start and where he ends, and where he starts and I end, has always been like a murky line. And that's part of our bromance right? My kids call him Uncle Woody. His kids call me Uncle Matthew etc., etc. And you see pictures of us and my family thinks a lot of pictures of him are me. His family thinks a lot of picture of me are him."
He went on to say that after a hint from his mother, there was a chance that he and Harrelson could be half-brothers:
"In Greece a few years ago, we're sitting around talking about how close we are and our families. And my mom is there, and she says, 'Woody, I knew you dad' Everyone was aware of the ellipses that my mom left after 'knew'. It was a loaded K-N-E-W."
"We went on to unpack what this 'knew' meant and did some math and found out that [Harrelson's] dad was on furlough at the same time that my mom and dad were in their second divorce. Then there's possible receipts and places out in West Texas where there might have been a gathering, or a meeting, or a 'knew' moment."
Curious about how events would unfold, McConaughy was asked if he planned to get a DNA test done:
"This is what we're on the precipice of now. It's a little easier for Wood to say, 'Come on, let's do it,' because what's the skin in it for him? It's a little harder for me because he's asking me to take the chance to go, 'Wait a minute, you're telling me my dad may not be my dad after 53 years of believing that?' I got a little more skin in the game."
RELATED: The Boys Cast & Character Guide
McConaughey and Harrelson's Future
After meeting each other for the first time in 1997, the two developed a bromance that withstood the test of time and appeared in several projects together. While many are curious about whether they are related, it doesn't look like McConaughey will be getting a DNA test done any time soon, preferring to let things remain a mystery.
The two will reunite on screen in the new Brother From Another Mother series, which McConaughey described as "a series about our families that's based on truth." The series will see the two playing fictionalised versions of themselves living on a ranch in Texas together.
RELATED: Reign Of Fire 2: Did Matthew McConaughey Just Confirm A Sequel?
TL;DR
Matthew McConaughey revealed that he could be related to Woody Harrelson.
McConaughey's mother mentioned that she knew Harrelson's father.
The internet is curious, but McConaughey isn't rushing to do a DNA test.
Do you think Matthew McConaughey and Woody Harrelson are related?