There are a ton of rumours involving James Gunn and Bane. Could there be some truth to it all? Could we get an origin film starring Dave Bautista as Bane?
With James Gunn joining the DCEU thanks to The Suicide Squad, fans have already begun theorizing what could be his next film in the cinematic universe. Considering the immense popularity of Batman's Gallery of Rogues, it stands to reason that Gunn might be involved with the development of a future villain film.
When it comes to Batman villains, one of the most criminally underutilised characters in his ever-expanding roster of villains has to be Bane. Frequently misunderstood as a mindless goon, Bane is actually one of Batman's most fearsome enemies, rivalling the Dark Knight in intellect and easily overpowering him in raw strength.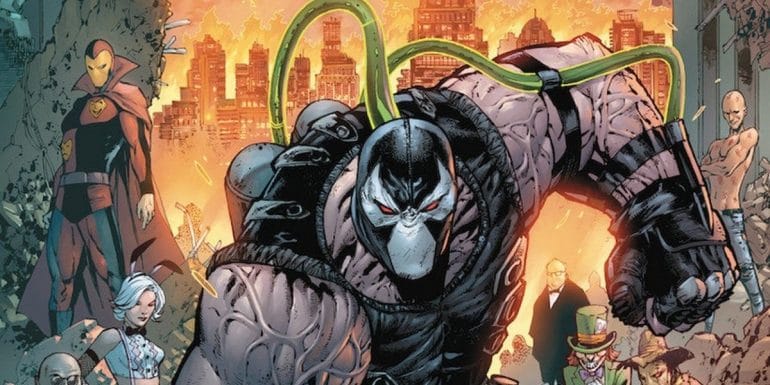 Bane's Origins
Unlike the Joker, the origins of Bane have been firmly established in Batman lore. Created by Chuck Dixon, Doug Moench, and Graham Nolan, Bane embodies the spirit of 90s comic books to a T. His imposing musculature and imposing visage remind us of some of the most exaggerated examples of male human anatomy of the era, namely those created by Rob Liefeld.
Contrary to his looks, however, Bane is hardly a meathead. The son of King Snake. Bane was raised from his childhood in a prison in Santa Prisca. There, he learned six languages, took an interest in meditation and classic Jesuit education, and committed his first murder at the tender age of eight.
Bane's violent upbringing made him an even more violent villain in the end, famously breaking Batman's spine in 1993's Batman #497. Although his origin was partially told in Nolan's The Dark Knight Rises, that version of the character is just the tip of the iceberg of Bane's fascinating life.
Making Bad Guys Look Good
If there's one thing that James Gunn excels at that, that'd be making relatable rogues. From the Guardians of the Galaxy to the Suicide Squad, it seems like Gunn has a  penchant for troublemakers who suddenly find themselves at the centre of a bigger conflict.
Giving Gunn a project like making a Bane origin movie would test his storytelling abilities a bit – particularly considering how hard it would be to make someone like Bane into a likeable protagonist. That said, films like Joker have taught us that the DCEU understands that the protagonist doesn't have to be justified: they only need an interesting story to tell.
Hey I don't want to fight with anyone.

Maybe they cut the scene with #Bane – my source got the scripts about a year ago.

Maybe Gunn is pulling a He Man 🤷‍♀️

Also, further proof I got the scripts which I verified with other sources, Danielle Brooks is playing Waller's daughter pic.twitter.com/F7gBLdS60M

— Grace Randolph (@GraceRandolph) September 7, 2021
Enter Peacemaker
Unfortunately for the fans of the DCEU, The Suicide Squad flopped hard at the box office. An R-rated superhero film without any recognisable heroes might have been doomed from the beginning, but that doesn't mean that the movie was a failure.
James Gunn is set to produce an HBO Max show based on Peacemaker, one of the main characters of The Suicide Squad. While he has been quick to dissipate any rumours of Bane appearing in the show, we wouldn't be surprised to hear of Peacemaker being a start point for many DCEU stories.
For the time being, we only know that Gunn is busy working on another DCEU project that will be revealed sometime after the Peacemaker show releases. Considering the experimental state of the DCEU, and the upcoming reboot of the Batman character thanks to 2022's The Batman, a Bane origins film – directed by one of the most successful personalities in the superhero flick business – might not be as farfetched an idea as it sounds.
Would you like a Bane origin film from James Gunn?