While the first 25 minutes of Constantine: City of Demons aired in instalments as a web series earlier this year, finally we get to see the whole story on DVD/Blu-ray and it's more than worth the wait. Not only is it a complete movie, but also extra scenes have been added to the original episodes to create a bigger film… or pad out the running time, depending on how cynical you are. Which, if you're like John Constantine, is very cynical indeed.
In Constantine: City of Demons, John Constantine is having a bad day… even by his own low standards.
A meeting with his oldest friend Chas Chandler becomes a mission of life or death when Chas asks him for help. Chas's daughter Trish is in hospital, and all signs point to some form of dark magic being involved. When Constantine investigates, he learns that this isn't a routine case of possession but that her soul has actually been stolen. To get it back, John must journey to Los Angeles and make an unholy deal with a demon.
Knowing that he's walking into a trap, Constantine becomes a pawn in a demonic turf war for control of the City of Angels. Haunted by his previous failure in Newcastle, can Constantine save Trish's life and correct his own mistakes? The only thing he knows for certain is that there's no such thing as a happy ending…
From that cynical standpoint, the story (adapted from the All His Engines graphic novel) is a rather straightforward one; the action, when it happens, is by-the-numbers and the twists and turns that the story takes are mostly obvious. At times John Constantine comes across as merely a spectator in his own story, contributing little more than an incantation to summon someone else to do his fighting for him. There's a strange lack of energy on screen – even during the scenes full of sex, violence, bloodshed and horror, and the running time is a load of bollocks…
If you're cynical, that is.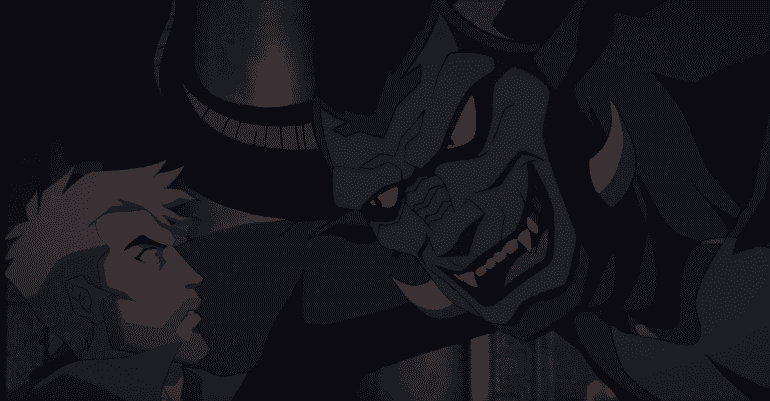 While all of those points are valid, there's a wonderful slow and brooding noir quality to the proceedings that's straight out of the movie classics. Constantine is an almost Sam Spade-like figure in this, world-weary and rolling with the punches as he confronts one form of corruption after another. His fate is rarely in his own hands, and all he can do is grimace in disgust at the debauchery on display and soldier on. He's a flawed hero trying to do his best, even if it means lying, cheating and even screwing over his allies to do the right thing.
Essentially, that's John Constantine anyway and, in that regard, the setting seems incredibly apt. Even he points out that his sad reality is a far cry from the excitement of movies and Benedict Cumberbatch. Constantine isn't Doctor Strange and nor should he be; he is who he is and makes no apologies for it. Constantine: City of Demons captures both the nature of his character and his lifestyle, and the ending is genuinely heartbreaking.
Fans of DC's resident dabbler in the occult know that John Constantine hasn't had the best of track records in TV and movies, but this is a solid adaptation and thankfully Matt Ryan continues his run voicing the title role. The attractive animation and practical writing may strangely lack a sense of excitement, but they're more than good enough to make this the best on-screen representation of Constantine so far.
But… why can't anyone pronounce the name "Constantine" correctly?! Please, get this right!
It isn't essential viewing, but Constantine: City of Demons more than does the job and serves as a companion piece to the animated Justice League Dark movie.
The Review
Constantine: City of Demons
If you're a fan of the character then you'll find that this film ticks off all the boxes required. If you aren't, then this may not be for you.