In 1988, Eddie Murphy's Coming to America debuted to a mixed reception. Perhaps unironically, its sequel, Coming 2 America, is experiencing the same fate now. The honest truth is, no one really gives a damn about reviews anymore, so critical reception means about as much as a disclaimer before you accept the terms and conditions.
In the case of Coming 2 America, it's likely to become a bulletproof film as well. No matter what anyone writes or says about it, the audience will turn up because it's exactly what you expect from Eddie Murphy and Arsenio Hall as they disappear into several roles again. Yes, you will see them dressed up as all the characters they made famous all those years ago, including Sexual Chocolate's frontman Randy Watson.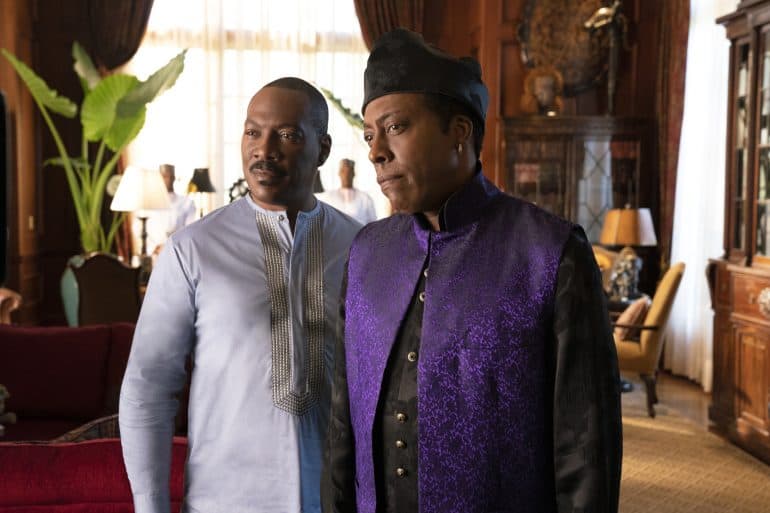 The most surprising part, though, is that neither Murphy nor Hall is the real star of the show here. In fact, it's the newer cast members, such as Jermaine Fowler, Leslie Jones and Tracy Morgan, who shine in this comedy. Surprisingly, I'd also argue that Wesley Snipes as General Izzi is the true scene-stealer. You can tell that Snipes is having the absolute time of his life, as he plays this off-kilter character that's a complete departure from the normal tough guys he portrays.
In Coming 2 America, the roles are slightly reversed as King Akeem's illegitimate son, Lavelle, goes to Zamunda where he's groomed to become the next heir to the throne. Naturally, being from Queens, Lavelle struggles with Zamunda's way of life initially before eventually discovering what's really important to him.
The story is cyclic, easily drawing comparisons between Akeem and Lavelle here. At the same time, though, it's highly predictable. By the time Lavelle arrives in Zamunda, you already know exactly what's going to happen by the end of the movie.
That being said, Coming 2 America isn't exactly aiming to be nominated for Best Screenplay at the Oscars. Everyone understands exactly what it's meant to be and plays along with it—which, to be honest, is rather refreshing in a current cinematic landscape where people try to pretend as if they're too highbrow for this type of comedy.
There's a sense of going back to the future here, as the movie does feel as if it could've been pulled right from the era of the original. Undoubtedly, this will please fans of the classic comedy, but it might isolate younger viewers who won't identify with its retro humour.
Coming 2 America is the type of movie you want to watch on a Friday night where you just want to chill and laugh at a whole lot of silly jokes by Eddie Murphy. Who knows, maybe it could be the start of another renaissance in comedy where slapstick makes its return?
Tell us, what do you think of Coming 2 America? Let us know your thoughts in the comments section down below.
The Review
Coming 2 America
As a sequel, Coming 2 America does its job in respecting the past but also moving forward into the future.