Comic Con Africa 2022 will be held at Johannesburg Expo Centre this year from the 22nd to the 25th of September. It is every nerd's favourite time of year when we get the chance to go to an expo and possibly meet some of our heroes and creators that have inspired our geek-dom for years.
If you are still on the fence about whether you want to go to this year's Comic Con Africa 2022 event, here are all the things to look forward to this year:
Artist Alley
You will get to witness an amazing showcase of independent artists celebrating all things that involve pop culture, for both local and international communities. These artists might be creating comic books, novels, drawings, paintings, or even digital art and will have signed works for sale from printed posters to t-shirts and intricately painted canvas shoes.
We are going to be witnessing some serious talent as the following comic book illustrators, artists, writers, animators and designers will be attending to showcase their artforms and work:
Sean Izaakse (South Africa), Livio Ramondelli (USA), Steve Ellis (USA), Daniel GOvar (USA), Bill Masuku (Zimbabwe), Zack Howard (USA), Andrew Lee Griffith (USA), Karl Mostert (South Africa), Chris Campana (USA), Tony Moy (USA), Jason Masters (South Africa), Tasia M S (South Africa), and Tehani Farr (British-Mexican).
Comic Con Africa 2022 Cosplay
Some international cosplayers will be taking centre stage, two from Italy, and one from America. Taryn Cosplay is an artist and an actor as well as a cosplayer, Leon Chiro is a professional wrestling Champion, an influencer and a cosplayer, and Elizabeth Rage is a professional cosplayer, all of whom will be attending the full event.
Celebs aren't the only ones encouraged to cosplay at Comic Con Africa, it gives fans a chance to express their fondness for their favourite characters by portraying them. Attendees are encouraged to cosplay and there will be competitions and prizes for both competitive and casual cosplaying at the event.
Comic Con Africa 2022 Gaming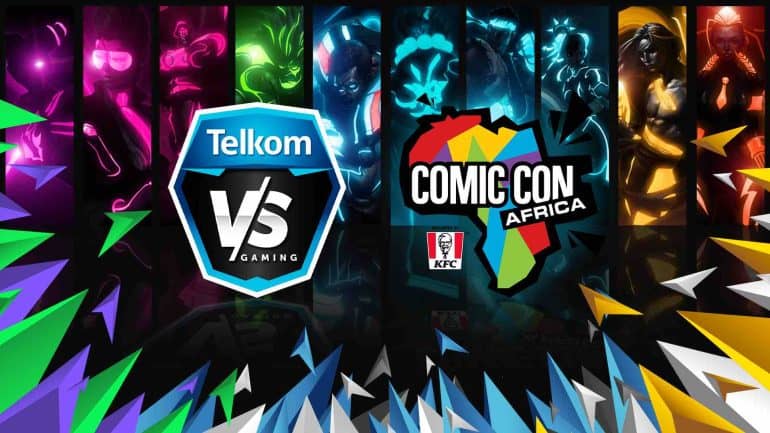 From the latest info on gaming tech to esport tournaments with millions of rands in prizes, bring you're a-game and stand a chance to win big with some of the biggest and best tournament organizers our country has to offer.
KidsCon
For moms and dads attending Comic Con, or the parents nurturing little nerds, KidsCon is a place for kids to embrace their inner superheroes and creativity in tons of engaging interactive areas with immersive experiences, the chance to meet some of their favourite characters, and more. With areas like Tabletop Kids, Gamer Kids, KidsCon Movie Time, Kids Tech, KidsCon Comics and Art, and Kids Cosplay, there are options for every budding fan out there.
Merch and Collectibles
Comic Con Africa 2022 brings together the suppliers of the most sought-after merch and collectables from across the world, all under one roof. Whether you are looking to complete your collection or to find some memorabilia to remember your time at Comic Con Africa, they have you covered.
The Celebs We Will See There
So far, the confirmed celebs we will be seeing there include Tati Gabrielle and Selwyn Ward, both American actors.
Tati Gabrielle is well known for her roles in Uncharted, You, The Chilling Adventures of Sabrina, and The 100. She will be at the comic con from the 23rd to the 25th.
Selwyn Ward is known for his roles as Red Turbo Ranger in Power Rangers Turbo, Blue Space Ranger in Power Rangers in Space, Power Rangers Megaforce and Power Rangers Ninja Steel. He will be available throughout the event.
There are a ton of fun-packed events at every area of Comic Con Africa 2022, and we can't wait to see you there!
Enter our Comic Con Africa competition and win double Weekend Passes to South Africa's biggest geek event.