Due to the coronavirus pandemic a lot of big pop culture events, from Coachella to the Met Gala, have been postponed or cancelled. Could Comic Con Africa 2020 be next? Maybe not.
In geek culture, the most crushing blow was the official cancellation of San Diego Comic-Con. It's the first time the event has been cancelled in its 50-year history. The disappointment wasn't just felt by fans, but also by the many artists and creators who rely on the event to bring more attention to their work.
While the experience of being there in person can't be replaced San Diego Comic-Con is doing its best to create an alternative experience for fans longing for that con connection. The convention announced that they'll be joining the trend of hosting at-home events. "Coming soon… Free parking, comfy chairs, personalized snacks, no lines, pets welcome, badges for all, and a front-row seat to… Comic-Con at Home."
See you this summer! #ComicConAtHome pic.twitter.com/Sf5UbJkXtE

— San Diego Comic-Con (@Comic_Con) May 8, 2020
The date for the virtual event hasn't been released yet, but it should take place on the weekend of July 23rd to July 25th (the original in-person convention weekend).
Sadly, almost every convention in 2020 has been affected in some way.
E3 was officially cancelled in a statement on its website. Originally scheduled for June 9-11, the organisers behind the video game trade show are looking for ways to move the event online.
Ace Comic Con's official Twitter account announced that the Boston-based event would be postponed due to the state of emergency in Massachusetts.
Wonder Con Anaheim been postponed indefinitely. But organisers have added an online exhibit hall to bring fans the virtual con experience.
Comic Con Cape Town has been cancelled. The event will now take place in April 2021.
However, if you're in South Africa there is some good news (for now).
Reed Exhibitions Africa plans to go ahead with Comic Con Africa 2020 this September.
How can they pull this off given the current pandemic? We've got all the info right here!
Reed Exhibitions Africa is part of the global Reed family. The company has an up-to-date risk assessment document which they reference for every event, and it will be in play for Comic Con Africa 2020.
The risk assessment ensures that organisers are in a state of readiness to hold an event of this size. It goes into detail about things like how often food counters are cleaned and rules regarding person-to-person contact. Most importantly, the document incorporates directives from local government as well as the World Health Organisation.
The team at Reed will also work hand-in-hand with the venue regarding health and safety plans, with an emphasis on how they will enhance their measures to respond to unique situations.
Speaking exclusively to Fortress of Solitude about their intention to go ahead with the event, the team at Reed Exhibitions Africa said…
"This has necessarily been a time of great deliberation. While at present it is business as usual and we have every intention of continuing with Comic Con Africa in 2020 from September 24-27. We do also need to take into account local government's decisions, announcements from the Presidency (which may include travel bans), and the appetite of fans and visitors to attend a show. As always we stay on top of announcements as they are made so that we are ready to respond to anything that comes our way."
How will fans be updated about health and safety measures that will be in place?
"Once we have further direction from the government we will keep media and our fans updated on all methods and systems that will be put in place."
Will masks and sanitizers be mandatory for vendors and staff on-site at Comic Con Africa 2020?
"Yes, we will have both masks and gloves for vendors and staff. And hand sanitizers will be strategically placed around the event. Cleaning will be stepped up to ensure that all catering areas, registration desks and so on will be sanitized every 15 to 30 minutes. Any queues will be clearly demarcated with a 2m space, and every second seat will be prohibited from use, and more."
Will masks and sanitizers be given to people attending the event?
"The majority of visitors will no doubt already have these in place as it's compulsory in S.A But we will have stock too."
Conventions are crowded and can be rather uncomfortable at the best of times. With that in mind, how will social distancing be enforced at Comic Con Africa 2020?
"We will react appropriately to any directives from government and our global group, but the safety of our visitors is paramount so we will be taking extraordinary steps to manage this. Expect to see some unique innovative methods of crowd management."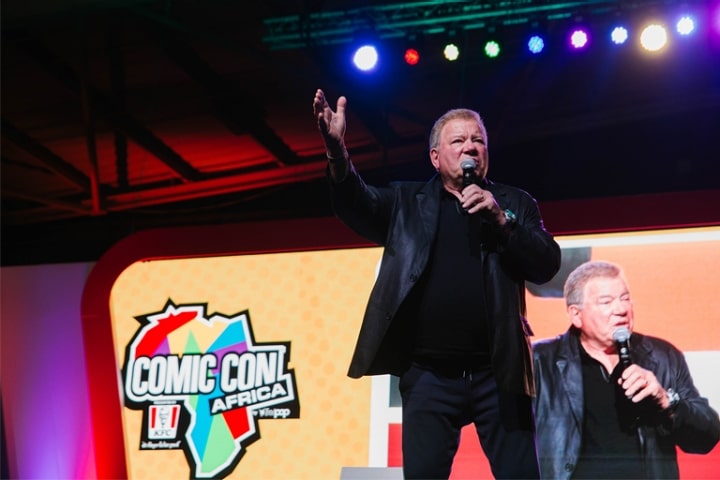 International guests are a big part of any Comic Con. Will the event in South Africa still have guests visiting?
"It definitely will. The guests are in regular contact with our talent manager and so we know they are all still keen to attend. Again – safety of all our guests is our priority."
That's great news. But how will photo-ops and autograph sessions be handled?
"We will pre-sell all tickets to the event and will manage the queues by using additional outdoor space with the 2m requirements. Again, it will be innovative and very different to what you have seen in the past."
Food areas and merchandise stalls are visited by hundreds of people. How will safe health measures be put in place in these areas?
"They will include enhanced cleaning measures and careful planning around how food services and merchandise are sold. This includes regular sanitization of surfaces and hands (every 15 minutes), and plastic packaging – whilst this is not very green it's a necessity right now. Vendors and servers will all be wearing gloves and sanitize regularly."
We'll be sure to keep you posted about everything that's happening with Comic Con Africa 2020 as we get closer to the event, which will take place at the Gallagher Convention Centre on the 24 – 27 September 2020.
Given all the new info and guidelines surrounding the Comic Con Africa 2020 event, will you still be going? Let us know in the comments!