With the amount of competition within the online slot industry, and the amount of slot developers that are publishing these online slots, it has created a huge market with a lot of characteristics and features.
Slot themes have massively broadened. When slot machines first began, players could only play classic slots that consisted of your standard fruit machine symbols, these slots used to be 3-reeled as well. It was very basic and there wasn't a great deal of enjoyment in them, you would literally just keep spinning to win money. Whereas now, due to the number of themes, characteristics, features and innovative ideas that have been implemented into online slots, we are able to experience some humorous slot games and have more enjoyment with them. Customers are able to play slot games based on their favourite characters and hobbies now, whether you want a football slot or a dragon slot, you can have that.
In this instance, we are going to take a look at comic character slot games. Comic characters are a great theme for slot developers to target, as it allows the customer to have a sense of reminiscence to their childhood, back when they may have used to have bought comic books and really became fond of the characters. Below, you can find some of the best comic themed slot games that have some of the most popular comic characters of all time included in them, for you to enjoy.
To view the comic heroes in action and try it out for yourself, you can do so at a range of different online casinos, such as Betable casinos. To give a little bit of background as to who they are, Betable is a company that produces excellent online casinos for the gaming industry. This company is licensed under the United Kingdom Gambling Commission, which ensures it is a safe ad fair platform. If you are a gambler that is serious about winning money, then a Betable casino is an excellent choice of platform.
Batman V Superman: Dawn of Justice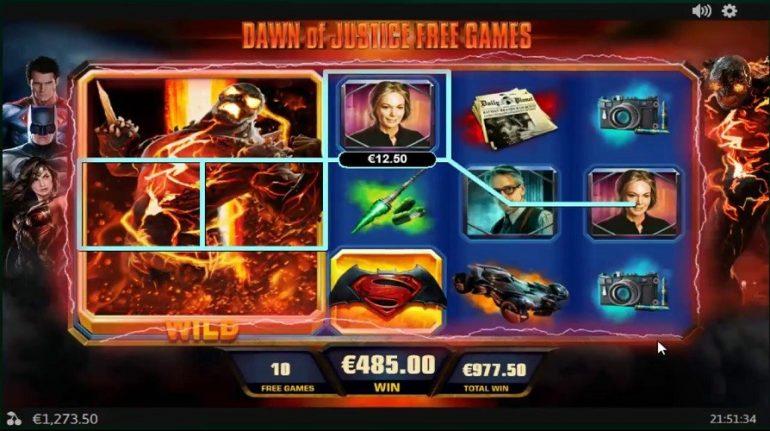 The first online slot that we would recommend, which is massively popular, is the Batman V Superman Dawn of Justice slot. This is an excellent slot game that we are sure Playtech are very proud of. This slot includes both the excellent comic characters of Batman and Superman, of course. This slot game is also based on the 2016 film, which has been recreated excellently into a fun and exciting online slot game. Playtech has experience with entertaining comic themed slots after they produced the Man of Steel slot back in 2013.
The graphics on this slot game are excellent and make for a great gaming experience. This is a progressive jackpot slot game, which means there is a huge jackpot prize to be won! With a progressive jackpot, a set amount of every player's betting stake is put into a pool, when a player then lands the jackpot, they win the pool, which can be a massive amount. However, there is not just 1 progressive jackpot to be won, there is a total of 4 DC Comics progressive jackpots to win. This slot game is also available across a range of mobile devices, so you can play anywhere at any time.
There are some great bonus features included in this online slot, for example, the Dawn of Justice free game feature. This feature can win you a considerable amount of free spins and this will surely ensure that you land some huge wins.
Iron Man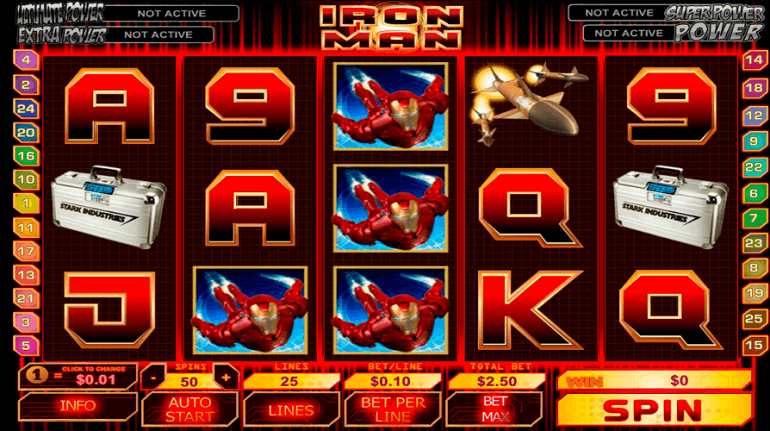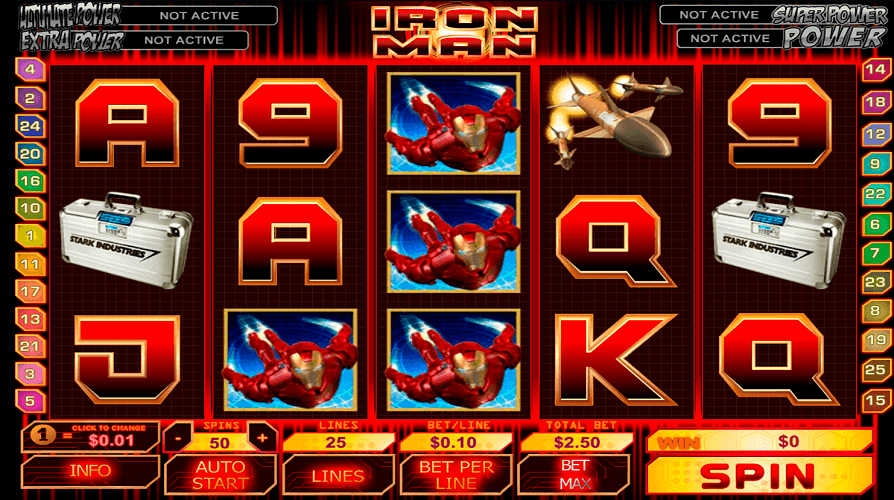 Another popular online slot game that is based on comic characters, for you to enjoy is the Iron Man slot game. This Iron Man slot game is one of the originals that is based on the 2008 Iron Man film, which featured Tony Stark and also Robert Downey. It is another comic themed slot that is brought to us by Playtech, who seem to have a habit of producing some excellent comic slots, they have really mastered this theme and targeted it.
This online slot game is a 5-reel slot game with 25 pay lines. Playtech has mastered the Iron Man theme with a fierce red background. There are some very creative and rewarding bonus features involved in this online slot game, which include Expanding Wilds, a Missile Attack which is a bonus game where customers have to shoot down a selection of missiles to reveal cash prizes, multipliers and also free spins. The final bonus feature is the Mixed Pay Wins bonus, this will allow you to possibly win cash by simply landing 2 different wild symbols on the same pay line. This can be triggered at random so look out for it.
Justice League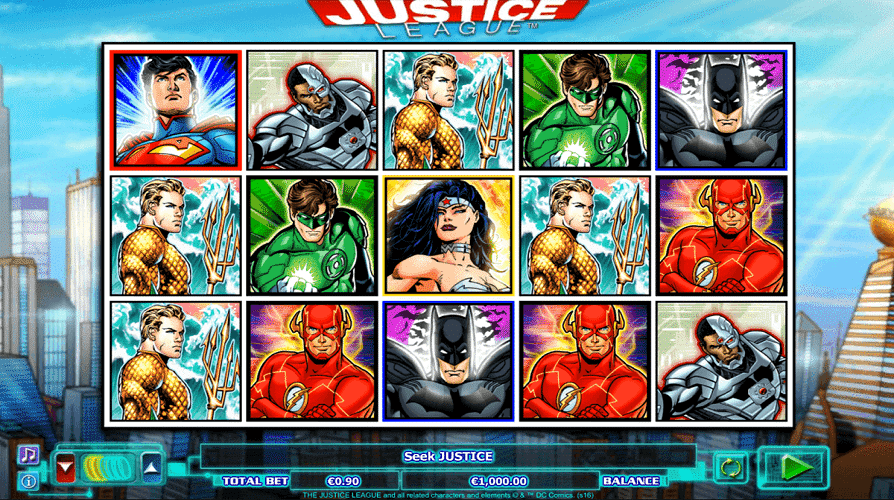 The Justice League is one of the DC comics that is sort of left at the end of the pile and doesn't have as much popularity around it in comparison to other DC comics, like batman, scooby doo, superman, wonder woman and more.
The Justice League has been a group of members that has been changing over the years. It was first released in 1960, where the members were Aquaman, Flash, Martian Manhunter and Wonder Woman. In this particular online slot game, the number of members in the Justice League has increased, which is not a bad thing, as it makes it more entertaining and includes more of player's favourite DC comic characters. The members include: Superman, Aquaman, Martian Manhunter, Batman, Wonder Woman, Green Lantern.
This slot game is a 5-reel slot with a total of 25 pay lines, quite standard of a slot game. The aesthetics to the slot is excellent. Bearing in mind that is a new and fresh online slot game, Nextgen has still kept the cartoon feel about it, however, they have added some excellent graphics to make it look slightly more modern and appealing. In the background to the slot game, we can see the blue skies and sun shining over the huge buildings and rooftops, emphasising the size of the city in which these characters roam through. Overlaying the background is the slot reels, here is where you can find all of the slot symbols, which are of course designed as comic characters.
The symbols are all of the characters that we listed before, Superman is the most valuable symbol, who can win you 300x your betting stake if you get 5 in the active reels. There are 3 really exciting bonus features included in this slot game, which are the Superhero Power Up, Attack on Metropolis Free Spins and a Gamble Feature.
Thunder Cats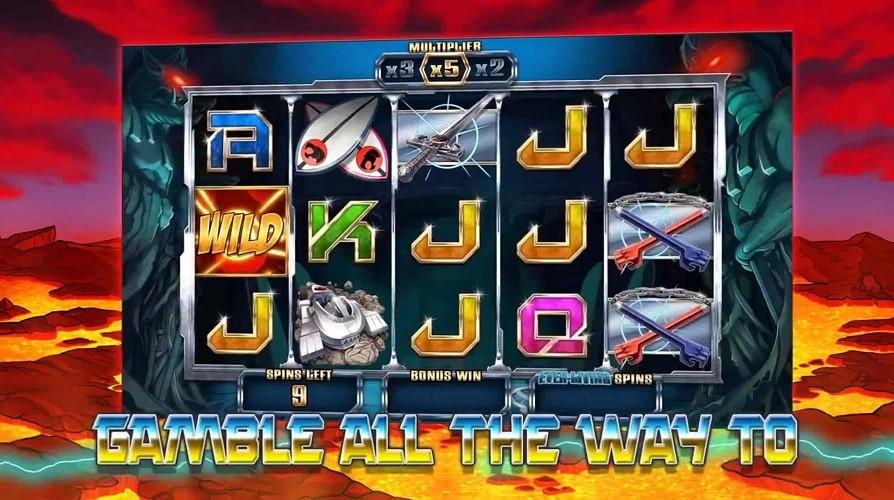 Thunder Cats is an original cartoon which is often not mentioned a lot due to the fact that it is not like the other slot games where they have had film remakes based on that particular cartoon character over the past few years. Thunder cats' cartoon was released around the 1980s. It also was made into a video game over recent years. As you can imagine, Thunder Cats are super hero's that have cat-like appearances and features.
This slot game, based on Thunder Cats, is a 5-reel slot game with 30 pay lines. The creative themed based symbols of this online slot game include: The Thunder Cats logo, the sword, the weapons, the vehicle and the surfboards. The wild symbol is Tygra and the bonus symbol is the Thunder Reel.
In terms of bonus features, there is a lot going on in this slot game, this is massively convincing for players and is very exciting for them to acknowledge. There is a Thunder Bonus Free Spins, which is triggered by landing between 3 to 5 of the Thunder Reels bonus symbol on the active reel. You will then get a chance to spin the Thunder Wheel and this will determine what free spin reward you get. The different rewards that you can get include: Ultimate Thunder Spins, Mumm-Ra, Slithe, Monkian and Jackalman. The other bonus feature involved is the Character modifiers. This is triggered by landing the special symbol on reel 5, it will spin a wheel and pick a character for a mini-feature as follows: Lion-O, Tygra, Cheetara, Panthro and Wily Cat.
Spider-Man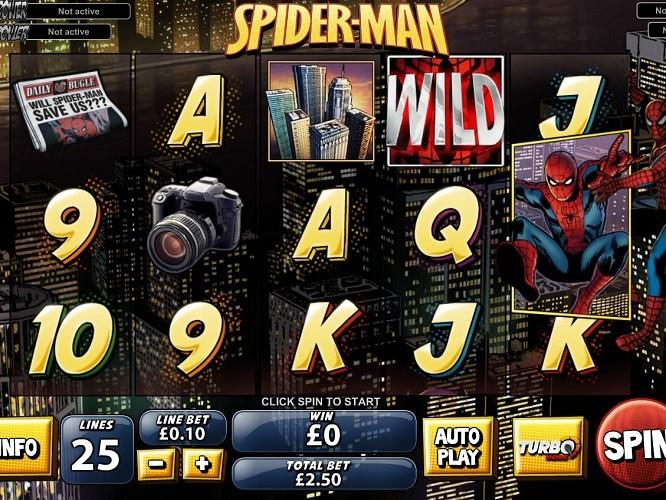 The final superhero comic themed slot game that we would recommend to you in order to experience a slot with your favourite characters and potentially win some money, is the Spiderman slot game. This is the "Spiderman: Attack of the Green Goblin" slot game, which, in our opinion, is an excellent play.
This is another marvel slot game powered by Playtech, and it is another progressive jackpot. So, as well as enjoying what is an excellent theme for you to enjoy, you can also win a life-changing sum of cash. Whilst you are playing this fun and interactive slot game, you can enjoy some dramatic soundtrack to really get you in the mood. The symbols to this slot game include a Daily Bugle, Sky Scrapers, a camera, a green goblin and Mary Jane Watson. There is a wild symbol and also a Spider-Man bonus symbol.
There are a few different bonus features that are included in this slot game. These are excellent chances for you to land some big prizes and it also allows Playtech to relate more to the Spider-Man theme, making it more enjoyable for customers. There is a random bonus feature that can be randomly activated. The random bonus consists of a Spider-Man wild that can stick multiple reels in place for the next spin and also a Spidey Snapshot feature which can reward you with a multiplier of either 3x or 10x your betting stake.
There is also a Spider-Man collection bonus. This is the main bonus, which to begin with, you will see comic books flying past, you then get to press stop and select one of the books. This will then launch one of the following 5 games.
Hot Zone Free Games: This will give you 20 free games and also some free spins. During this round, the Green Goblin is worth a 2x multiplier.
Rivalling Free Games: This is another round of free spins for you to win and each time the Spiderman logo appears on the third reel, the counter will stop, and this could give you a huge amount of spins. During this round, you can also claim a multiplier bonus which can increase.
Radioactive Free Games: Here you will win 15 free spins and more wilds on the active reels.
City Chase: In this chase, you have to hunt down the green goblin in order to win bonus points. With these bonus points, you can pick items to win prizes. During this round, it is a good idea to try and collect spiders and masks that will help extend you mini-game and pick you the best prizes.
Ultimate Fight: This is the best feature, where you will be able to fight the Green Goblin. Choose the question mark icons in order to reveal which attack you want to use. Get 3 strikes in a row for a combo strike. You will win a prize, no matter what the outcome of the fight, but if you win the fight, your prize will be better.
Summary
If you like these slots, please visit choice casinos, where you can find a range of casinos that offer these slot games for you to play. As well as this, you can also find a range of different bonuses for you to claim at these casinos and spend them on these slot games, giving you a better chance of winning.