There are plenty of Smart TV brands on the market today. With the tag of being a 'smart' TV, the expectation is that users will receive all the apps and features to customise their viewing and streaming to their preference. However, as we've seen repeatedly, it isn't always as straightforward, from not supporting your preferred apps to issues with quality and updates. There is an easy solution to this in the form of TV boxes and similar. However, with the added cost and scepticism from users, it isn't always an easy sell. The ColoVU C1 Plus Android 4K TV Box provides improved performance and is inexpensive.
RELATED: Mediabox MBX4K Ranger – An Android TV Box with Great Value
With limited options on the market regarding variety and plenty of specifications, users aren't always up to date on what to look out for and whether any specific device provides excellent value. The ColoVU C1 Plus is a simple device with a lot of features. We take a look at what it has to offer.
Build and Design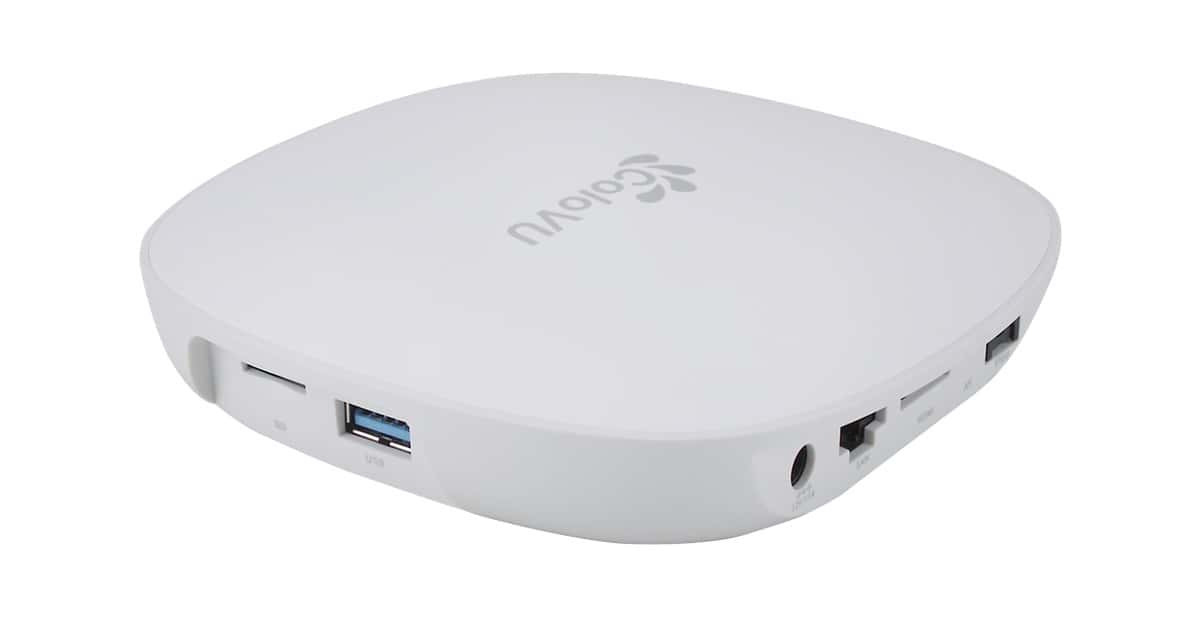 The design is a very simple one. A flat, square box with rounded edges. This is the standard look and feel of many TV boxes. The flat design means it fits beneath almost all TVs without an issue, so you don't need to worry about finding a spot to place the device once set up.
The ColoVu C1 Plus is much more rounded than most other devices, so it looks a lot softer with its aesthetics. However, while many other boxes have a black finish, it has a matte white plastic finish. This contrasts with modern TVs with their black trimmings and finishes. As a result, it stands out quite a bit and may not be to everyone's liking.
If you have a TV stand with a cabinet layout, you could tuck it away neatly away from being visible to guests. Thanks to its Bluetooth-enabled remote control, you don't need the direct line-of-sight as many other infrared remotes. It works great as a result, even allowing for voice commands.
There are two sections around the sides where the ports are visible. The first batch of ports features USB and microSD card ports. On the other end, it features, from left to right, the power input, LAN port, HDMI port, AV in, and a SPDIF port for digital audio output.
The device has a conventional overall look while being a bit rounder than most. Offering a black variant to fit your existing configuration would be great. Overall, it's not a bad build and works nicely with its available ports.
RELATED: Skyworth G6 Android TV Review – A Great Smart TV
Setup and Configuration
As with many Google-enabled devices, setup is a breeze. Firstly, you'll need to plug in all the required cables in the packaging. This includes the HDMI cable and power adapter. Everything you need is included, so you don't have to be concerned about finding any specific or missing items to proceed.
Upon first power on, you've given the option to utilise an existing Google account, which then pushes prompts to your smartphone to proceed with the configuration.
Once you've followed all the prompts on-screen, you'll be presented with the default Android TV layout. This includes the YouTube and Netflix shortcuts as a default before signing in to each app and being provided with your preferences and suggestions. From there, you can search for and install all your preferred apps and streaming platforms, which you can then configure to display on the home menu.
Plenty of customisations are available for the Android TV experience, although not many in terms of themes as with the Android OS on your smartphone. Irrespective, it works great from a streamlining perspective, allowing you to power on and enjoy your most used apps.
Performance and Features
With all the apps and layout preferences, the ColoVU C1 Plus interface is already worth its price compared to the conventional TV configuration. However, there's still a matter of performance and a list of features to get through that make it an even easier sell overall.
Although discussing this in detail may not be necessary, the device features an Amlogic S905X2-B ARM Quad 64-bit Cortex-A53 2GHz CPU. This is paired on the SoC with a Mali-G31 MP2 GPU, DDR4 2GB RAM and eMMC 8GB internal storage. The device works swiftly enough not to notice any lag or delay and is almost crisp with each selection. This is hugely advantageous compared to the often-slower interface on my Smart TVs.
RELATED: LG C8 65" Review – A Feature-Packed, Visually Pleasing Smart TV
The devices have Android OS 10 for TV installed. This isn't the latest, with the Android 13 for TV being released. However, there aren't many devices or TVs with 11 or 12, let alone 13. It would've been great to experience the latest firmware, but there are sufficient features and options to make quite a big difference.
The connectivity options are also great. It has an Ethernet port, as with many TVs, which isn't utilised by many. Its WiFi 2.4G ve 5G 2T2R is far more utilised, paired well with Bluetooth 4.2 connectivity for your remote and even smartphone and other gadgets like video game controllers.
Other valuable features include HDCP 2.3, DRM (Google Widevine L1, Microsoft PlayReady), and a host of video and audio codecs to play the latest content without issues, including Dolby Digitial and Dolby Atmos. This includes running videos off your portable drives or sharing directly from your smartphone.
And, speaking of which, streaming from your smartphone is a breeze, mainly thanks to the Chromecast feature. The Chromecast feature is readily available once you've configured the device upfront. As long as you're on the same WiFi network, which you should be at home, you can cast anything from your smartphone onto the ColoVU C1 Plus. I haven't experienced a more seamless integration of this feature, and it just works.
Lastly, and one of the biggest reasons I'd suggest recommending a TV box, is the addition of 4K streaming. It may seem trivial to most with a 4K TV and its native apps, but after utilising the Android TV box, it was clear that most apps don't offer full HD streaming support. Even for apps that offer 4K streaming, like YouTube, the ColoVU C1 Plus improved visuals to the viewing even more aesthetically pleasing.
Is the ColoVU C1 Plus Android 4K TV Box Worth It?
There are plenty of reasons to invest in a TV box. The ColoVU C1 Plus Android 4K TV Box provides so many great features and delivers excellent quality 4K streaming that you'll be impressed. With the additional Chromecast support, the device delivers beyond levels of expectation, making it a straightforward sell.
The device has a recommended retail price of R1,599, a worthwhile investment. However, plenty of purchase options on the market will save you R200 or R300 to make the deal even better.
The Review
ColoVU C1 Plus Android 4K TV Box
The ColoVU C1 Plus Android 4K TV Box is a great addition to your entertainment system that is great value for money.
PROS
Proper 4K streaming
Android TV and customisations
Chromecast seamlessness
Extremely crisp interface
CONS
Matte white finish may not fit in with many TV configurations
Review Breakdown
Ease of Learning

0%

Ease of Use

0%

Design

0%

Performance

0%

Enjoyment

0%

Value for Money

0%