CGI films have been around for quite some time, but good films with believable graphics were always left to the big-budget studios and the likes. With more affordable software suites and more powerful hardware, you don't need multi-million budgets to churn out some good quality films. Evidence of this was the software used by a team to replace Superman's moustache for a few hundred dollars. Due to this reduction in costs, studios can now create more movies with CGI monsters, that are actually enjoyable to watch. Colossal is one such movie.
Colossal is a quirky film which plays out as more of a semi-romantic comedy than an action adventure. Anne Hathaway plays Gloria, a 30-something-year-old journalist whose life is in quite a state of ruin due to an excessive drinking problem. After an argument with her boyfriend, she's kicked out of their apartment and forced to return to her childhood home. Of course, she does some soul-searching while there and, after meeting an old friend from her youth, she gets a job at a bar. One morning after having been woken from her comatose state, she hears the news that Seoul has come under attack by a Kaiju-like monster. Not long after, she discovers that, if she stands in a specific spot at a playground nearby at exactly 08:05, she takes the form of the Kaiju in Seoul. The monster mirrors all her movements on the other side of the world. Needless to say, things quickly get out of hand for Gloria and her friends after the discovery.
The Kaiju itself forms part of a more meaningful metaphor for the events unfolding in Gloria's life.
At the start of the film, I expected a lot in the way of the Kaiju forming a large part of the film, but the story is about a lot more than that. The Kaiju itself forms part of a more meaningful metaphor for the events unfolding in Gloria's life. All the inner battles and outward manifestations that are overcome are all part of the character's growth, which we get to be a part of as the tension builds from a quirky and charming tale to something a lot more sinister by the end.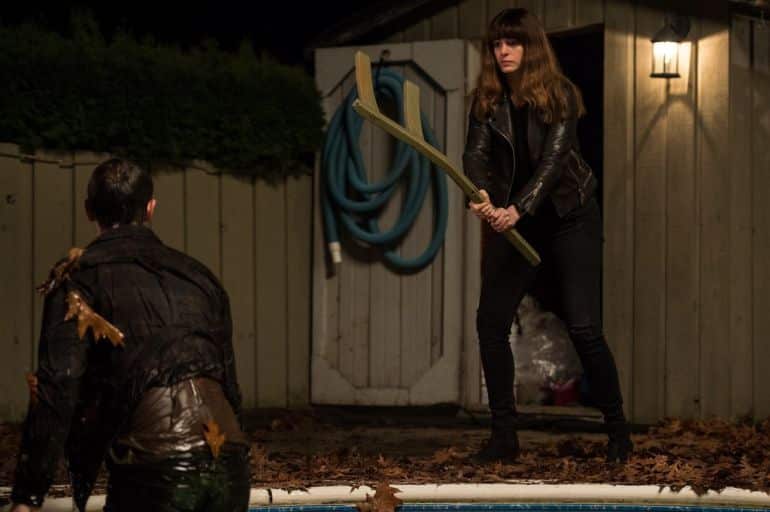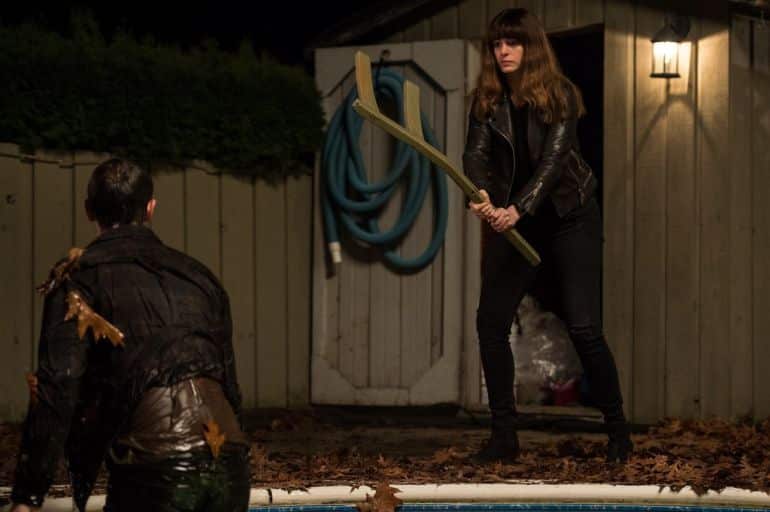 If there's one aspect of Colossal that is somewhat glossed over it's the consequences of the Kaiju's destruction in Seoul. Yes, we're shown some of the effects via the news feed, as well as Gloria's shame in her part in causing it, but we never really get a sense of the fear and torture of the lives lost in South Korea. While it may not do much for Gloria's story arc in the end, it would provide a lot more tension and significance.
In the end, Colossal is an interesting take on a monster film. Instead of having it mindlessly rampaging through a city or attacking other giant monsters, as we've so often seen, it's used sparingly and with good timing throughout. While movies like Godzilla suffer for their lack of monster screen time (in Godzilla's case, less than 3 minutes for a 2-hour film), the lack of it in Colossal only serves to build tension for a greater purpose. At times, there are a few flat spots, but it all comes together in a giant chaotic mess. That mess serves as a metaphor for the actual story and how we can successfully overcome this chaos by means of a few hard decisions.