Are you ready for a Karate Kid universe? The word on the street is that the showrunners of the breakout hit TV series are looking to expand. Let's hope they've considered a Cobra Kai spin-off TV series focused on Mr Miyagi.
Netflix execs must be celebrating. After all, their big investment in Youtube's Cobra Kai series has paid off in a really big way. Right now the entire world has Karate Kid … or rather Cobra Kai fever.
By expanding on the popular '80s film franchise, the team has managed to explore all the different aspects of the various characters. We've learnt that Johnny Lawrence actually has a good heart. We've learnt that Daniel LaRusso wasn't as innocent as he first appeared to be in the films. We even learnt that John Kreese wasn't always a bad guy. But, most important of all, we learnt that karate still has the power to influence and change a community.
That said, there is one aspect of the franchise we'd love to learn more about: Mr Miyagi's backstory.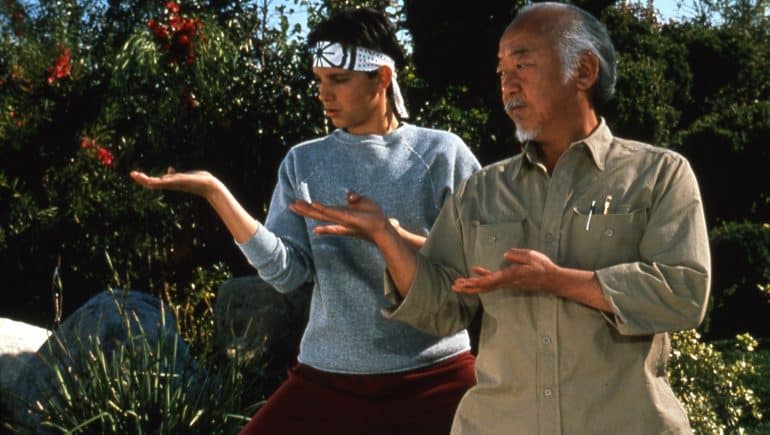 Even though the wise sensei has appeared in flashback clips throughout the first three seasons, due to the passing of Pat Morita in 2005, it won't be possible for any new Miyagi scenes moving forward.
What is possible, however, is casting a younger Mr Miyagi and exploring his backstory in a Cobra Kai spin-off TV series.
Just think about it. Based on the new information we received in season 3, there's so much we don't know about the lovable karate instructor.
What was it like for him growing up in Okinawa, Japan? How did his training go? What was Miyagi like as a youth? How did he meet Yukie? Was he always so wise? How did he end up in America? What was his life during World War II like?
There's a lot more to his journey leading up to the first Karate Kid film. And, personally, I'd love to hear every last bit of it — not just the tiny bits we've had the privilege of hearing through Daniel's story.
Mr Miyagi deserves a Cobra Kai spin-off TV series that begins in 1930s Japan and shows the origins of this beautiful martial art.
Citing Breaking Bad as a particular source of inspiration, the Netflix show's executive producer and co-showrunner Hayden Schlossberg has expressed an interest in creating more spin-offs too.
"Our hope is that we can really expand this whole Karate Kid universe and reinvigorate the fanbase, so that it's a story we can continue telling," said Schlossberg.
"We do have an endgame for Cobra Kai, but we always compare it to our other favourite show, Breaking Bad, [and how] they're able to keep the story going with Better Call Saul and El Camino.
"We spend time with Kreese's backstory [in season 3], but we could've spent more time with Kreese's backstory. We have so many things to tell in these half-hour episodes, it ends up not being enough. We're just having a fun time as friends getting to work in the sandbox of The Karate Kid and hope to keep it going."
"Every permutation of spin-off or deep-dive crosses our minds. It all has to be the right thing, and it has to be the same level of quality that Cobra Kai is. Our minds are always thinking Karate Kid, so that possibility is definitely out there."
We know that Pat Morita loved the character. In fact, he had more ideas for films featuring Mr Miyagi. I'm almost certain he would give his blessing for the legend of the karate sensei to continue.
What do you think? Could a Cobra Kai spin-off TV series focused on Mr Miyagi's backstory work?