Inspired by the likes of The Binding of Isaac and Spelunky, City of Brass is a first-person roguelike set in an Arabian Nights-themed metropolis and developed by some of the same people responsible for Bioshock. That's a winning formula if ever I've heard one, but is it interesting enough to keep me playing long enough to experience what all rogue-likes are supposed to do best, keeping me invested?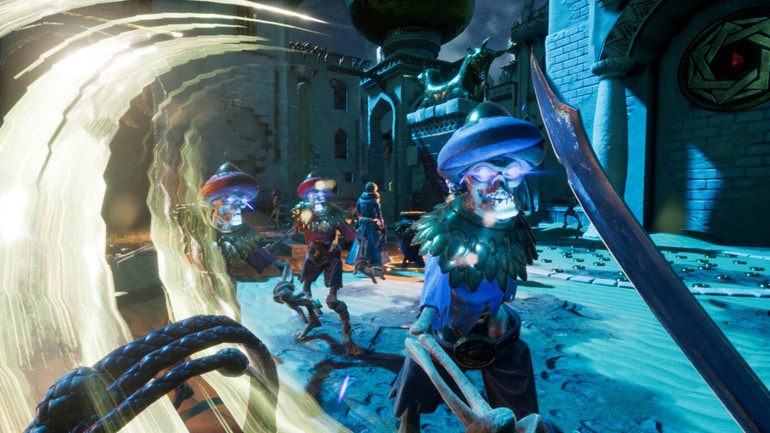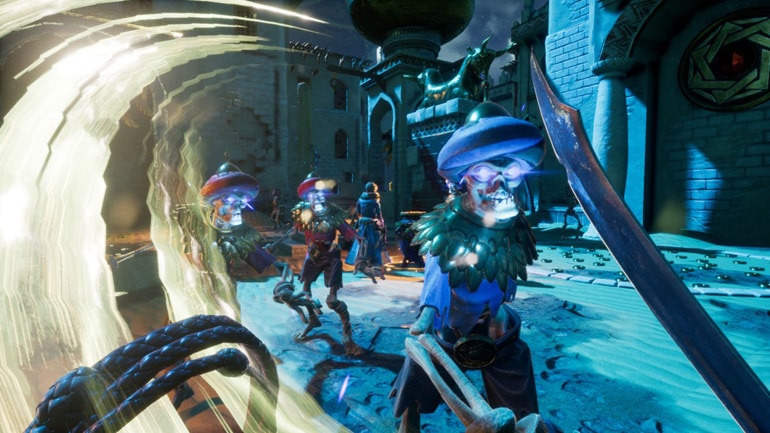 To progress in a roguelike game often requires that you play it over and over again, as you slowly inch your way further and further into its elaborate, randomly generated maze. Repeated playthroughs are rewarded with new items, secrets to discover and different obstacles to overcome.
If you're really determined, you can even challenge others for the top spot on the leaderboards. In fact, player progression is so important to the fabric of a roguelike experience that their story elements regularly fall by the wayside.
It's the sameness I felt during each playthrough… that felt a little off-putting.
I'm sorry to say that City of Brass stumbles in that regard. It's not that its story is lacklustre, it is, but like I said, that's hardly what motivates your average roguelike player. It's the sameness I felt during each playthrough and overall lack of refinement that felt a little off-putting.
City of Brass puts you in the shoes of a daring individual determined to reach the centre of this cursed Arabian metropolis, all in the search of unimaginable treasure. Along the way, you'll encounter deadly traps, navigate precarious ledges, face mischievous spirits, tangle with vengeful genies, and uncover hidden secrets.
So, what's the problem? Well for starters, the game feels clunky; it just doesn't feel nice. The whip and sword you find yourself equipped with feel a tad imprecise and, as a result, so does combat. Mind you, I'm playing with a gamepad rather than my preferred choice, good ol' mouse and keyboard, but it's not unreasonable to want the gamepad experience to be a smooth one.
Combat can be fairly enjoyable at times. But when you're faced with much of the same, room after room, I quickly find myself left wanting. The fact that items found along the way don't dramatically change the way you play, or at the very least don't feel like significant changes, really cuts down on replayability.
Combat can be fairly enjoyable at times.
I don't want 15 variations of the whip, and 20 types of sword, I want a crossbow that freezes, a shield that can turn sunlight into a heat ray at the cost of health, and a javelin I can toss that does more damage the further it travels. There are other items to be found, some more significant than a sword that just stabs a little quicker, but they're few and far between.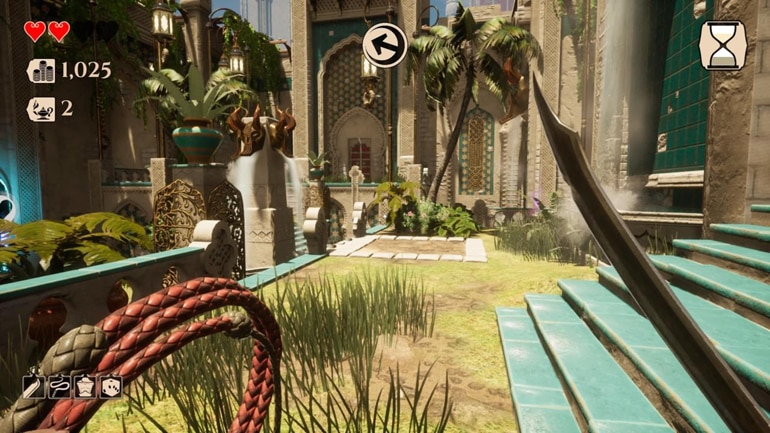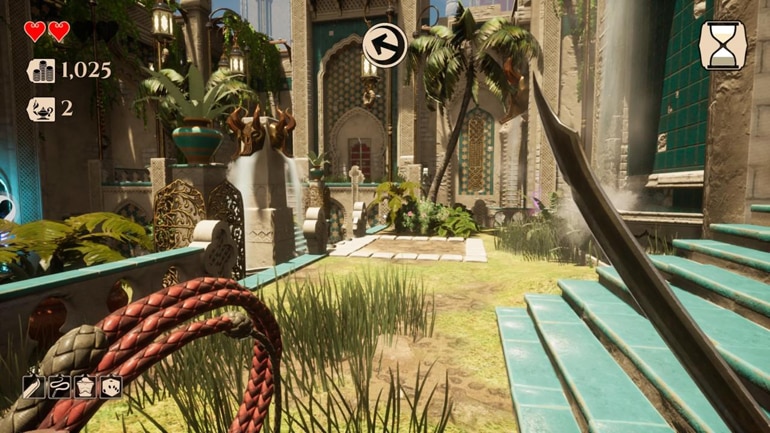 City of Brass just doesn't offer the same level of refinement as its contemporaries, and that hurts it. Don't get me wrong, there's definitely a lot more to it than my initial impressions lead me to believe. Traps and other environmental hazards are fairly numerous, and defeating tougher enemy compositions often requires you to use those traps and hazards in smart ways to gain the edge you need.
The AI isn't too smart, so you can often abuse the fact that you can outsmart them, but you will need to move fast because at the end of a timer awaits some seriously menacing enemies that can quickly bring your run to an end.
You'll also need to collect treasure if you want to purchase items and wishes from genies, but don't spend your treasure too freely, your treasure is your score, too. You could spend more time exploring each level, to maximise your treasure, but remember what happens if you take too long – tick, tock, tick, tock.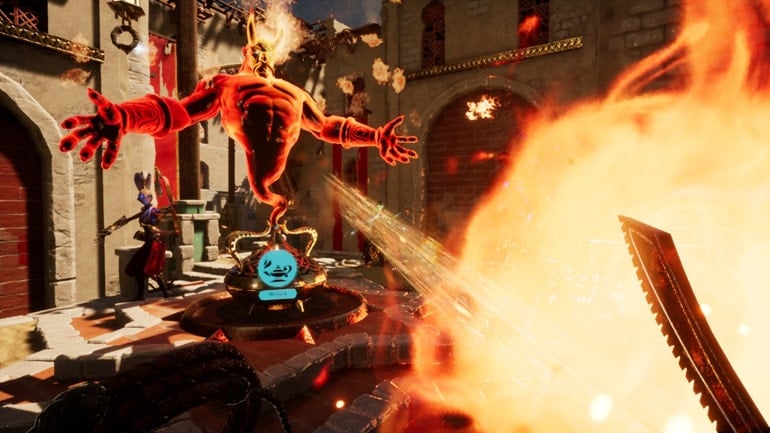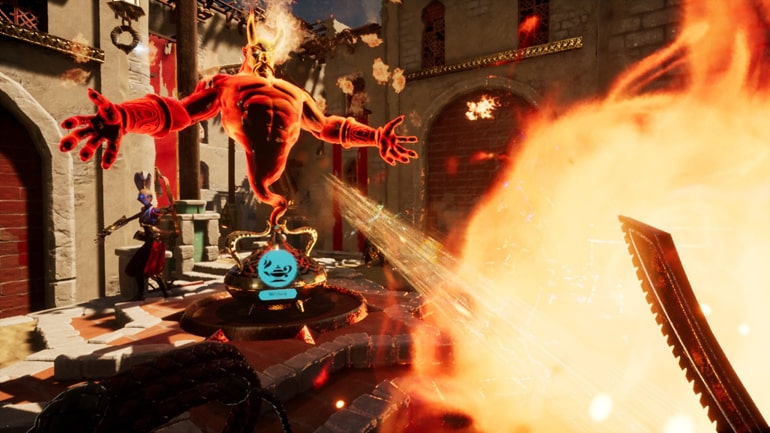 As a roguelike enthusiast with thousands of hours invested in the likes of The Binding of Isaac, Spelunky, FTL, and about a hundred others, you'd think that City of Brass would be right up my alley. It's not.
I don't like the fact that you need to rank up to unlock more powerful items. It's those items that keep things fresh, but it takes too long to earn anything interesting, and by then I've lost interest.
I don't like the fact that you need to rank up to unlock more powerful items.
My reasoning is this: if I can't expect much more than slightly different enemy compositions and moderately different level layouts each time I start a new playthrough, I'm never going to get very far in. I need to replay it, again and again, to make progress in the first place, and to unlock better ways to play, but that means playing a less fun iteration of the game before I can unlock the exciting stuff. No thanks.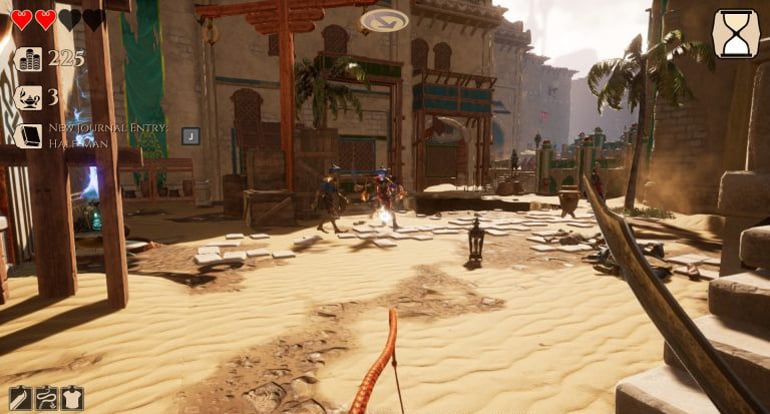 I know I sound harsh, but it's because the roguelike genre, or roguelite if you prefer, holds a special place in my heart, so I hold games in this category to a higher standard. That said, City of Brass isn't a bad game, but throughout my experience with it, all I wanted to do was play any one of the other roguelikes that sucked me in and never let go.