If you thought that The Incredibles were cool, they've got nothing on this fantasy family of heroes! Before receiving Children of Morta for review, I hadn't even heard of it, let alone had any expectations going in. Sometimes, as gamers, it's important to give the little guys a chance because you never know where the next hidden gem is waiting to be discovered. If you're interested in how this underrated powerhouse of pixels blew my unprepared mind, then read on!

Published by 11 Bit Studios and Developed by Dead Mage, Children of Morta is a story-driven RPG that follows a family of heroes known as the Bergsons. The lands that surround the mystical Mount Morta are filled with rich history and magic, it's here that this talented family reside. What's clearly apparent from the get-go is that this is a fully-established world, aided by the immersive storytelling of a narrator who's bass-trembling voice never gets old. The tale revolves around the emergence of a dark presence known as the Corruption, which kills and infects wherever it goes. It's up the Bergsons to valiantly stand together and protect their world.
Players begin their journey by investigating the Corruption in a short tutorial that teaches the basics of combat. It's here that you are treated to the sounds of howling winds as the scope of this attractive wonderland comes into view. Beautiful floating landforms hang among the clouds with neighbouring planets so close that they fill the night sky. The art style is a stunner. I've seen a handful of pixel games that are truly a step above the rest and this title easily joins the ranks with fluid animation, hand-painted art and dynamic lighting. Step into a narrative with themes of family, duty and love set on this canvas of pretty little squares.
Your base of operations throughout the game in Children of Morta is the Bergsons mountain home. It's big enough to fit a family of eight and is complete with a workshop, outside training grounds and even a library for players to sink some time into reading about characters backstories and other lore. Most importantly, however, is the Sanctuary. The Bergsons have a hidden staircase to an underground lair that's filled with mystical crystal energy and empty archways. It's here that portals to different parts of the world are unlocked and players enter their missions. Eat your heart out, Bruce Wayne.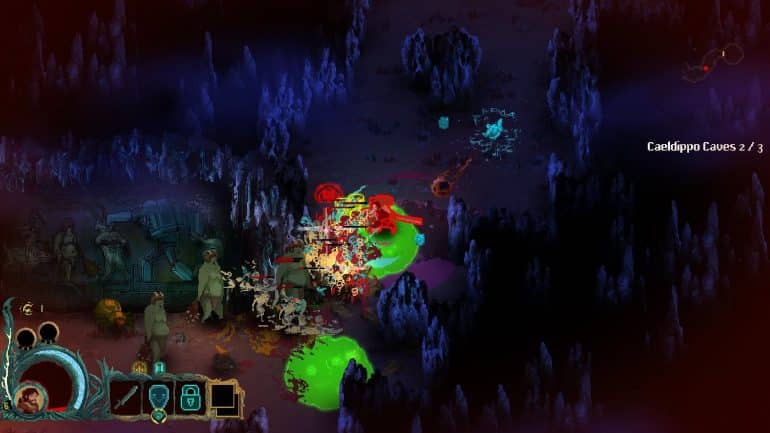 Levels are effectively dungeons, filled with creeps of all kinds and end with a boss that needs to be defeated for the area to be cleared. Due to the nature of having to level up the character's abilities and stats, Children of Morta can feel semi-grindy at times. That being said, however, progression happens faster than you might think.
Power increases and upgrades aside, you'll be able to clear dungeons with strategy as you establish your own priority list of taking down certain enemy types. Funny enough, the game knows very well that you may be stuck on a certain dungeon for a little while until you buff up. In light of this, even if you fail a level, the story continues to progress, more characters become available and opportunities to upgrade reveal themselves.
Family members all feel different with clear strengths and weaknesses for each one. The game is built for you to enjoy all of them instead of sticking to just one. As you level up, each character will unlock passive upgrades that extend to other family members, making it worth your while to have fun with some variety.
If that wasn't enough motivation, Bergsons that spend too long in the dungeons suffer from infections of the Corruption, needing players to rest them and pick someone else before they are fully-fit to fight again. The more you fight, the more XP you gain to level up and spend points in your skill tree. Gold (called Morv) is used to purchase upgrades from the workshop. Deciding what to upgrade isn't easy and ultimately makes the characters feel like your own.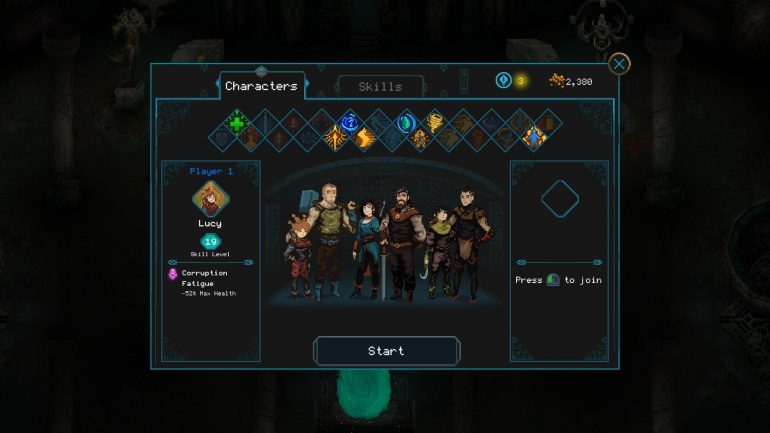 While there's plenty of fun to be had in single-player, co-op is where Children of Morta really shines. Once you've experienced the duality of balancing the hack-and-slash, close-quarters combat of characters like John with the support of a ranged master like Linda, it's hard to look back. As of right now, local co-op is the only way to play with your friends, with online multiplayer reportedly "coming soon".
Dungeons are worth fully-exploring before taking on bosses as certain rooms hold temporary buffs or challenges to gain rewards. The game isn't a walk in the park and will punish you for relying on just walking into hordes of enemies and spamming attacks without thinking about the best way forward which, to be fair, brute force is sometimes the answer to.
Upgraded abilities feel satisfying and the power difference is truly noticeable. Enemies that you used to struggle with are easy to smash with one or two hits. Once you unlock the second area, going back to the first dungeon feels like a walk in the park.
Now, I've said a lot of good things so far but if I have to nit-pick, it's going to be about the real enemy of reviewers like myself. No, not the dreaded Corruption but rather something much scarier… bad spelling and grammar. This may not a be a big deal to a lot of gamers but when you build a world with rich lore and plenty of stories to dig into, it's disappointing when there are common errors on the codexes and scrolls. It personally pulls me out of the story a little but it's seriously not the end of the world.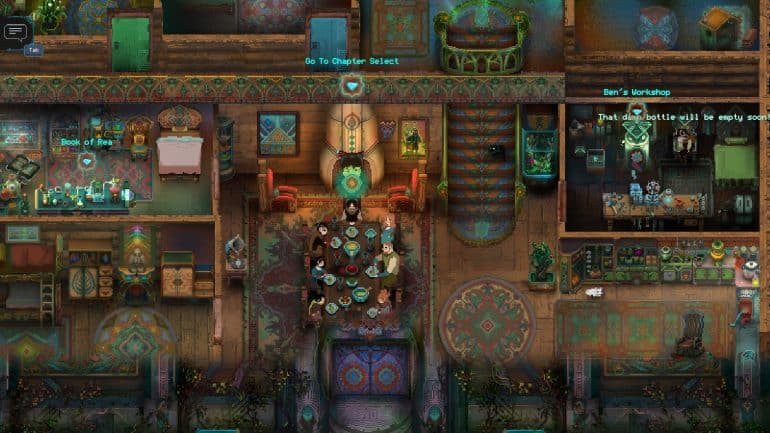 Petty moment over, the only thing better than dungeon crawling in style with your friends would be the feeling of getting a game like Children of Morta for a ridiculous steal. My mind was blown when I saw the R150 price tag on this baby. If that's not good enough for you, it's R120 on Steam until 1 November!
Take my advice and don't sleep on this absolute gem of a title. I have to hand it to Dead Mage, their creativity and skill have produced something truly special. Maybe their ability to make great games comes with years of experience or maybe, like the Bergsons, it simply runs in the family.
The Review
Children of Morta
Children of Morta is a fun and addictive retro dungeon crawler that shines when being played with a co-op partner.
PROS
Addictive Gameplay
Not Too Grindy
Co-op Twice as Awesome
Pretty Pixels
Rich, Immersive World
Review Breakdown
Storyline

0%

Gameplay

0%

Graphics

0%

Replay Value

0%

Sound and Music

0%