Eisner-award-winning author Greg Rucka's comic book comes to life in Netflix's The Old Guard. The action-packed blockbuster film, starring Oscar-winner Charlize Theron and Chiwetel Ejiofor, is directed by Gina Prince-Blythewood (Love and Basketball) and has a July 10 release date on the streaming service.
Here is the trailer.
For those who don't know, Charlize Theron knows her way around playing a badass action hero. Just take a look at Atomic Blonde and Mad Mad: Fury Road, for example.
In The Old Guard, she plays a warrior named Andy, the leader of a covert group of immortal mercenaries.
In the trailer, we see Theron's character introduce herself to a new member of the group, Nile. She makes certain to mention that the team has "an extremely rare skill set."
We then cut to a scene where they are all gunned down and killed. Slowly, they all awake one-by-one and take on the group of killers.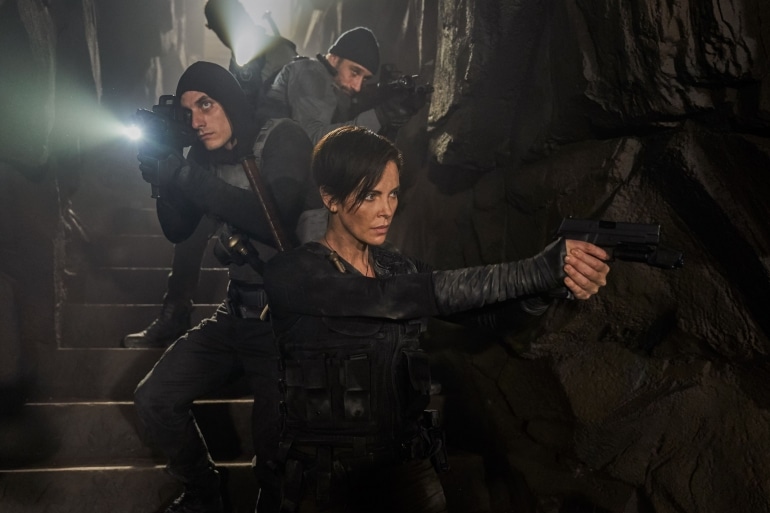 Fans of the graphic novel will be happy to know that Rucka wrote the screenplay himself. That means we can probably assume the film will be a faithful and worthy adaptation.
Netflix seems to be drawing a lot of big stars for new action-focused films. Chris Hemsworth's Extraction was a very big hit with audiences around the globe. Let's hope they have the same fortune with here.
Aside from Charlize Theron, The Old Guard also stars Marwan Kenzari, Luca Marinelli, Harry Melling, Van Veronica Ngo, and Matthias Schoenaerts.