Ever since his comic book origins in the pages of Batman #1 in 1940, the Joker has been a popular figure in pop culture. The recent Joker film starring Joaquin Phoenix is a testament to the extraordinary popularity of the character in recent years. While Phoenix is rightly enjoying high praise for his portrayal of the Joker and Heath Ledger's version continues to be revered but let's not forget Jack Nicholson's stint as the psychotic trickster, The Joker.
In the '80s, Batman and Joker's popular resurgence was largely due to comics like Alan Moore's The Killing Joke (1988) and Tim Miller's The Dark Knight Returns (1986). It was Tim Burton's 1989 live-action Batman film which cemented the iconic status of both Batman and Joker. The success of the film spawned the DC animated universe and three sequels, to varying degrees of success. Jack Nicholson's Joker still remains a tour de force to this day. His was the first live-action film version of the character and it was indeed memorable. Joker's previous appearance was on television, when he was played by Cesar Romero, an inspired role in its own right.
In Burton's version, Nicholson plays Jack Napier a henchman for the mob. In a twisted set-up, a struggle ensues, and Napier falls into a vat of acid. He emerges physically scarred and mentally unstable thus adopting the Joker persona. Nicholson went on to give an iconic performance. So much so, that his Joker outshone Michael Keaton's Batman and Bruce Wayne. Joker was funny, outrageous and diabolical, as he should be.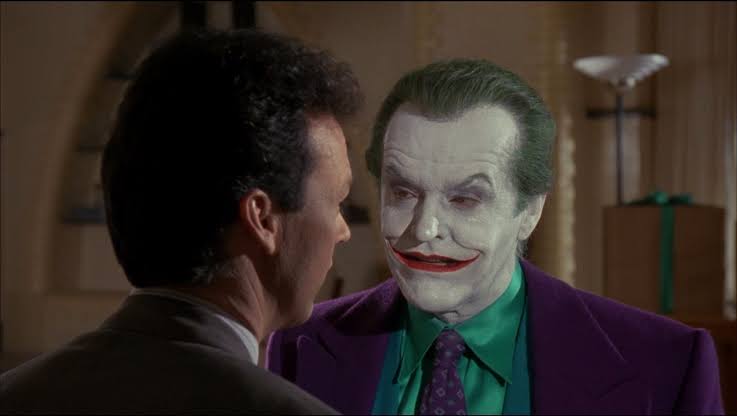 Some of the best scenes of the film include Joker's revenge on Carl Grissom, the mob boss who set him up. The scene is an unsettling yet captivating display of Joker's deranged humour and psychotic tendencies. What's special about this and many other scenes are their neo-noir aesthetic and themes of revenge, crime, mystery and dark wit.
Jack Nicholson, as Joker and his roles in other films like Chinatown, is a master at playing off the shadowy elements of the genre. Other great scenes include; Joker and his gang's dance routine while defacing treasured art pieces at the museum. "Partyman" by Prince blares on the boombox and an over the top, comical display by Joker and his henchman combine for a hilarious criminal endeavour. Nicholson was mesmerising and seemed to relish these onscreen moments.
Before Batman, Jack Nicholson was already a veteran and star of classics like The Shining, Easy Rider and One Flew Over the Cuckoo's Nest. These and other roles often see Nicholson portray the smart outsider with anti-authoritarian, anti-establishment sentiments. Joker is the extreme of this type of figure and Jack Nicholson played it wonderfully. His Jack Torrance character in The Shining was enigmatic and had elements of the Joker as well. He was psychotic, relentless and had a twisted dark sense of humour, which made Nicholson a perfect choice for the role of Joker.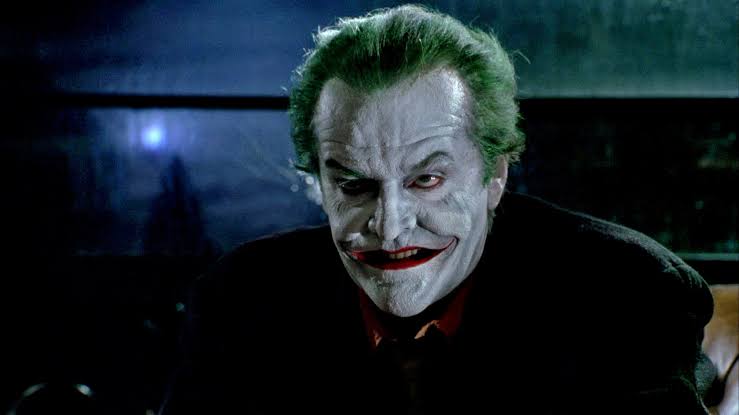 Heath Ledger and Joaquin Phoenix's Joker portrayals may be the two most acclaimed in our day but the high expectations that come with playing the character are due to Jack Nicholson. 
As one of the greatest actors in Hollywood, Jack Nicholson raised the profile of Joker to greater heights and set the stage for other memorable performances to follow.