Welcome to the exciting world of Catan, a board game where the game's name is to trade, build, and settle everywhere possible on the stunning, unique and highly customisable hexagonal map. Suppose you have been in the board game circle. In that case, you might have heard of the name Catan and been intimidated by how many people know and love it, but there's no reason to shy away. Catan is an easy-to-learn board game that offers hours of replayability.
RELATED: Popular Catan Board Game Arrives On PlayStation & Xbox Consoles in 2023
What's in the box?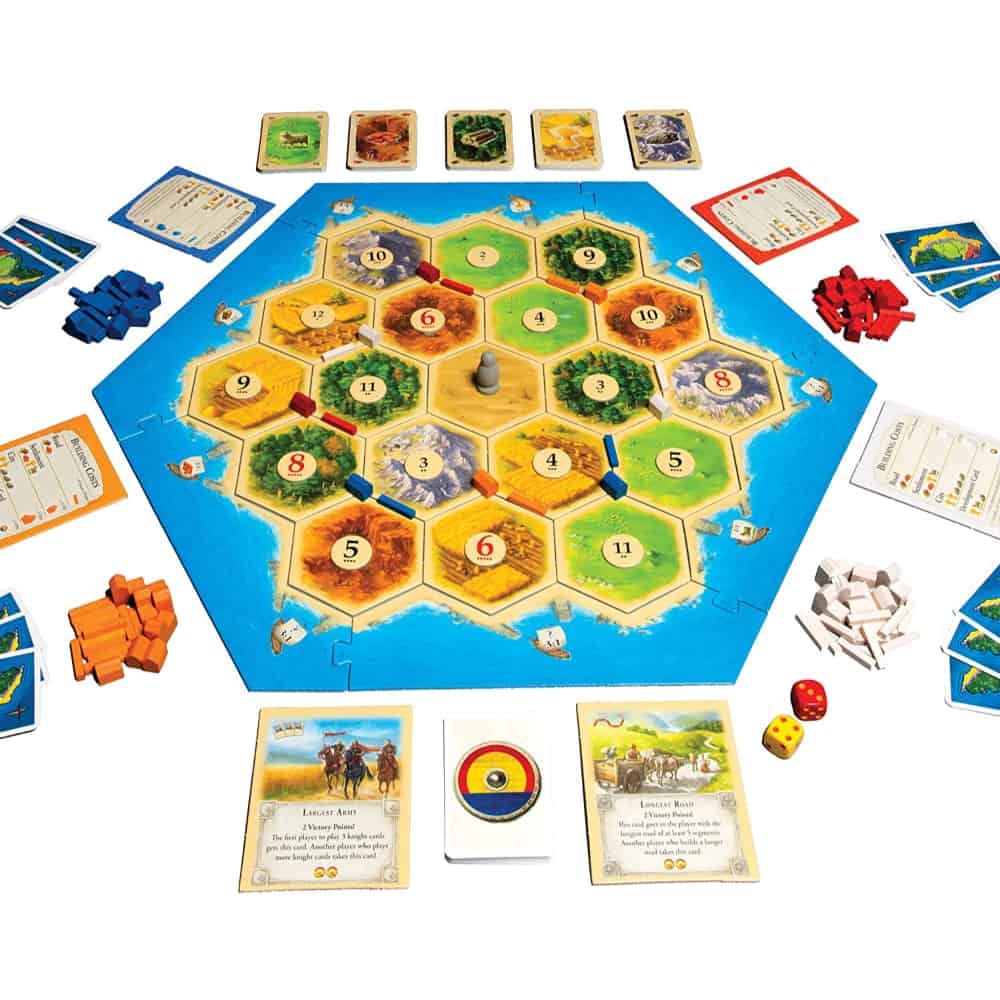 Aside from the box, which is equipped with an in-lay that makes it easy to keep the game's contents as neat as possible, it contains the map. The map comprises 6 coastal frame pieces that keep the 19 unique hexagonal terrain tiles together. With so many unique hexagonal tiles and 9 extra harbour pieces, there are many options for customising the map and giving you added replayability. Additionally, 18 numbered tokens are placed on the hexagonal terrain tiles to create the map.
From there, each of the four possible players gets a building costs card, letting them choose corresponding colours for 20 wooden settlements, 16 wooden cities, and 60 wooden roads. These are all to be split equally between players according to the colour of the building costs card they have.
There are also 95 resource cards, 25 development cards, 2 D6s (s-sided dice), a wooden pawn representing the robber, and the rule book and almanac compiled into one booklet. There are also victory cards the same size as each player's building cost cards.
RELATED: Win A Catan Board Game & Double Tickets to Comic Con Africa
How do you play it?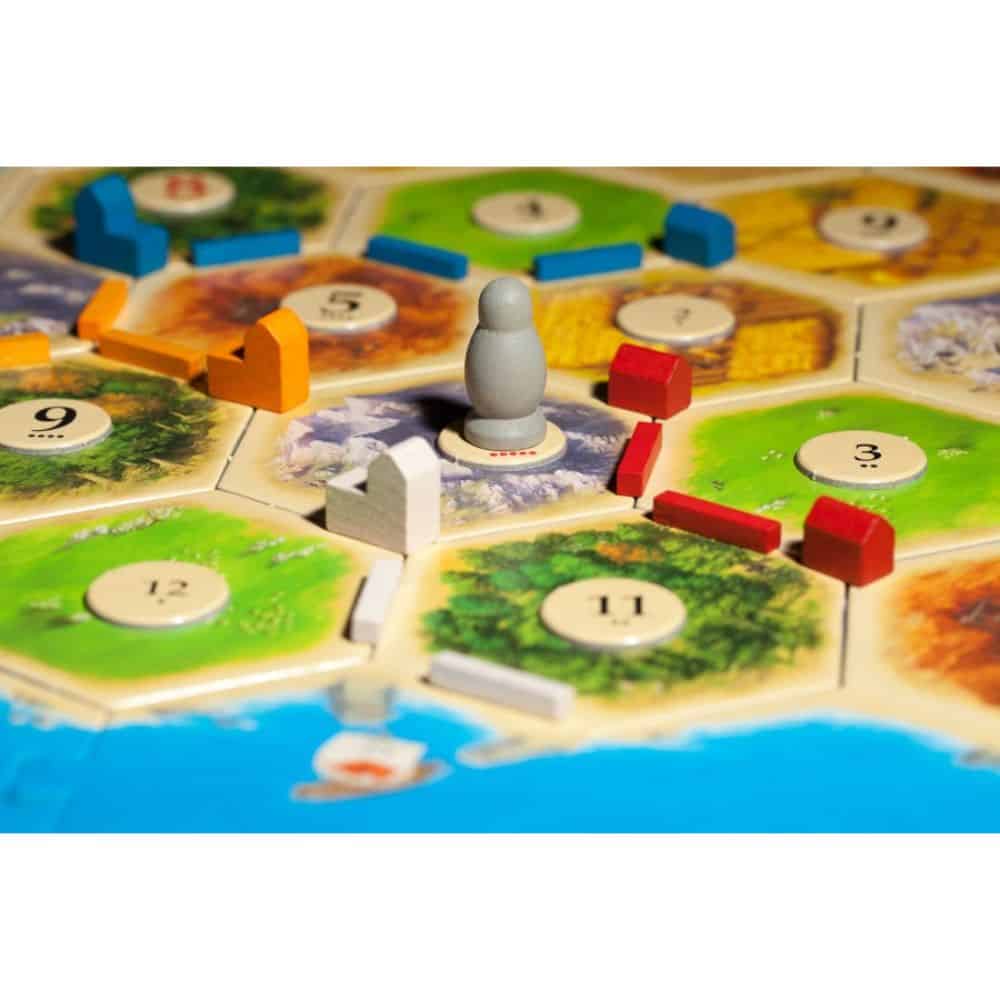 The setup for the game is easy. If you are playing Catan for the first time, the rule book has a specific layout for the map that you can copy for your first game to learn the ropes. This version has images for settlement, road placement, and "first harvest" to make things easier. If you want to randomise your board, page 12 of the rule book and almanac details how to create your own variable setup that will change each time you play because of randomly shuffling tiles and numbered tokens.
Once the board is built and everyone has their corresponding wooden pieces, ensure the resource cards are sorted, and each has their own stack face up on the table. Development cards must be the opposite, shuffled and placed face down on the table. The two unique cards for "Longest Road" and "Largest Army" need to be next to the board within reach of everyone so that they can grab it when it applies to them. Lastly, place the robber on the desert tile.
There are two starting rounds to ensure every play has two settlements and two roads on the board. To start this phase, each player must roll both dice to see who gets the highest number to start first, going clockwise. On their turn, each player must place their settlement on an unoccupied intersection, place a road on any of the three hex edges connected to their settlement, and repeat the same for the second turn. Still, this time, the player who ended round one gets to go first, and the turn order goes around the table counterclockwise.
When placing your settlements, remember that you can't place a settlement on an intersection if there is only one road between them. There always needs to be two roads between them. After starting settlements, you must always ensure that your settlements are placed where they are connected to your road.
Before starting the game, each player gets a resource from the tiles surrounding their second settlement, which are their starting resources. Once all players have resources, the last player to place their settlement goes first. In each player's turn, they roll the dice to produce resources they can trade or build.
When a player rolls the dice, the sum of both dice indicates which tile on the board yields resources. For example, if player 1 rolls a 12 but only player 2 and player 3 have a settlement on the intersections surrounding the woodland hex that says 12, player 2 and player three will get a card for the wood resource.
Once the production phase of the round is done, the player whose turn it is can trade. They can do a domestic trade and trade with other players on the board (all players can't trade among themselves, only the person whose turn it is), or they can do a maritime trade. For maritime trade, if they have a settlement or city by a harbour, they can fulfil that harbour's wish for a resource or trade in four of the same resource cards for one of their choices.
Before the end of their turn, the player can also build. They can build as many roads, settlements, or cities as they can afford if they still have those pieces in their cache.
The game aims to get 10 victory points on your turn. Each settlement is 1 victory point, each city is 2 victory points, and there are unique cards that give players victory points for having the longest road or the largest army. Be careful because players can easily steal those unique cards if they get more than you! Once you have 10 victory points on your turn, you win!
RELATED: Squid Game Board Game Review
What did we think of Catan?
After hearing so much about Catan and how other people loved the board game, I was apprehensive, worrying that it was just hype. It isn't just hype. It was actually delightful to play and easy to learn.
In retrospect, I have nothing wrong to say about my experience learning and playing the game. It's easy to see why people easily fall in love with it. After the first few rounds, we all felt we knew what we were doing and could unleash our competitive spirits.
RELATED: Wingspan Review – A Bird Collecting & Engine Building Board Game
The box is nice because it keeps everything neat, and it comes with a bunch of plastic zip-lock packets that you can store all of your game components if you want to store your box upright. Overall, Catan is a lot of fun and is a board game that I will return to soon.
If you want to get a copy of Catan or expand the game you already have with one of their many expansions, check out the wide range available on Solarpop.