Captain Marvel arrives under a cloud of huge expectations, some fair and some less so. From being the first major female-focused film in the Marvel Cinematic Universe, to being the film taking the same slot in the following year from Black Panther, to being the film that immediately precedes Avengers: Endgame, to worries that she would simply be a Deus Ex Machina for said Avengers film, to another fan backlash against Brie Larson that has been covered enough already and probably doesn't deserve any more airtime. Suffice it to say, for being a Marvel release in March, there was a heck of a lot riding on this one.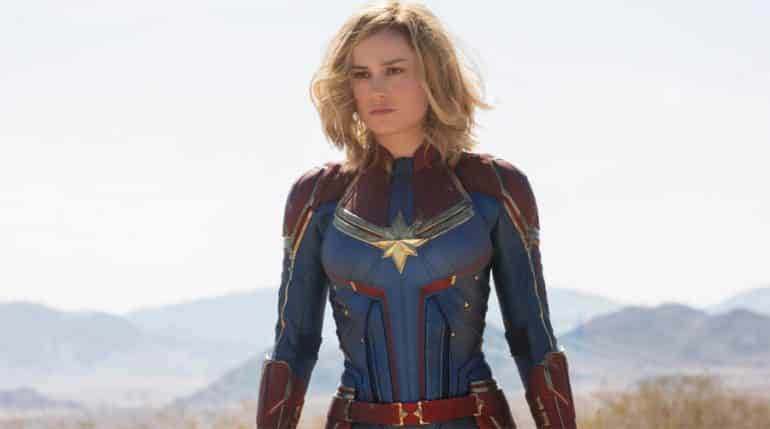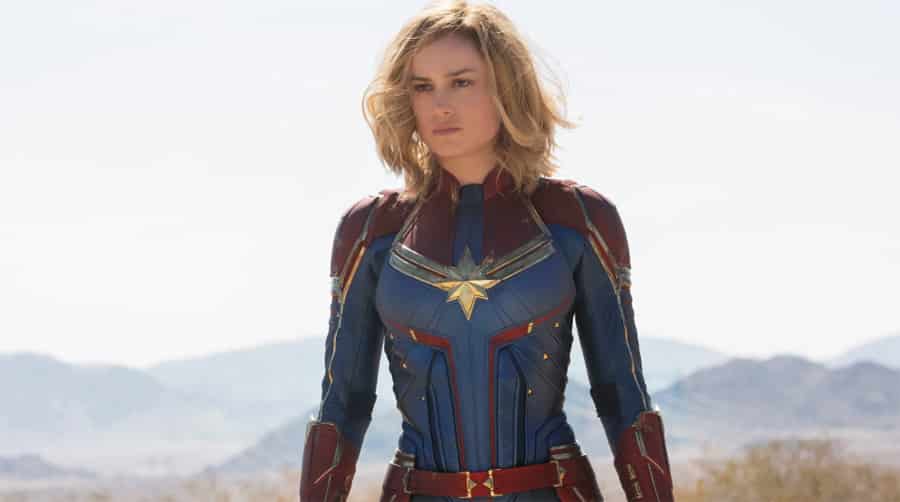 In any event, as a single line summary: Captain Marvel is slightly above average in the MCU canon of films. It neither reaches the lows of something like Thor: The Dark World, nor does it inspire endless rewatches to see that one cool scene again. In today's world where everything must be either terrible or life-changing, that may seem like a bland answer, but it feels like the most honest way I could describe it.
It is not so dynamically a stand-out to be a cultural follow-up to Black Panther. It hits the well-established "Marvel" formula quite well, but with some tweaks here and there to keep the origin story from being a rehash of what we have seen before. The Marvel formula is well established and following it for the most part in the hero's journey is a safe option to take.
It hits the well-established "Marvel" formula quite well…
Let me give away as much as I can that is spoiler-free: The plot begins in medias res, an excellent choice to take for once, which avoids the major structure of the origin story we've seen over and over. Vers (Larson) is part of an alien peacekeeping force led by the Kree. She suffers from amnesia and is guided by her mentor, Yon-Rogg (Law). She possesses the ability to fire energy beams from her hands but suffers amnesia and terrible nightmares that limit their effectiveness. Her team is dispatched to deal with a group of Skrull invaders – an enemy species that can shapeshift down to the genetic level, making them perfect infiltrators. In their natural form, they look like more advanced orcs. Their leader is Talos (Mendelsohn).
Bad things happen and Vers is left stranded on a backwards pile of garbage planet designated as Planet C-53, otherwise known as "Earth." The year is 1995. She is quickly found by Agents of Shield investigating the situation, including Nicholas Fury (Jackson) and Phil Coulson (Clark Gregg). She joins up with Fury to stop the Skrull who have also invaded the Earth in plain sight, and she pieces together her broken memories, including evidence that shows she might have actually come from Earth, to begin with – and was actually named Carol Danvers. In summary, Vers, Carol Danvers, and Captain Marvel are all the same person, just in different contexts.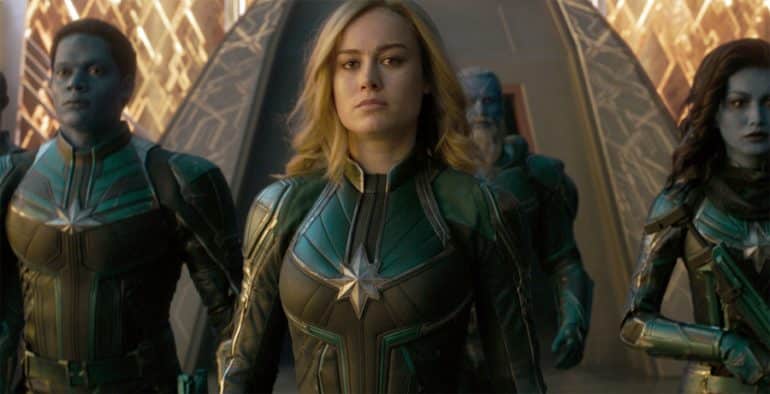 This is how the movie shows the facts to you, and while this may all be tedious and superfluous if you are a super-fan of comics, to begin with, I believe that it makes the actual self-contained plot of this film on its own much better structured for both new audiences and for just being a film on its own.
The 90's setting is well done, with both period appropriate buildings, businesses, cars and music all over the place once she gets to Earth. I'm sure someone will freeze-frame and find errors, but there was nothing egregiously bad that stood out noticeably as anachronous. The soundtrack is good, nothing quite as dramatic as Guardians of the Galaxy's, but I liked the choices. Nirvana, No Doubt and a few other clever choices help add to the period.
The 90's setting is well done…
Let's talk about the characters. I think, perhaps, one of the main criticisms I might have with the film is that Captain Marvel herself feels secondary in many scenes involving her and someone else. Not in terms of the plot really, but in terms of character acting. Carol has amnesia when the film starts, leading her to be very stoic and reserved; almost robotic at times. Even as she develops more as the film goes on, she maintains a very tightly controlled and deadpan personality. I think Brie Larson is a fine actor in the film – she brings across her character's development in a nuanced way, and her personality makes sense at every point for who she is and where she came from. But the simple fact is that because she must be the stoic so much in contrast to the more interesting and fun characters, we end up paying far more attention to the interesting and fun side characters.
However, I do find the supporting cast extremely good in their roles. Vers's initial Kree peacekeeping team are fun, for the few moments we see them. Jude Law plays his character well and he is a good actor in most of the things I see him in. Aside from that, they commit the Marvel sin of assuming we know who these people are, so aside from him, only one other member of the team is named during the movie.
A lot of the film is a buddy-road trip between Fury and Danvers, with Fury de-aged a good few decades and with two eyes. I found the CGI used to make Jackson younger extremely impressive, and its really something you can buy into. He also nails the younger version of Fury perfectly, bringing across a different side to the man that still syncs with what we know of the man he will become. Spending so much time with him lets us really appreciate him more as a three-dimensional character.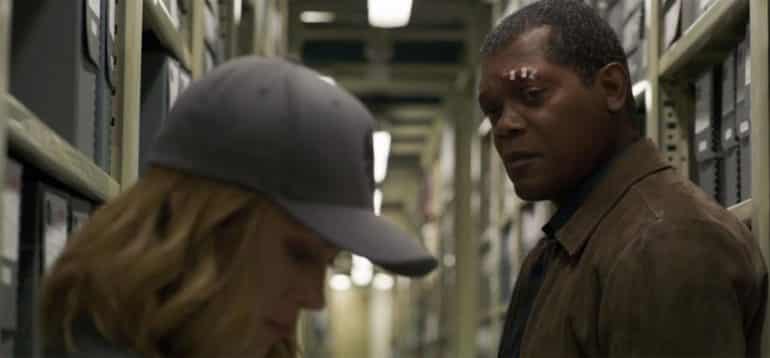 Marvel has always had a problem with villains being underwhelming, but the Skrull are above average in the rankings, especially their leader Talos (Mendelsohn). They are genuinely threating, thanks to their shape-shifting abilities that mean they can be anywhere or anyone, but they're also extremely entertaining and charming in any scenes in their natural forms, as they have a whole manner of movements, noises, sounds and ways of being that make them feel believable as a culture but also great to watch. Mendelsohn gives a stand out performance – I really mean that – and is about as dynamic in his own way as any other great superhero villain. I would come to see this movie just for him, I promise.
The cast is rounded up by surprising little additions like Annette Benning playing the AI leader on the Kree homeworld, as well as Carol's former flight instructor (the AI takes the shape of someone you respect). Clark Gregg is also de-aged to play Phil Coulson, but the effect works slightly less well, and thankfully he doesn't turn up in as many scenes.
There's also a cat. His name is Goose. You will love Goose.
There's also a cat. His name is Goose. You will love Goose. Captain Marvel and Nick Fury are occasionally side-lined in scenes by a cat who steals the show. This is fine. Accept Goose as your new idol. That is all.
Let me round this all up with a few more short points of criticism. There is going to be a Superman problem with Captain Marvel. This will be more apparent in Avengers I think, but there are shades of it here. By the end of this movie, she is just so much more powerful than any other character in the Avengers so far, that conflicts will be utterly trivial unless she is restrained in some way, and it will have to be a fairly well-written way. I have a theory myself but won't mention it here for spoilers so long. Perhaps once everyone's seen the movie, we can talk about it, but for now, we will just have to wait and see how Endgame manages it.
Also, the film retcons a lot about Nick Fury's development to be more centred on his experiences with Captain Marvel in his film. This drastically changes motivations seen in MCU Phase 1, and even further beyond, and I think especially ruins the first Avengers film a little bit in hindsight. However, if that kind of thing doesn't bother you, then don't let it worry you now. In the interests of being fair, it does contribute to the Guardians of the Galaxy universe and lore nicely, so if you want that part of things to be expanded, then you will get that here.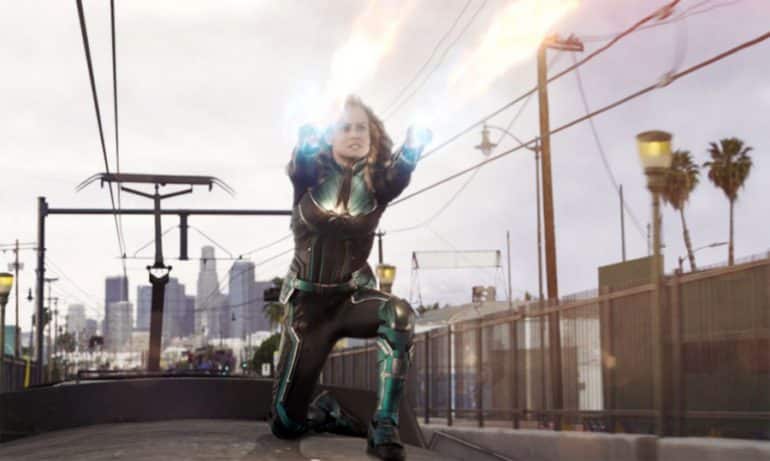 Overall, I enjoyed Captain Marvel a great deal, but I don't feel compelled to watch it again. It's a film that works best when you don't know what's coming. It has a few twists, some of which are great, and some which are more predictable, but once you know they're there, you can't un-know them again. I think the visuals are serviceable for a film on this scale but not as impressive as others in the MCU. The space thing was very fresh for Guardians, but even by this stage, post-Ragnarok and post-Infinity War, we have seen a lot of it. I loved the side characters and their interactions, and I think Captain Marvel herself was fine. Aside from one possible plot point that might just be me overthinking things, you don't "need" to watch this film to understand Avengers: Endgame, but it does add some more hype and excitement for that film coming up.
The Review
Captain Marvel
Captain Marvel is slightly above average in the MCU canon of films. It neither reaches the lows or highs of some of the previous Marvel films.
PROS
Great acting
Interesting tweaks to the original story formula
CONS
Carol Danvers a little bit overshadowed
Retcons a lot