Helmed as Marvel's masterpiece, thawed-out war hero Steve Rogers (Chris Evans) returns as the titular superhero in the third post-Avengers sequel (the 9th installment in the cinematic universe), Captain America: Winter Soldier.
While he might not be a giant green monster or a god from a distant universe, the red-white-and-blue crusader is tricky source material to transfer to the big screen. In a peroid where comic book movie fans prefer their characters hardboiled, sarcastic and gritty, Caps is a finely etched hero who's literally wrapped in the American flag and boldly stands for sincerity, decency and justice. Even so, this proves to be key to his appeal. Despite featuring an uneasy, stiff-necked boy scout, Winter Soldier delivers on its promises of reducing CGI (at least in comparison to the other Marvel films) in favour of good old shoot'em up action and an intriguing suspense story.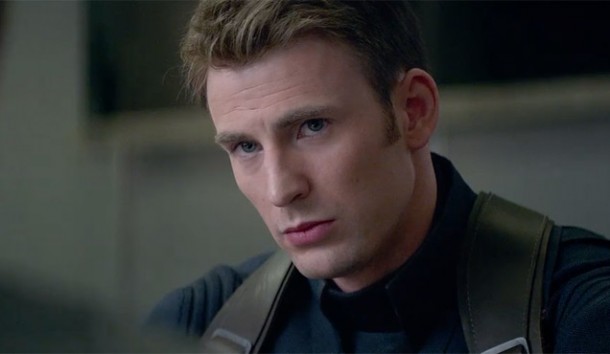 The warm retro feel of the first instalment is forgotten in the sequel and makes way for an intricately crafted film which finds its roots in spy thrillers rather than war stories. But not only has the setting and mood shifted but the themes as well. Here Steve Rogers finds himself in modern surroundings questioning the very organisation and freedom he has vowed to serve and protect. There is little subtlety in the message when Captain America makes statements like, "You're holding a gun to everyone on Earth and calling it protection." It's not without irony that a USA poster boy, dressed in a propaganda suit, is challenging war-on-terror America. And that's exactly what makes Captain America cool. In a modern age where everyone has completely thrown out good old-fashioned virtue and beliefs, Chris Evans presents us with a character who is fresh and appealing. He reminds us of something precious we've long lost.
The set-up is straightforward enough; Captain America, joined by Black Widow, must uncover the hidden threat within S.H.I.E.L.D. in order to stop a plot of world domination. Standing in their way is a mysterious soldier with a metal arm known as The Winter Soldier. Along the way they run of out of friends to turn to, but find a companion in a retired war veteran (Falcon).
The second instalment in the franchise is clearly aimed at a more mature audience. Violence is plenty and brutal (people are stabbed and shot), with only the blood left for the imagination. Although our hero unrealistically tosses around a metal shield, the majority of the action is hand-to-hand combat similar to Jason Bourne or James Bond.
Fast paced and fairly tense, there are plenty of scenes that will genuinely keep you on the edge of your seat, with small doses of humour added in-between for good measure. The first and second act prove to be the strongest in terms of delivering the right measure of action, staying grounded and steadying the pace. Unfortunately, the film doesn't maintain the highs. The build up is slightly wasted by an extended third act and a climax that feels over the top. You'll certainly suffer from whiplash as explosions, gunfire and disasters paint the screen red with fire and leave behind all sense of reality and simplicity.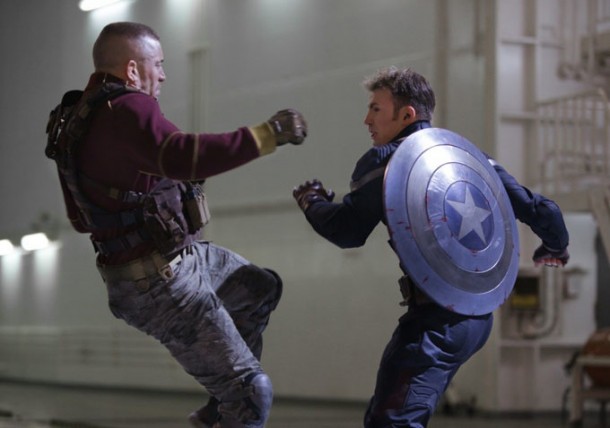 Chris Evans carries most of the film forward by delivering a sincere performance, with Anthony Mackie continuing the charm (let's hope he gets his own movie). Robert Redford and Samuel L. Jackson also add tons of value to the film by carrying their characters forward believably. Scarlett Johansson, however, seemed to be dangled around merely as eye candy. Her character, Black Widow, has become incredibly monotone and overly suggestive. Extreme close-ups of her face, particularly her lips, and perfect curves only emphasis this more. It's such a pity. She was given more appeal in previous outings.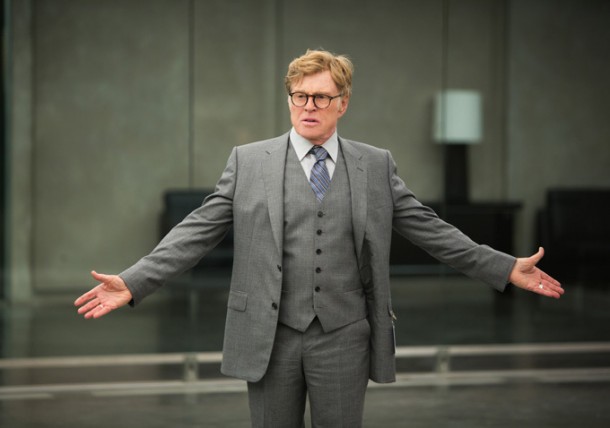 All in all, Captain America: The Winter Soldier is a solid action extravaganza that ticks all the right boxes (amidst a few wrong ones). It's far superior to it predecessor and a worthy entry into the Marvel universe. Is it the best of the lot? Maybe. It's up there with Thor: The Dark World for sure. It's certainly got a lot of heart and soul, something the others sometimes lacked. Ultimately, it plays out as a comic book movie, when it had the potential to be something a little more.
NOTE: Don't forget to stay to the end of the credits. There are not one but two teasers embedded in the credits.