The Avengers assemble and disassemble once again in Captain America: Civil War, which is now available on Blu-ray, 3D Blu-ray and 4k Blu-ray formats. As you'd expect, the film transitions from the big screen to the smaller screen (depending on your TV size) with grace and flair. If you missed it at the box office or you'd like to see it again, catching it on Blu-ray is the best option out there. And here is why…
The home release of the movie delivers plenty of special features and insight into future Marvel films. If there was something you wanted to know or see in Civil War, this Blu-ray has you covered – mostly. Collectors will still feel the burn of the missing one-shot films that were present in phase one. Still, you have to give credit where credit is due and Disney knows how to market and deliver on a good product.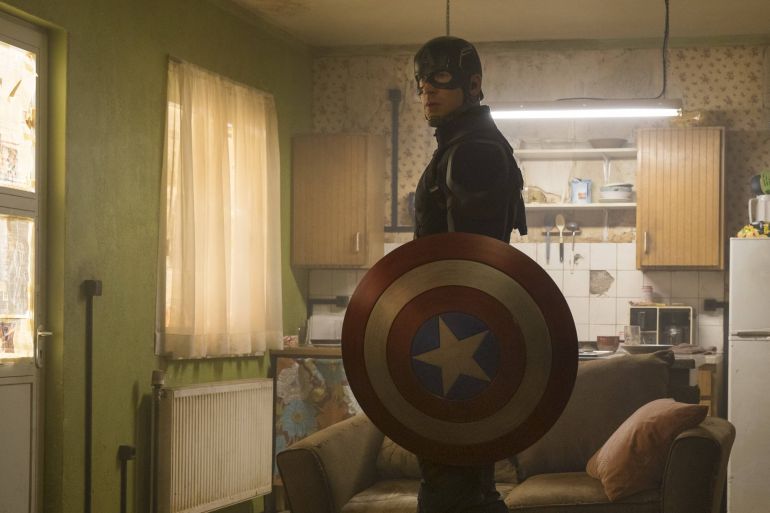 The story
(taken from Byron Hendrick's review)
A few years ago after watching Captain America Winter Soldier I thought, "Could Marvel ever top this?" We got Guardians of the Galaxy, which was great, then Ant-Man, which proved to be more than just the flavour of the month, but now we have the best Marvel film ever in Captain America: Civil War.
There is no Loki mind warping and no Scarlet Witch temporal tinkering, this war comes as a result of politics. General Thunderbolt Ross makes a return after a good few years as he is tired of seeing the Avengers make their own rules and not face any repercussions for their actions and the collateral damage it causes. The Sokovia Papers (named after the country Ultron tried to annihilate humanity with) are drawn up and these papers wish to make the Avengers a task force controlled and commanded by The United Nations. Being the voice of freedom, Captain America does not agree with the terms of the contract. However, Tony Stark sees his allies as the greatest threat to mankind. A rift is created, one which is only made worse thanks to the return of The Winter Soldier.
The Winter Soldier has spent two years in hiding trying to remember his past, his relationships and his friendships. He is flushed out of hiding and is deemed to be the world's deadliest war criminal. This sets the scene for Steve and his group of followers as they rebel against Iron Man and his new found ideals.
Captain America: Civil War is truly a "versus" movie, one which shows just how polarised the two main characters are. They are foils of one another and they both believe that their actions are for the greater good. This makes it difficult to watch at times as you have friends and former allies bloodying one another. We witness one of the greatest team rosters go head to head after factions are drawn.
The new additions to the film, Black Panther and Spider-Man, just add so much value to this film. They fit right in and their costumes are simply breathtaking. Captain America: Civil War boasts several intense and perfectly choreographed action scenes. Spider-Man and The Black Panther really added to this as they brought their own skill set to the battle.
This Spider-Man is spectacular. He is young, mouthy and true to the comic version. Marvel also goes on to explain the reason why his lenses are able to change in size. Black Panther has a major role and is quite a prominent figure in this film. He desires to hunt down and kill the Winter Soldier. Ant-Man also proves that he is more than capable of handling his own. His introduction to the film feels natural and adds some great comedic value.
With the wealth of characters on display, Captain America: Civil War maintains the fact that this is a Captain America cinematic arc. You can feel that this movie is about him and his character is not lost amongst all the action and storytelling.
Iron Man also gets a great amount of focus, so you can definitely feel his importance to the film. Both of the main protagonists have ideals that are believable and these ideals will have fans questioning what they value is right. You will definitely find yourself choosing a faction in this one.
The story is a serious one, yet it has its light-hearted humorous moments which are executed flawlessly. There is the complaint that Marvel is not dark enough, that they are too kid friendly, but this film renders that argument invalid. It is dark where it needs to be and has a complex story geared towards the adult viewer. Everything links to the greater Marvel Cinematic Universe and Marvel is heading in the right direction.
Friendships and allegiances will be tested. Who will you align yourself with in this Civil War? Captain America: Civil War is the product of perfect timing, proper planning, and good storytelling. It does not have the shortcomings that Age of Ultron had and it is definitely the strongest Marvel film thus far. In the comic "versus" genre, it has claimed victory with a knockout!
Video Quality
Captain America: Civil War hits the Blu-ray market with a comprehensive 2D/3D set that shows off an impressive 1080p/AVC-encoded High Definition 2D video presentation in the original theatrical aspect ratio of 2.39:1 widescreen. Again, we're talking demo material here. The Civil War Blu-ray is flawless. The detail is excellent, crisp, clean and sharp. Colours are broad and vibrant, with natural skin tones and sold black levels. Contrast is perfect and the image has lots of depth. So much so, that watching the 2D version on my 4k television sometimes gave the illusion of 3D. That's quality.
Audio Quality
Of course, the accompanying DTS-HD Master Audio 7.1 track is another spectacular effort that matches up perfectly to the amazing video quality. Large action scenes with gigantic explosions resonate and you can litterally feel the film take over your room/space. It delivers the heavy low room-shaking bass you'd expect from a feature of this quality. Sadly, there is no Dolby Atmos on offer here and that's a downer for fans.
Extras
As I mentioned before, Disney and Marvel have been slowly cutting back on the extras on their Blu-ray releases and that seems to be the case here. While the Civil War Blu-ray offers on all the usuals we've come to expect, there is nothing really remarkable about the extras – no surprises.
We have the usual Audio Commentary, The Making of Captain America: Civil War (United We Stand, Divided We Fall), two featurettes (Captain America: The Road to Civil War and Iron Man: The Road to Civil War), a Sneak Peak (Open Your Mind: Marvel's Doctor Strange), Deleted & Extended Scenes, and a gag reel.
Why is 'What Thor Was Doing During Captain America: Civil War' not on here? It would make this Blu-ray feel a lot more complete.
Conclusion
If you enjoyed the movie, you'll want to enjoy it again and again on Blu-ray. If you're a Marvel fan, this Blu-ray will neatly fit into your growing collection. It's a must-have. If you can, get the steelbook, it's stunning.