Right now, playing arcade classics is as easy as 1, 2, piracy. But you don't want to do that, now do you? I mean, don't you want the actual cabinet experience replicated in your home by the very people who made the games in the first place? That's where Capcom Arcade Stadium comes in.
To be fair, most of these 32 titles have been released on other collections in the past. So, do yourself a favour and scroll through the list of games to figure out if it's actually worth it or not. Also, keep in mind that there are three packs available as DLCs, with only Ghosts 'n Goblins being individually downloadable, while 1943: The Battle for Midway comes with Capcom Arcade Stadium. This isn't like the old days when you'd get a 1000-in-1 cartridge from the flea market.
From an authentic arcade perspective, Capcom has gone all out to recreate a digital arcade experience. You need to put the coins in by hitting R3 and you can even adjust your view of the cabinet. If you only live your life in widescreen, you can adjust the settings to a more familiar setting, while still being able to give your TV the cabinet's resolutions from the past.
It might seem like something small and irrelevant in relation to the actual games on offer, but the actual arcade UI adds to the experience. You might not get the whiff of KFC from the adjacent food court, or the symphony of all the arcade cabinets singing in unison, but it's the closest you'll get to reliving the arcade of yesteryear.
Now, onto the games… Of course, it's pointless reviewing video games that were released over three decades ago. Seriously, do you want this idiot to tell you why Street Fighter 2 is one of the most iconic fighting games of all time (even though it'll always be second to Mortal Kombat 2)? What I will say is, you might discover a few titles that weren't always available in local arcades, such as Captain Commando and Mercs.
Maybe I grew up in a terrible area or spent too much time playing NBA Jam and Killer Instinct, but I'd never experienced these games until Capcom Arcade Stadium. Without missing a beat, I lose myself in the early '90s goodness, humming along to Haddaway's "What Is Love" as I kick the living snot out of punks with a character named Captain Commando. And what a guy he is as his fists and feet do all the talking. In short, it's total bliss and a reminder of how violence is always a wonderful way to resolve any dispute.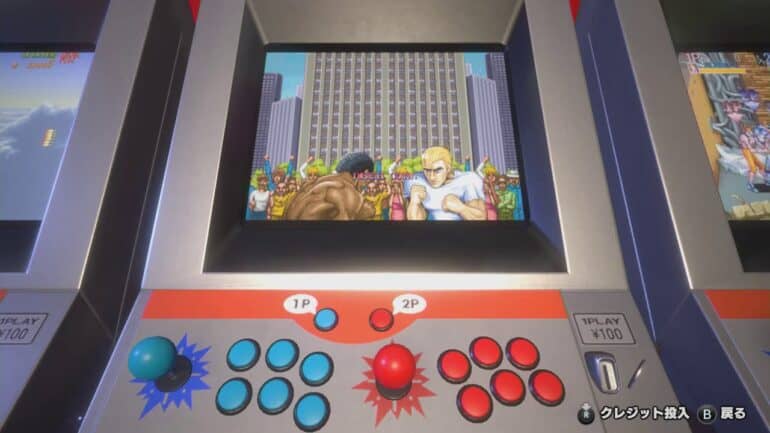 If nostalgia is on your mind, and you don't have these games lying around, now might be the time to pick up Capcom Arcade Stadium and relive the golden age of gaming. While the editor of Fortress of Solitude was puking from motion sickness as he played Resident Evil Village, I had the time of my life with Ghouls 'n Ghosts. Suffice to say, I was the real winner here.