The end of another year means yet another entry in the Call of Duty Franchise. Call of Duty: Vanguard is the latest entry in the franchise and follows the familiar structure from the previous games.
You are, once again, thrust into the shoes of an assortment of wartime heroes as you fight your way across various theatres of war across the world. It's a now-familiar formula that has been refined over the year.
So, does Call of Duty: Vanguard change things up a bit or does it thread on the same mine strew path as its predecessors?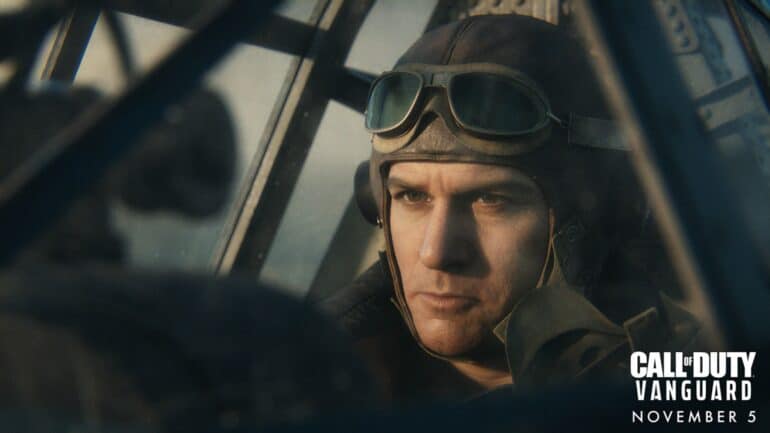 The Dirty Dozen
Call of Duty: Vanguard puts players in the shoes of a group of rag-tag special forces soldiers comprising of various nationalities. The team is sent on a mission to uncover a Nazi plan.
Unfortunately, things don't go as planned and, after some nail-biting battles, the team is captured by the Nazis.
From here on you'll delve into the history of each of these six soldiers. These moments are set during flashbacks where you'll take on the role of the specific soldier. Each flashback feels unique and the variety of specialisations between each of the soldiers mean that there are quite a variety of missions.
For instance, there is Wade, the overconfident American pilot. During his flashback, you get to fly a plane and drop a few bombs. Polina Petrova, on the other hand, is a young Russian sniper who lost her father in the war and is now out for revenge, leaving bodies in her path.
Each story mission in Call of Duty: Vanguard feels well-paced and moments of sheer chaos and bullet fire are interspersed with more quiet moments of contemplation.
These story missions allow Sledgehammer Games to craft moments that focus on showing off specific setpieces — such as stealthily taking out snipers or taking part in a large scale air battle.
Call of Duty: Vanguard can feel a bit disjointed at times but the cutscenes in-between the different missions serve to tie everything together. However, those who want to shoot and blow things up might find that these carry on a bit longer than they would like.
As expected, the voice acting is top-notch and some of the best in the series to date. This helps to draw you into the plight of these six captured heroes.
War never looked so good
Right of the bat, it is obvious that players are in for a visually stunning ride. Call of Duty: Vanguard looks amazing, from the burning buildings to the rain pouring down on your soldiers, every moment is a feast for the eyes.
Visually, I felt excited to see where the game would take me next, from jungles to snow-covered streets. It's clear that a lot of time was spent on creating environments that look realistic and feels lived in.
The same goes for the sound design. Time and again I found myself using the sound of a whizzing bullet to locate my enemy. Explosions have that perfect "oomph" to them and overall it just all comes together in a beautiful cacophony of battle noises that get you invested in the story right off the bat.
My friends and I
No matter how great the single-player campaign is the Call of Duty franchise has always lived and died by its multiplayer. As expected, there are your usual online modes such as Team Deathmatch and Domination, but the game also adds a few new modes into the mix like Champion Hill. Other than this there isn't much that is new in Call of Duty: Vanguard.
Zombies Mode has always been a staple of the franchise and is back once again. Unfortunately, it's a bit lacklustre as, instead of the usual wave-based affair fans have become used to, gameplay now takes place across various missions. This means that a lot of the tension stemming from the past wave-based gameplay is now missing.
Also, these missions can feel a bit unfocused and underwhelming with repetitiveness setting in quite quickly.
Deja Vu
Call of Duty: Vanguard refines the Call of Duty formula for better or worse.
The single-player campaign is enjoyable and action-packed. Personally, I was invested in its narrative for the 6-7 hours of its duration.
The multiplayer tends to be more of the same which is understandable especially when these games get churned out each year like clockwork.
In the end, the game does what it says on the tin. It lets you blow stuff up with your friends, and have fun doing it. Call of Duty Vanguard is more of the same, albeit a little more refined.
Unfortunately, in an era where multiplayer games are a dime a dozen, Call of Duty: Vanguard might struggle to stand out.
The Review
Call of Duty Vanguard
Call of Duty Vanguard does very little to refresh the tried and tested formula. It is what we've come to expect from the series.
PROS
Fun and exciting single player campaign
Stunning visuals and sound
Great voice acting
CONS
Zombies Mode
Doesn't do enough to refresh the series
Review Breakdown
Gameplay

0%

Graphics

0%

Replay Value

0%

Sound and Music

0%

Story

0%