Hallelujah! Finally a game that puts it's Campaign mode where it belongs; front and center. Call of Duty: Modern Warfare 2019 is this year's big release from Activision, and looks set to be one of the biggest releases of the year, period.
I jumped right in by mentioning the Campaign mode and that is because, with all the focus from all studios seeming to be On-Line Multiplayer and Battle Royale, a game that allows those of us who want to get lost in the narrative, something to look forward to, is like finding out you CAN actually have your cake and eat it.
Activision has done something brilliant in their development plan. They have created a situation for themselves where they can take advantage of everything that's trending in the world of games right now, set it in one of their most beloved universes, please everyone and not compromise on anything. Special Ops 4 is Call of Duty for the Attention Deficit crowd and Modern Warfare is for those of us who can sit still for longer than 10 minutes without exploding. I think that's very clever and I love Activision for it.
So how long is the Campaign, I hear you ask?
The honest answer is, I actually don't know. I have been playing the Beta for about 6 hours now and I am savouring every little piece of this digital masterpiece. However, seeing as this is supposed to be a review of the whole game, I have looked at what else it has to offer.
There is a multiplayer mode called Ground War, which puts a bunch of you against another bunch and you need to wipe ot the other team (I guess it's Battle Royale without the Last Man Standing element). This is an opportunity to get together and kick ass with your friends and acquaintances. But if you want to get really cozy with your gaming bestie, there is Spec-Ops cooperative mode.
As of this version of the Beta, there is no talk of a Battle Royale mode coming, and why should there be? If you want to play Call of Duty Battle Royale, get Black Ops. One thing that I am a bit bummed about is the total lack of a Zombies Mode. But again, if that's what you want, Black Ops 4.
So what's new in The new Modern Warfare?
I guess the big biggie is the cross-play capability. This is huge because it's the first game that allows you to seamlessly play with anyone regardless of the platform they prefer. When I say it's the first, I mean it's the first after Fortnite. And SMITE. And Paladins, Rocket League, Brawlhalla, Ultimate Chicken Horse and Minecraft.
But excluding all of those, Call of Duty: Modern Warfare 2019 is the first.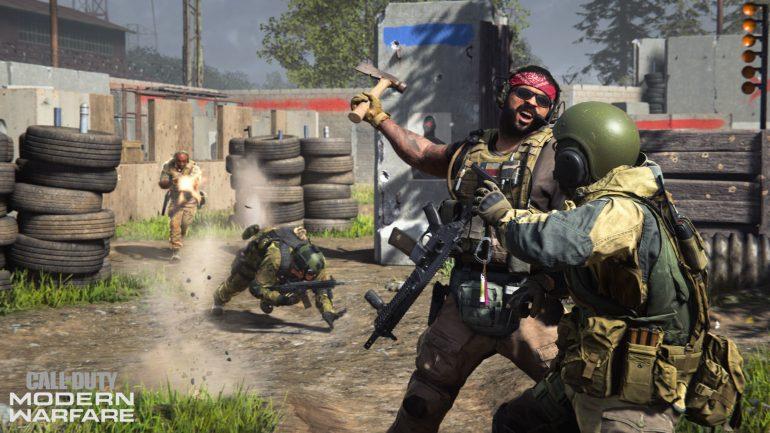 Let's talk guns
This wouldn't be a Call of Duty review if we didn't talk about weapons, which as it happens, is one of my favourite subjects. They all seem to be there. There are assault rifles, everything from the AK 47 to the FN SCAR 17 and pretty much everything in between. Sub machine guns, pistols, sniper rifles, rocket launchers, and things that go BOOM.
What I love about it is the unapologetic approach Activision has taken with this. With all the gun-hate flooding social media, it's great to see that there are still some people out there with a big pair of hairy balls.
Perks are back!
There seems to be quite a comprehensive list, both physical, mental and weapons, which is cool. It's a "leveling up" aspect which I always enjoyed.
Killstreaks are great as well
They are exactly what they sound like; you get rewards for killing a certain number of enemies in a specific way. Killstreaks are a great way of unleashing bloody carnage on the heads of the infidel dogs.
Conclusion
There is a lot to play with in this Beta release and I have still only scratched the surface. What I do know is that when this bad boy launches on the 25th October, I'mma git me some! It's a great return to everything I love about first person shooters and this one looks bloody fantastic on my Xbox One X. Thank you Activision!