Next-gen gaming is here. Unfortunately, not all of us have the luxury of owning the latest gaming consoles. At a retail price of R11999 for an Xbox Series X and R6999 for a Series S, it might be a little out of reach for some, especially considering the financial climate in South Africa. Until now.
BT Games, Standard Bank and Prima Interactive have come together to offer South Africans two incredible deals.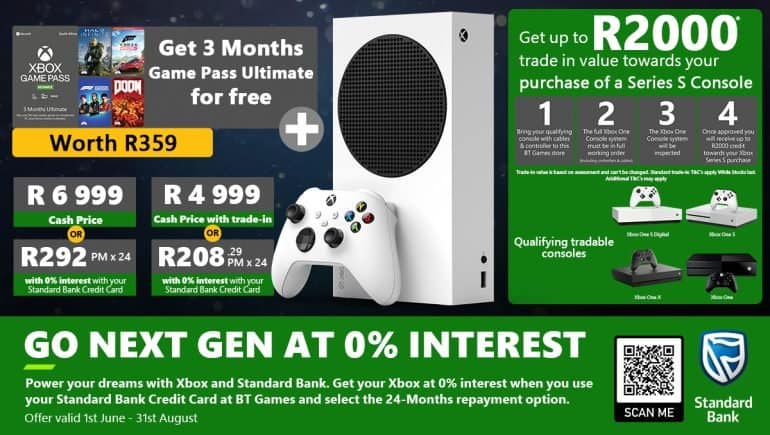 Trade-in your Xbox One and get R2000 off.
Bring in your Xbox One console to any BT Games store and get up to R 2000 trade-in value, towards your purchase of a Series S console. Only pay R 4999 (RRP) for your Series S and claim 3 months of Xbox Game Pass Ultimate, worth R 359.
For those who don't know, Xbox Game Pass Ultimate (like Netflix for gaming) gives you access to a library of 100s of games, including some of the biggest Xbox titles — like Forza, Halo, and many others.
But wait, there's more.
0% Interest over 24 months.
Go next-gen at 0% interest when you use your Standard Bank credit card to get the Xbox Series S or Xbox Series X console on the budget plan and pay 0% interest when you select the 24-month repayment option.
That means you can open a Standard Bank account today and enjoy the benefit of paying off your console over 24 months — with no extra costs.
While we can't all afford to pay a once-off amount of R11 999 for the Xbox Series X, the R499 offer makes it within reach for most gamers. And when you consider that it includes 1 year of Game Pass Ultimate (with literally 100s of games) worth R 1436, it really becomes a no-brainer.
This is an incredible deal (valid from 1 – 30 June 2022). It's probably the most cost-effective way to own a next-gen console in 2022. Find out more here.