This is exactly why we love the George of the Jungle, The Mummy and Looney Tunes: Back in Action actor. Just when you thought the actor couldn't get any cooler, a new video surfaces that shows Brendan Fraser having an emotional moment with a fan who thanked him for "making my childhood awesome".
In the last few months, Brendan Fraser has gone viral on social media as he shares heartwarming moments with fans. It seems after a long hiatus (due to a number of tragic events in his personal life), the star is finally making a big comeback to the big screen and into the hearts of viewers.
Now, one TikToker has shared another wholesome interaction she and a friend had with the down-to-earth star as he signed her Funko pop figure.
The fan captioned her video: "#brendanfraser #brendanfraserappreciation #brenaissance i love this man my photo op with him and my signed funko are […] everyone always says to never meet your heroes, i met mine and we almost burst into tears talking to eachother. thank you for everything brendan!"
The TikToker then proceeds to say something all of us would love to say – 'thanks for making my childhood so awesome'. Brendan is genuinely taken aback and fist bumps his fans.
This moment once again establishes Brendan Fraser as a really great and humble guy — which is a rarity in Hollywood. Of course, this is only one of many fun interactions the star has had with fans recently.
Also in the news recently is one passionate fan's Instagram post requesting a hotel to "please put a picture of Brendan Fraser from the 1999 movie The Mummy in the room". Well, nowthatsthestuff got their wish. As you can see from the image below, the hotel added an image of The Mummy star in the room. Not surprisingly, the post went viral and received a whopping 128,647 likes.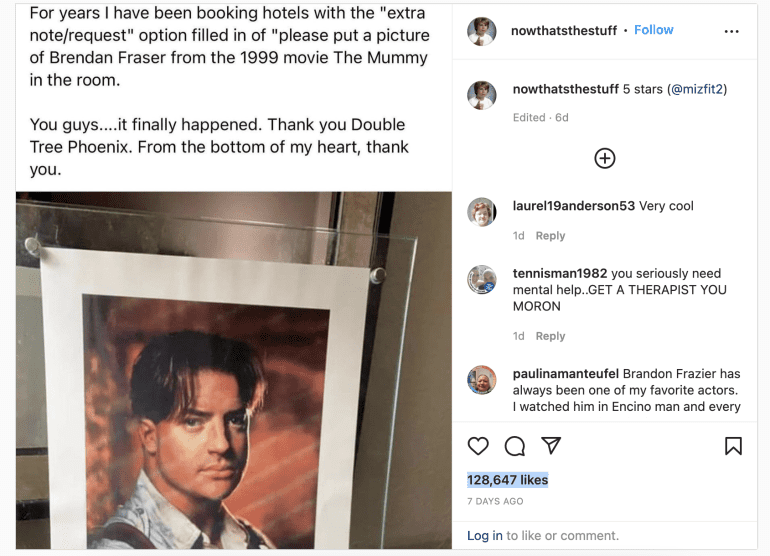 We couldn't be happier that the leading 90s man is back.
Tell us, what are your thoughts on this heartwarming moment with Brendan Fraser?