By now, everyone knows that artist BossLogic mocks up some of the greatest visual concepts around. His ideas are highly inventive and offer the sort of fan service that many people wish the people in charge of the properties would also strive for. Recently, he suggested a Spider-Man: Into the Spider-Verse video game idea—even putting together examples of how it'd look—and it's something that every Spidey fan can get behind.
Considering how stylised the animated film was, there's no doubt that a video game adaptation would also pop with all the bright colours and striking art. The design immerses you in this new world, putting you front and centre while also making you believe you can break all the rules of this multiverse setup. There's a certain freedom, knowing anything can happen and nothing is as concrete as it seems.
Complementing the visuals would be the unforgettable soundtrack. From Post Malone to Nicki Minaj, the songs could liven up the atmosphere and add additional spark to this interpretation of Spider-Man. Imagine swinging around the city and listening to these tunes as you search for new missions to complete. Much like the Tony Hawk skating series is known for its music, Into the Spider-Verse could offer serious competition for the best gaming soundtrack of all time.
More importantly, an Into the Spider-Verse game would flip the script on character selection. Not only could you pick Miles Morales, Peter Parker and Gwen Stacy, but also the likes of Spider-Man Noir and Spider-Ham. Each character could receive its own specialised stage where the design and experience of their respective world filters through.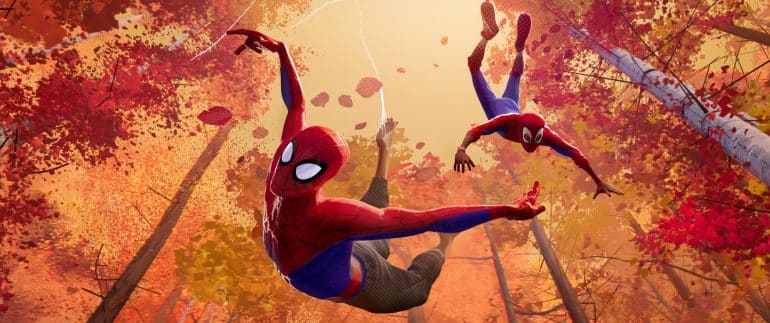 Of course, something similar was attempted with 2010's Spider-Man: Shattered Dimensions video game. While it was one of the first titles to explore the Spider-Verse, it played it safe by only exploring the versions of Spider-Man that the audience was more familiar with. Yes, Spider-Man 2099 and Spider-Man Noir were present in the game, but the third-person action title didn't push the needle quite as far as Into the Spider-Verse has.
It might be a little late for a video game developer to adapt Into the Spider-Verse now, especially since the film is almost two years old now. That being, there must be some temptation to explore the option. The sequel to the film is arriving in 2022, and we wouldn't be surprised if a video game is attached to it as well.
Tell us, would you play a Spider-Man: Into the Spider-Verse video game? Let us know in the comments section.