Gotham City is no playground. The world's most dangerous criminal minds are always running rampant in the city, causing mayhem wherever they go. But, with Batman around, we can rest a little easier knowing that he'll keep the peace, putting his body on the line every day to keep the citizens of Gotham safe.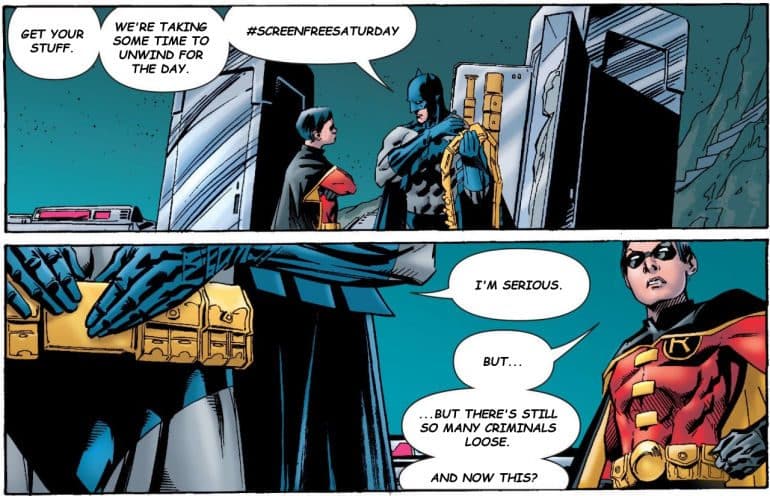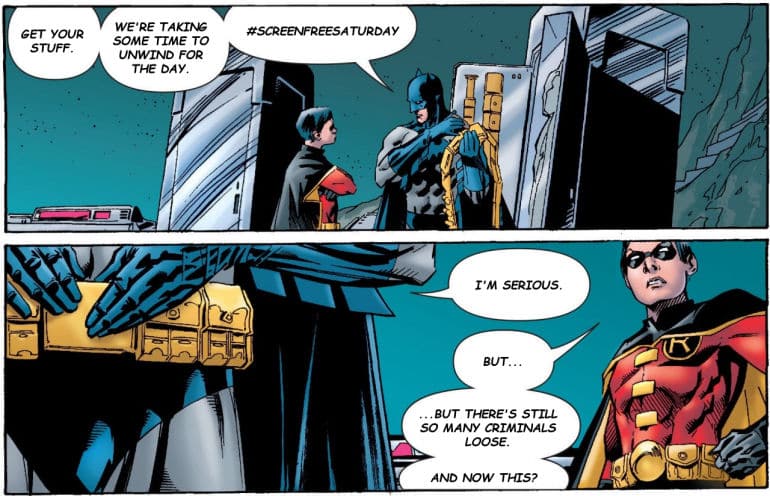 With such pressures, however, Batman is always on the lookout, always monitoring the city's criminals via the Batcave. As we know, Batman is always connected, never out of reach, always alert – awaiting the next call or sign from the Bat-Signal. Alfred, always playing the sense of reason for Bruce Wayne, continues to provide words of wisdom, encouraging Bruce to take some time to himself, some time away from being Batman, to heal – both physically and mentally.
After sustaining numerous injuries on duty, from numerous run-ins with the Joker to breaking his back in a fight against Bane, Batman's body has taken its fair share of knocks. Coupled with the scars of losing some of his closest friends and mentees, and still coming to grips with the loss of his parents, he decides to take up the #ScreenFreeSaturday challenge, as he takes his son Damian (aka Robin) on a fishing trip to unwind a little.
Having rested his body and cleared his mind, Bruce is ready once again to do what he does best, don the cape of Batman and protect the citizens of Gotham.
Screen Addiction Is Real
Have you ever stopped to consider how much time you spend on your phone each day?
Let's face it, we all have some form of FOMO when you feel the vibration of your smartphone buzzing in your pocket, causing many of us to whip it out and have a quick glance at the notifications menu.
A recent study has shown that people spend in excess of five hours on their smartphones daily, with further studies linking social media activities and notifications to forms of anxiety, causing health risks among so many. It's no wonder that some of the latest flagship smartphones, such as the Huawei P30 and Samsung Galaxy S10, have a built-in feature allowing you to view your screen activity from the time spent on the device to how often you unlocked it over the course of the day. In addition to that, they also offer tips and AI features to assist users to reduce the amount of time spent on their devices.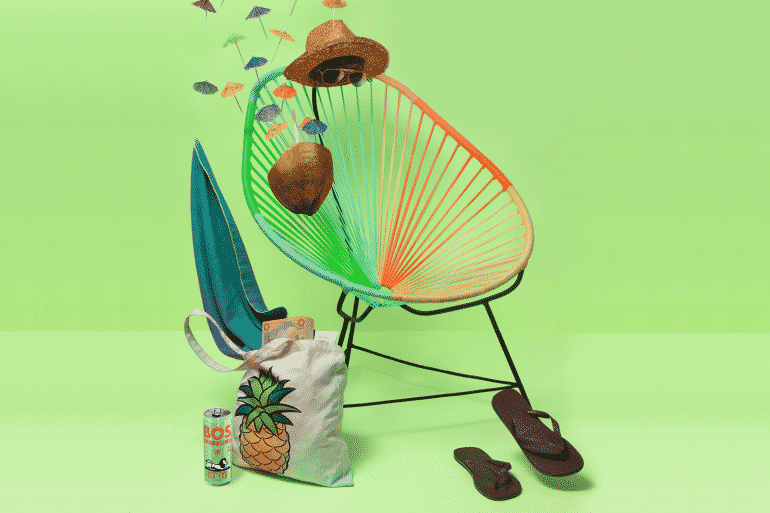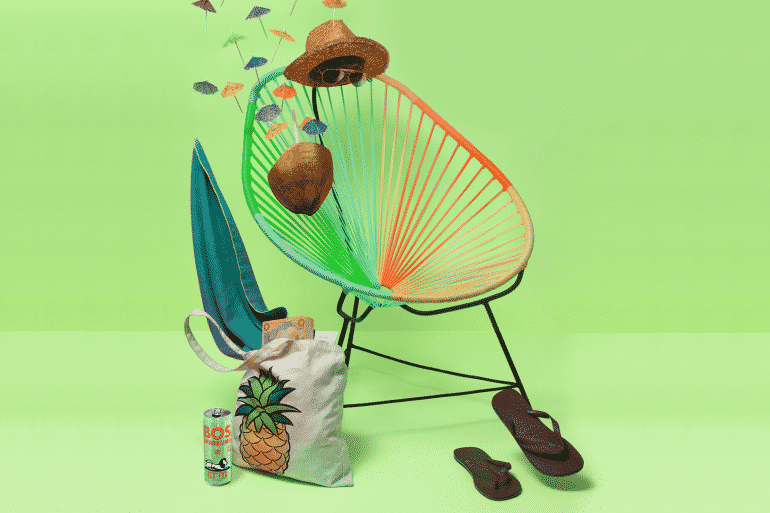 #ScreenFreeSaturday – Fewer Screens. More Fun.
In the modern setup, the average user's eyes move from the small screen of their smartphone to the computer/laptop screen to the bigger screen in the form of their TVs. While all of these indicate how connected we've become, it's also an indication of how dependent we are on these technologies to provide our entertainment from the morning when we first open our eyes right up to the moment we put our heads back down on the pillow to call it a day.
We're missing out on all the real, natural things waiting to be explored out there in the world.
BOS has launched a campaign challenging South Africans to put down their devices and get outdoors for some real fun. The #ScreenFreeSaturday is a small change with potentially big payoffs in the long run.
BOS is passionate about enjoying fun-loving experiences with an embrace-life-and-go-for-fun philosophy.
BOS Global Marketing Director Montse De Rojas says that Saturday is the perfect day to put away your phones, effectively putting on your OOO (Out of Office), and spend some time with friends and family. "It's the perfect excuse to turn a casual lunchtime do with friends into a 3-hour paella-cookoff-laugh-with-your-head-back party that lasts beyond sunset."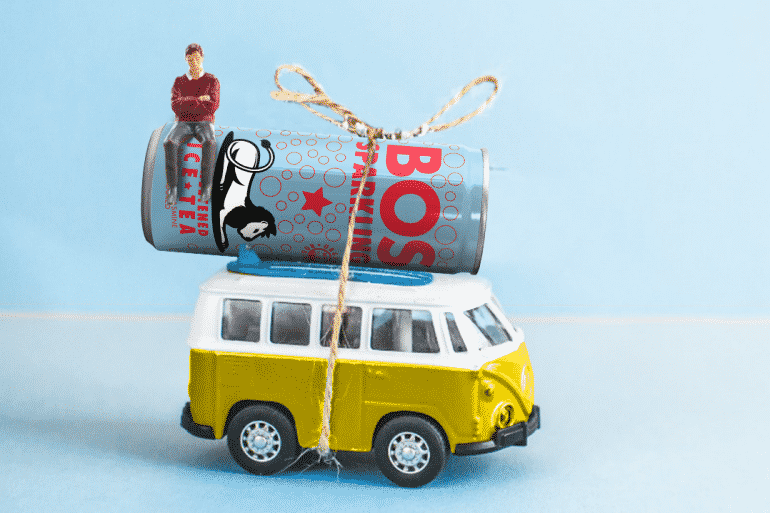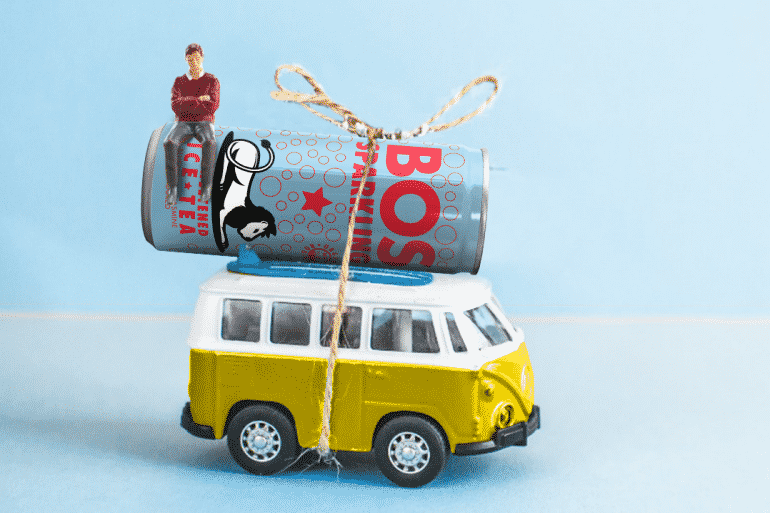 Do you know what your average screen time per day is?
Having kicked off in June, the campaign is well on the way to creating a better social environment for many. The BOS family has swopped screen time for real-life fun, and hoping you would join them in making the small change.
Whether you aim to spend the entire day going #ScreenFreeSaturday or simply committing to spending a portion of your time to the campaign, we look forward to the stories of how you took up the mantle and had some real-world fun.