I missed the whole Borderlands 3 train. Heck, I didn't even hop onto the two previous Borderlands entries either. Was it because it was unappealing? Not at all. Heck, the posters reminded me of a cross of Mad Max and the Angel Gang from Judge Dredd—two things I really LOVE.
Yet, here I am, completely obsessed with Borderlands 3 months after everyone raved about it. At this point, I should warn you that this won't be a traditional review, since that's effectively pointless now. The game has been out for so long and if you're a fan already, you don't need to hear from this noob's fresh perspective about it either.
Still sticking around? OK…
As the world outside is in a state of complete disarray, there's comfort in being able to explore the planet Pandora as Vault Hunters Amara, Moze, Zane or FL4K, while Claptrap provides the sort of dialogue that was sorely missing from the last Transformers film. From the moment you load up the game and get sucked into this whacky world, a smile crosses over your lips and you know there's something special about to happen.
Despite the game's premise taking place in a futuristic wasteland with shady characters and odd creatures, the comic book aesthetic tones down the mood. It might not be the best title to give your 10-year-old kid, but there's a sense that no one is taking themselves too seriously here. In other words, this feels more Deadpool than Doom.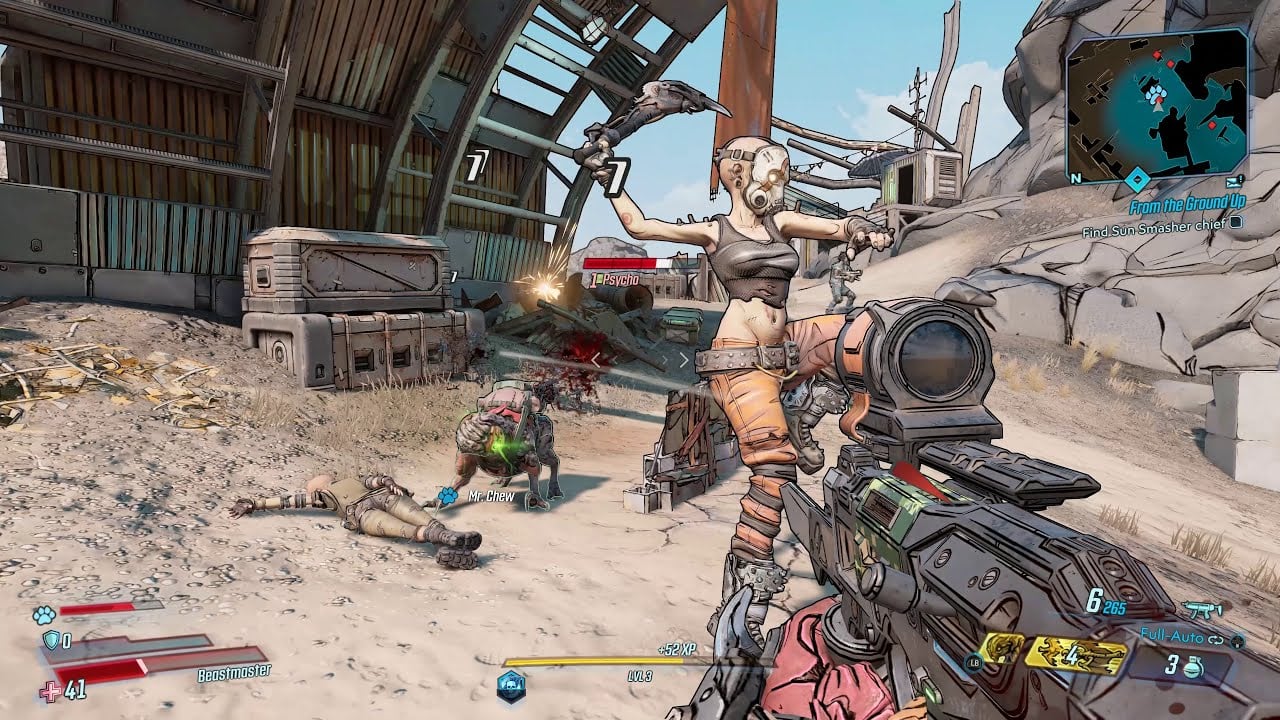 Speaking of the latter, Borderlands 3 doesn't recreate the same heart-in-your-throat-and-scream-like-bloody-murder gameplay moments as id Software's current beast Doom Eternal—but it's also a different game altogether.
Yes, there are a lot of guns, weapons and shields to pick up, but Borderlands 3 focuses heavily on RPG elements. This affords more calmness as you talk to characters, explore the hidden secrets and search for loot. The more loot you find, the better it'll be for your character in the long run as you can accessorise like a boss. Honestly, it's so cool how you can customise Zane to look like the long-lost member of the horror punk band Misfits.
Apparently, one of the community's biggest gripes about Borderlands 3 is the storyline. This and other details were revealed to me during the Social, aka multiplayer, mode of the game. The Borderlands community is extremely chatty and welcoming, so even if you're new to the series, you won't feel like an outsider as you fellow gamers explain what to expect. Considering the toxicity of other communities, this made a big difference on someone who generally despises multiplayer gaming for that very reason.
From my perspective—and no previous titles to compare to—the storyline flows well and entertains. While it's nothing revolutionary and takes from noticeable influences, the characters and interaction carry it. There's so much personality that you can't help but chuckle at some of the overall silliness and over-the-top reactions, which is what keeps you coming back for more. Even if you finish the game with one character, you'll want to go back as another or even your levelled-up champion for round two. The replayability is real.
Initially, I struggled to define Borderlands 3. After spending a significant amount of time with the game, though, I get it. It's the first-person, less gloomy version of Diablo. I say this because Diablo III was the last time I felt this type of an addiction to an RPG. Maybe others will have a different definition, but I'm sold on this one. Look, I finally understand the Borderlands hype and it's completely merited. Count me in.
The Review
Borderlands 3
The strangest thing about Borderlands 3 is how no single aspect of the title is radical but it's the sum of all its parts. Individually, you might turn your nose up at the weapon selection, graphics or storyline. But when it's all together, you experience the ah-ha moment and understand how all the puzzle pieces are important to the full picture.
PROS
Addictive
Hilarious
Awesome community
CONS
More the sum of its parts than any individual elements
Review Breakdown
Storyline

0%

Gameplay

0%

Graphics

0%

Replay Value

0%

Sound and Music

0%