Kelly Bender gives us a detailed account of the war torn world that Afghanistan has become in this 27 page One Shot comic.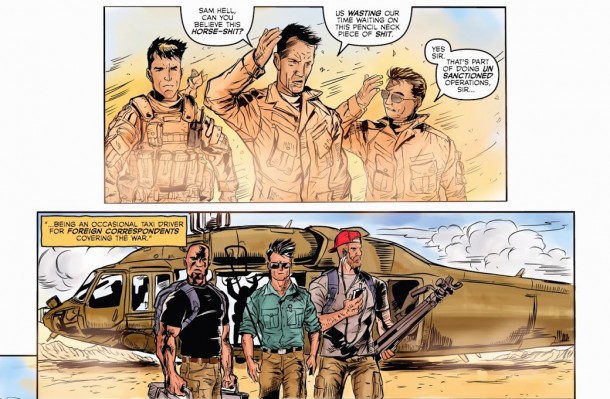 When it comes to the war in Afghanistan I have decided never to ever pick sides, till today I have not even bothered to watch "Zero Dark Thirty". In this comic a US convoy is given the task of transporting a BBC new crew to Naw Abad. Problem is that they are in Kandahar so in order to get to their destination this convoy has to travel down a road known as Hell's Highway. A rather naïve news crew gets introduced to the battlefield in a gritty, realistic tale of the horrors of war.
I bet you are thinking; 'How crazy could a trip down one road be?' But Hell's Highway is a long, treacherous journey that could span for two days. Along the way the BBC crew gets educated on the plights and dangers of living in Afghan territory and they get taught lessons from the hardest of military officials. Everything is so real as they encounter the dangers that we only hear about on our car radio during news reports. This comic has car bombs, suicide bombers, snipers, you name it. Although we only get to see the American point of view in this tale, the lead characters are not hungry for bloodshed. In fact they would prefer to avoid conflicts, so this is a war drama based on reality. Do not expect this convoy to be filled with murderers ready to go all "Gears of War" on the Arab threat. If that were the case I would have stopped reading from the get go. Instead, they are instructed to fire only in retaliation and it is made known that the people of Afghanistan are not the enemy, the Taliban is.
I would have liked to see more from the other point of view, maybe a flash into the mind of the suicide bomber, to see why he has decided to take his own life or how he was indoctrinated into believing in suicide is acceptable. A little dig into the minds of the opposition could go a long way.
The art in this comic is highly detailed and features an abundance of penciling. There is a great amount of detail placed on faces, making some characters look gritty and war torn. The majority of the book involves dark colours and shades of yellow and brown, allowing the reader to feel the heat and dryness of the desert whilst keeping the comic dark in tone. This creates a feeling within the reader, as though they were along for this ride through hell.
This book is not out there to convert you to the military or to support America, instead it is more of a day in the life of a military officer stuck in a foreign land known as Afghanistan. It brings what you hear in the news to life through the use of a civilian news crew that is foreign and free of bias to the situation in Naw Abad. It does a great job of exposing non-Americans to the plight, suffering and complications of the continual conflict in Afghanistan. This is not a fantasy, this is the harshness of reality and it does not mean to scare you!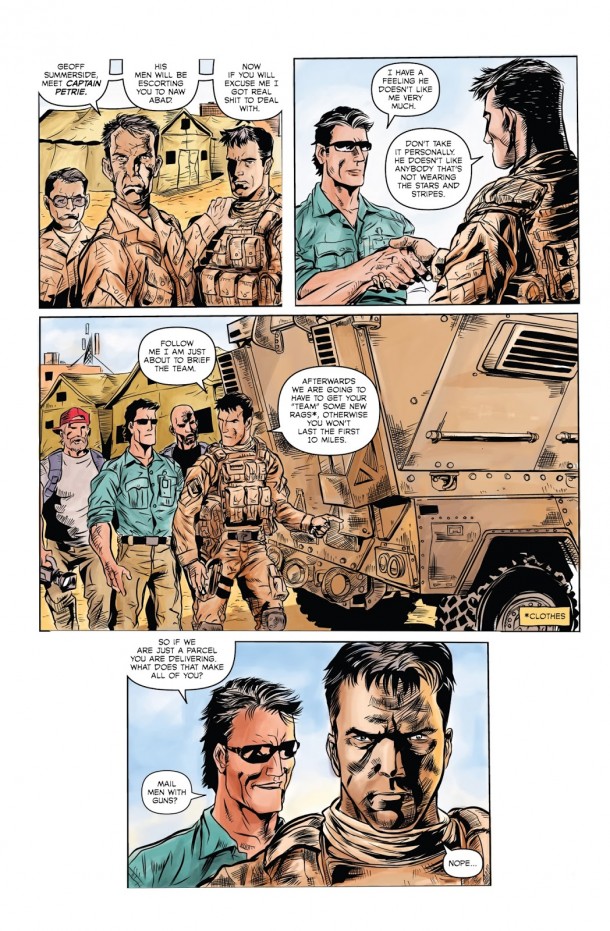 Available for purchase at: