It's taken me a day or two, and I've finally managed to come down from the high of watching the Queen biopic, Bohemian Rhapsody. During this time, I've been plagued by numerous emotions and thoughts, building up to this moment of sitting 'calmly' trying to piece together my words in an attempt to review it. It has been difficult to dissociate the film from the perspective of a huge fan and that of a critic. And now I'm here trying to make sense of it all. But, let's get one thing straight off the bat, no matter how you approach it, Bohemian Rhapsody is highly entertaining.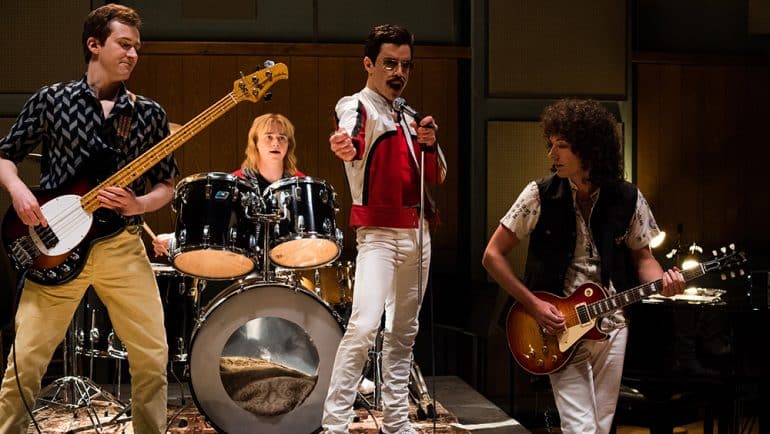 Coming into the film, having seen numerous documentaries on the band as a whole and just as many on front man Freddie Mercury (Rami Malek), I was wondering how much more detail the film would unpack. The film starts off with Mercury, then still using his real name, Farrokh Bulsara, working a temp job at Heathrow. Almost immediately he's faced with the heavy racism endured by many Pakistani and Indian immigrants at the time. At this point, I felt a sense that there would be a lot more on offer in terms of tackling all of the various battles he would have encountered through his personal life, from the racism to dealing with being gay at a time when it wasn't socially acceptable and dealing with AIDS, all the while living a very lonely life despite all the fame and parties scattered in between.
There were times when I was so engrossed in Bohemian Rhapsody that I forgot I was watching a cast of actors portraying a role.
Bohemian Rhapsody starts off at a steady pace, taking you all the way from when Mercury first met the band, as well as his unfolding relationship with Mary Austin (Lucy Boynton). The pace is quickly sidelined as we skip forward a few years, bypassing most of the struggle through the early years that the band experienced, filling the time with a backtrack from Queen's Greatest Hits. We then get a glimpse of some of the behind the scenes as to how the band recorded a few of their most famous songs, along with small pieces of how they were written in stages, the majority of which was focused on the film's namesake, 'Bohemian Rhapsody'. This is quickly followed by the dark years experienced by Mercury, and his relationship with Paul Prenter (Allen Leech), who takes on the role as the pantomime villain, leading Mercury through a haze of drug-filled outings combing gay nightclubs and throwing insane parties. There's a clear shift in focus here, as Mercury sought to eke out a solo career, a large chunk of the film missing the rest of the bandmates.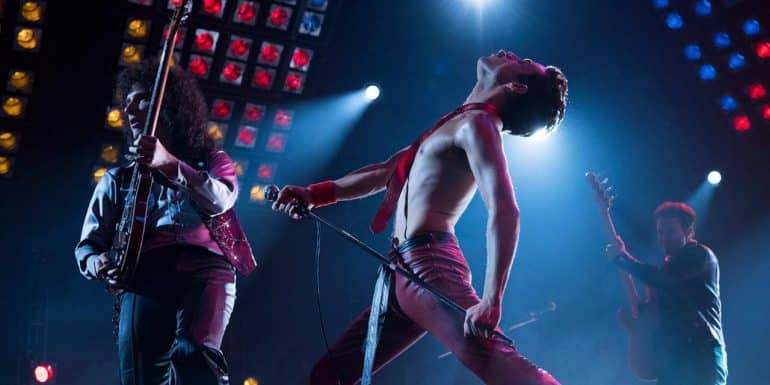 For many, the story told in Bohemian Rhapsody is nothing new, comparing it to numerous other biopics throughout the years. Many critics were hoping to see some more grit and more time spent delving into the challenges of being gay in the '80s or Mercury's trials and loneliness throughout most of his life, which lead him to write some deep and powerful lyrics. I cannot argue with that. But it doesn't matter. As Mercury himself has said numerous times in interviews, he doesn't wish to be a poster boy for any type of campaign, or held up by media and fans. Instead, he wished to be remembered for the music and entertainment he created, as well as knowing that he enjoyed the journey of his life. With these words in mind, and director's close work with surviving band members Brian May and John Deacon, the film seeks to keep that image of Mercury alive. And I get that.
…the performance from Malek is something to behold…
There were times when I was so engrossed in Bohemian Rhapsody that I forgot I was watching a cast of actors portraying a role. Moreover, the performance from Malek is something to behold, able to carry the film based on that alone. It's hard to believe that when the idea for the film first kicked off in 2010, Sacha Baron Cohen was first in line to portray the flamboyant lead. After Malek's performance, there's no way to imagine how anyone else could have pulled it off. I loved every bit of his portrayal, right up to the mannerisms and move-for-move rendition of the Live Aid performance.
As an outright biopic, Bohemian Rhapsody won't live up to the full expectation, if that's all you're seeking. As a film by itself, it's extremely entertaining. Yes, it plays out as a greatest hits performance in the 134-minute runtime, and I loved it for just that reason. In recent years, I've spent many hours sitting in front of the screen nit-picking every scene, performance and dialogue, which has made me even more of a critic after each passing film. With Bohemian Rhapsody, I was completely transported, something I haven't experienced in many films over the last decade.
Bohemian Rhapsody will hit Ster-Kinekor theatres from 30 November 2018.
The Review
Bohemian Rhapsody
While many critics sought out a true biopic of Queen's story, the film instead hints at many of the challenges and proceedings throughout the years, more specifically leading up to their Live Aid performance. The highlight of the film is Rami Malek's portrayal of Freddie Mercury, which is more than enough to carry the film on its own. You'll be singing along all the way to the end.